We hope you love the products we recommend! Just so you know, when you buy through links on our site, we may earn an affiliate commission. This adds no cost to our readers, for more information read our earnings disclosure.
Today we will teach you how to pick the best shoes for roofing. It's important to choose a good pair that is comfortable and at the same time practical.
We've put together a list with the 11 most important qualities you should look for in a roofing shoe.
Primarily, you're looking for a pair that is:
comfortable

durable

slip-resistant

lightweight
grippy
made from breathable material
So, here are the 11 Things You Should Look For In Roofing Shoes:
1. GOOD TRACTION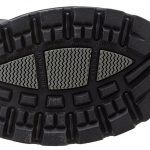 Grippy soles on all surfaces – that's what you're looking for!
The outsole must be designed to provide great traction on slippery and steep surfaces.
Rubber outsoles are the most effective when it comes to asphalt roofing and metal roofing. They provide an excellent grip and are also lighter.
For wooden roofs, you can choose a pair that has spikes on. Check our shoe recommendations and guidance on how to walk on cedar roofs here.
2. COMFORTABLE
When you work 6 days a week, 10-12 hours a day, it's a must to find the most comfortable pair of roofing shoes.
We all know how the pain caused by a small blister can ruin your entire day and decrease your productivity.
You might also like: Best Roofing Shoes For Metal Roofs in 2018
You need shoes that keep you up and running, without making you feel fatigue or pain.
Choose a roofing pair with great cushioning. Ideally, choose a pair of boots that has shock absorption footbeds.
3. DURABILITY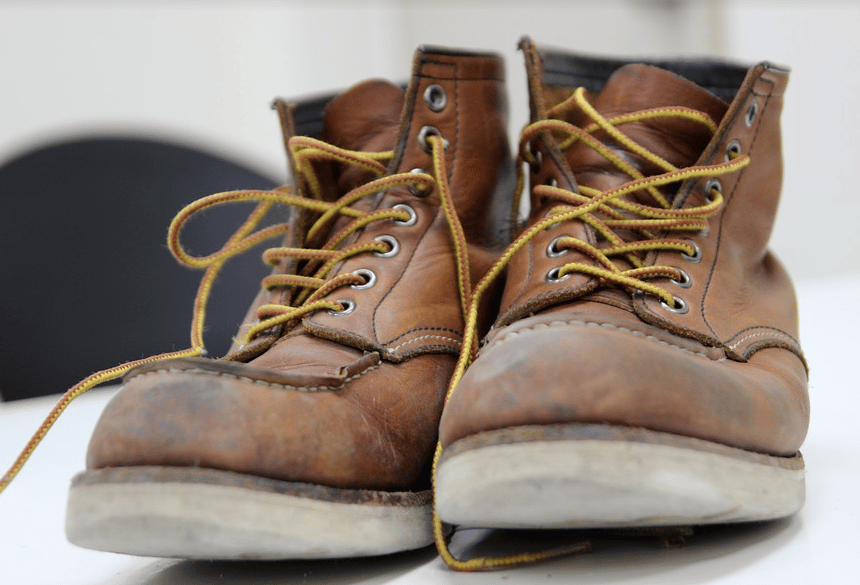 You need a pair of boots made with high-quality materials (eg. leather), with sturdy stitching and a high-quality outsole (Vibram, MaxWedge).
When we made the research for this article, we found out something incredible:
"Many roofers buy new shoes every single month."
After a month of hard work on the roofs, their shoes get so damaged that they must be immediately replaced with new ones.
Why does this happen?
Because most of these roofers prefer to buy cheap shoes that cannot withstand any abuse.
Spending money on quality footwear is an investment. You need a roofing shoe made from high-quality materials, that will last you almost forever.
Do you want to spend:
~ $480 every year on multiple pairs of cheap shoes?
OR
$150 once on the best roofing shoes that will last you years?
4. LIGHTWEIGHT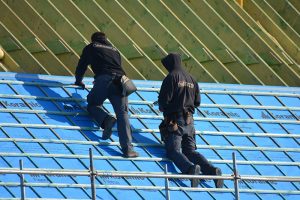 You need lightweight shoes that you can wear all day long. Carrying extra weight when roofing can be exhausting and can affect your productivity levels.
Also, you need extra mobility to walk on steep roofs with different angles.
When you're constantly squatting, kneeling, bending, climbing, lifting heavy weights – it's best to wear some shoes that are light and flexible.
Some prefer low cut shoes, while others prefer high shoes (roofing boots). We recommend going with a professional pair (eg. Thorogood Roofer Boots) or with hiking shoes (Merrell).
5. GOOD LACING SYSTEM FOR A SECURE FIT
You need to assure you get a tight, snug and comfortable fit.
A good pair of shoes should have a smart lacing system that allows you to adjust the fitting based on your unique foot shape.
Thorogood Roofer Boots Lace To Toe (link to Amazon) has a great lacing system from the toe up.
Quick tip: Before you climb on the roof, you need to ensure that your shoelaces are perfectly tied on.
Stay away from shoes without laces.
6. ANTI-SLIP OUTSOLE: RUBBER IS THE BEST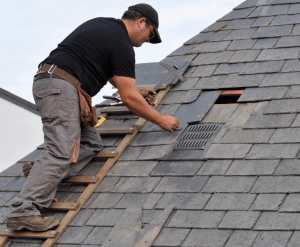 Falling off the roof is something you need to avoid.
Bad injuries, even deaths happen when people slip, slide and fall of the roofs.
Besides other essential safety measures, you need slip-resistant shoes that will prevent you from slipping and provide a good grip.
Choose shoes with rubberized outsoles. They provide the best traction on metal and asphalt. Go with Vibram or MaxWear or other advanced technologies big brands use (Red Wing).
7. WATERPROOF
*First of all, you should not do any roofing when it rains. It is dangerous and not recommended*
While this isn't the most important feature, having a waterproof boot is a big plus especially if you live in rainy climates.
For your comfort and safety, it is important to keep your feet dry even in the worst rain.
It is not recommended to install new roofs or do any work on the roofs while raining. But, the weather is unpredictable and when it starts pouring rain you want to be wearing water-resistant boots.
8. BREATHABLE
Working under high temperatures can be overwhelming and stressful. You cannot be productive when your feet are sweaty and swollen because of the heat.
You need a pair of work boots that allow air to flow and keep your feet cool and dry during the hottest summer.
You might think leather boots will not allow air to flow. But actually, the leather is one of the best solution here. A good leather boot will bring you comfort, safety and allows your feet to breathe.
If you're looking for breathable and budget-friendly options, go with hiking shoes.
If you want expensive (but super quality) boots, check out our review of the Red Wing roofing shoes.
10. ANKLE FLEXIBILITY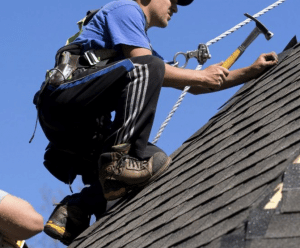 Climbing a steep roof involves a lot of squatting and getting in awkward positions.
The flexibility of your ankles must be maximum.
The boots you wear should be made from a pliable soft yet rugged leather (or other material) that allows you to bend your feet in any angles.
If you choose high shoes, make sure the material they've made of something soft and not rigid. But at the same time, they must give you that tight and secure feeling.
11. MATERIAL – NOTHING BEATS LEATHER
You'll see cheap shoes made of fake leather or some other fabrics that won't last you more than a week.
The best material we recommend for roofing boots is leather. You cannot go wrong with a pair of boots made of full-grain leather.
It's durable, breathable and very comfortable. It does take a bit of time for the leather to break-in, but in the end, is worth it.
---
Here you go. Now you know what are the top things you should look for in a pair of good roofing boots.