We hope you love the products we recommend! Just so you know, when you buy through links on our site, we may earn an affiliate commission. This adds no cost to our readers, for more information read our earnings disclosure.
Last Updated on July 1, 2022 by Todd
After tons of researching and asking other roofing contractors about the best air hoses for nail guns, we selected our favorite picks that work best for roofing, framing, and siding projects.
When it comes to roofing air hoses, we recommend hoses made of polyurethane and hybrid materials because they are lightweight, flexible, and highly visible. These hoses coil easily and perform well in cold temperatures.
Some polyurethane hoses have the tendency to kink due to how light and flexible they are.
When you work at heights or on steep inclines the weight of your nail gun hose is very important.
Dragging around heavy items on the roof is a huge issue. A heavy hose drags your tools down, increases fatigue, and puts your safety at risk. Always choose lightweight tools and gear.
For those in a rush, here are our top recommendations embedded in a table. Below the table, you'll find reviews of the best air hoses and a comprehensive buying guide to teach you how to pick the right roofing air hose for the job.
BEST ROOFING AIR HOSES FOR NAIL GUNS
---
Best Roofing Air Hose: Flexzilla Hybrid Polymer
Flexzilla is one of the most popular air hoses available on the market, mostly because its innovative polymer-blend redefined flexibility in hoses all over the world.
Top Features:
All-Weather Flexibility
Extremely Durable
Won't Kink
Zero Memory: lays flat
Lightweight
Anodized Aircraft Aluminum Fittings
This model is available in a wide variety of sizes, with different lengths and ends.
When choosing air hoses for nail guns, you should look for hoses with zero memory. That makes the air-hose lay flat wherever you drop it. It won't stay in your way.
The hybrid blend makes the Flexzilla remarkably flexible and will remain flexible even in extremely cold weather at -40 degrees Fahrenheit. This is what makes it the best air hose for cold weather and probably the most flexible air hose on the market.
One of the most annoying things about an air hose is when it kinks. That happens a lot with polyurethane or nylon hoses. Flexzilla is kink-resistant and won't kink under pressure.
This model is very lightweight and easy to carry and maneuver. They're also highly visible and designed with a bright neon green color which stands out.
It comes with an abrasion-resistant cover that makes it very durable in rough conditions.
There are many debates about "Flexeel vs Flexzilla". Indeed, both of them are excellent choices. But comparing them would be unfair, considering they're made of different materials: hybrid blend (Flexzilla) and polyurethane (Flexeel). Some people prefer the hybrid, others poly. It's a matter of taste and you have to try them both to know which type of air hose fits your needs best.
---
Best Polyurethane Air Hose: Coilhose Pneumatics Flexeel
We think Flexeel by Coilhose Pneumatics is the best poly air hose on the market.
It's lightweight, flexible, durable, doesn't kink, and it's easy to coil and uncoil. Flexeel has been around for many years and it's still in front of many other models from big brands.
Unlike other polyurethane air hoses, Flexeel is extra kink-resistant. 
One thing we didn't like is that these polyurethane hoses have the tendency to stick to themselves. But that's something often found in most of the poly hoses.
According to Coilhose, they manufacture their products in the USA. You get American quality without a high price tag.
Flexeel can handle temperatures from -40F to +165F. It's available in different sizes and multiple colors: transparent red, transparent blue, and transparent yellow.
We like the fact that it's designed with braided nylon reinforcement, adding to durability.
Because it's so lightweight, this model is a popular choice among roofers or framers working at heights.
---
Runner-Up: Amflo Polyurethane Air Hose
Another great option if you're looking to buy a new polyurethane air hose is the Amflo model. It's lightweight so it can be used with efficiency at heights.
Top Features:
Lightweight
Braided nylon reinforcement: for durability
Flexibility in extreme temperatures
Kink-Resistant
High durability
The flexibility is on point even in extreme weather with temperatures from -30F to +150F. It comes in a variety of sizes, lengths, and inside diameters.
Unlike other polyurethane hoses, this Amflo air hose is rugged and can withstand some pretty harsh conditions.
There are some complaints about coil memory and that is somehow difficult to make it lay perfectly flat. That can happen at the first use, but after some time, it will go away.
Comes with nice swivel ends making it easy to maneuver and rotate your tool. Another great feature is that it doesn't kink under pressure.
The Amflo air hose is a versatile model being an ideal choice for industrial, professional, indoor, outdoor, and DIY use.
To make it lay flat you can use this trick: on a hot day, lay it out on the driveway for a couple of hours, and the memory will go away.
---
Top-Quality at Decent Price: Hitachi Professional Grade Polyurethane
This Hitachi air hose is one of the top options when it comes to polyurethane lines. It's a favorite choice for many roofers and framers who work at heights.
When it comes to Hitachi air hoses, you either love them or hate them. It depends on how you plan to use them.
Hitachi is a well-known brand in the construction industry and manufactures high-quality tools and some of the best roofing nailers. 
The good: It comes with a decent price tag, it's lightweight, flexible, easy to coil and uncoil, easy to store and it lays flat.
The durability is decent, considering how light and soft it is. Easy to maneuver and comes with high-quality fittings. It comes in 50′ and 100′ lengths.
The bad: it tangles pretty easily, and it has the tendency to kink and stick to itself.
BUYING GUIDE: What to look for in an air hose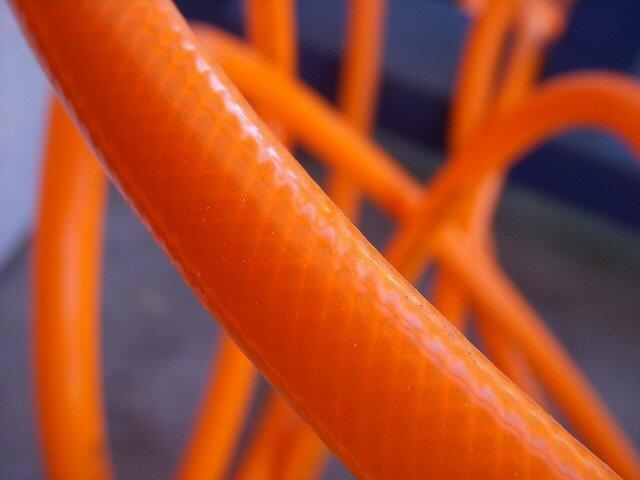 There are so many options out there, different materials, brands, lengths, and diameters – and if you're new to the air tools world, it can be difficult to know which option is the best for you.
Best Air Hose Materials
Quick Takeaways:
Rubber: heavy (doesn't kink), lays flat, flexible, easy to be repaired, ideal in cold temperatures.
PVC: cheap, strong, lighter than rubber, awful in cold temperatures, difficult to coil/uncoil, not flexible.
Polyurethane: extremely lightweight, lays flat, flexible, good in cold weather, a tendency to kink and stick to itself, expensive. (Ideal for Roofing!)
Nylon: the lightest material available, pliable, kinks often and is not durable.
Hybrid: modern and efficient combinations of two or more materials
Rubber:
Rubber air hoses have been around for a long time and they are still the number one choice when it comes to "on-the-ground" work because they are strong, durable, and can be dragged over rough surfaces.
Another great thing about them is that they lay flat and don't kink, so you won't trip over them while doing your work. They're the best choice for garages, automotive shops, or for doing any work indoors or on the ground.
Sturdy yet flexible, rubber air hoses are easy to coil and store without taking up too much space.
Unlike PVC, rubber hoses can be repaired with ease when they have too much wear or leaks.
Rubber air hoses retain their flexibility even in colder temperatures.
A downside: they're heavy! That's usually not an issue if you're using them on short distances and on the ground.
For roofers or framers doing work at height, heavy air hoses are a huge problem.
PVC
PVC air hoses are the cheapest option available on the market. Don't expect more than decent quality because you get what you pay for. A PVC hose comes with some advantages and many disadvantages.
The good: it's light and strong. The best thing about PVC hoses is that they are lightweight, about 30-40% lighter than rubber. This comes in handy in many situations. They're strong and designed to take abuse.
The bad: hard to coil and uncoil, almost impossible to lay flat, awful in cold temperatures, stiff, hard to repair.
PVC hoses are stiff and not as flexible as other materials. In warm weather, they're ok to use, but as soon as it gets colder they become really hard to maneuver.
These PVC air hoses have memory so it's difficult to lay them down completely.
As you can see, there are a lot of reasons to stay away from PVC. But they still can be useful in some particular situations, they're easy to carry around and good to use occasionally.
Polyurethane: The best for roofing/framing
Comes in handy for roofers, bring the hose up to the height of a roof, and the hose itself tends to pull the nailer down the roof.
Tends to kink. If you're using it on the ground, it can tangle up and you can end up tripping over it. Easily repair with barb connection.
Good for framing at second stories and up.
Polyurethane air hoses are extremely lightweight, very flexible in most temperatures, and are the perfect choice for people working on the ground and over long distances.
They are lighter than PVC, rubber, and hybrid, which is a huge factor to consider if you're a roofer or framer working on the second floor and up.
Poly hoses perform well. They're easy to repair, easy to lay flat and they're weather resistant. The flexibility is great even at awkward angles.
For working outside and off the ground, polyurethane hoses are the go-to choice.
Polyurethane air hoses are more expensive and have the tendency to kink and coil more often.
Nylon
Nylon air-hoses are the lightest option out there, very flexible, and pliable but they don't last long and kink very easily. They're not good for rough projects or outdoor work environments.
The pliable nylon air-hoses are usually found in factories and assembly lines hanging from the ceiling. They're also used for painting with air sprayers. Nylon hoses are hard to fix and have a short lifespan.
Hybrid
Hybrid air hoses are made from a blend of two materials with the purpose to make excellent combinations of the best materials features.
One of the most common blends is PVC-Rubber Hybrid and it's a great one. Don't let the "PVC" name confuse you: it's only the positive features of PVC.
PVC-Rubber Hybrid: only the positive features of PVC (lightweight) combined with the positive features of rubber (flexibility, durability, no memory, great in cold weather). That's a recipe for success.
Length: the longer, the heavier.
Choose an air hose with a length that fits your needs. Usually, you'll see that air hoses are available with a length from 25ft to 100ft.
Long hoses are also heavier than short ones, so make sure to keep that in mind before picking an air hose. If you need to cover long distances, a 100ft hose will be more than enough.
Inside Diameter: air pressure delivery
The diameter of an air hose is important to consider when it comes to air pressure delivery. The higher the inside diameter, the higher the pressure of the air delivered. You'll often see 1/4" and 3/8" diameters.
Here again, larger diameters add more weight to the air hoses. Usually, a 1/4" will work just fine for handheld air tools like nail guns and sprayers used on medium distances.
For an air-hose of 100ft on large distances, you should consider a 3/8" diameter.
If you're not sure what diameter will work best for you, it's best to try both if your budget allows for it. Remember that weight is a huge factor when it comes to working at heights.
Conclusion: If you're a roofer or a framer working at heights, always go for a roofing air hose that is lightweight, flexible, and has a small diameter. This is the safest option that will also help you maneuver the air tool with ease, and will increase your productivity.