We hope you love the products we recommend! Just so you know, when you buy through links on our site, we may earn an affiliate commission. This adds no cost to our readers, for more information read our earnings disclosure.
Last Updated on August 16, 2022 by Todd
Roof shingles are easy to forget about when maintaining the exterior of your home.
However, if you do notice that your shingles are in need of some TLC, then you may consider giving them a coat of paint to give them a new lease on life. But can it be done?
This article will outline everything you need to know about painting your roof shingles and whether or not it's a good idea. It'll give you all the knowledge you need to get started sprucing up your tired roof.
---
Painting Roof Shingles – Can It Be Done?
If you're wondering whether or not you can paint your roof shingles, then wonder no more! You can absolutely paint them!
Painting your roof shingles is entirely possible, however, professionals recommend against it unless you know exactly what you're doing and understand the current state of your roof's condition.
Pros Of Painting Roof Shingles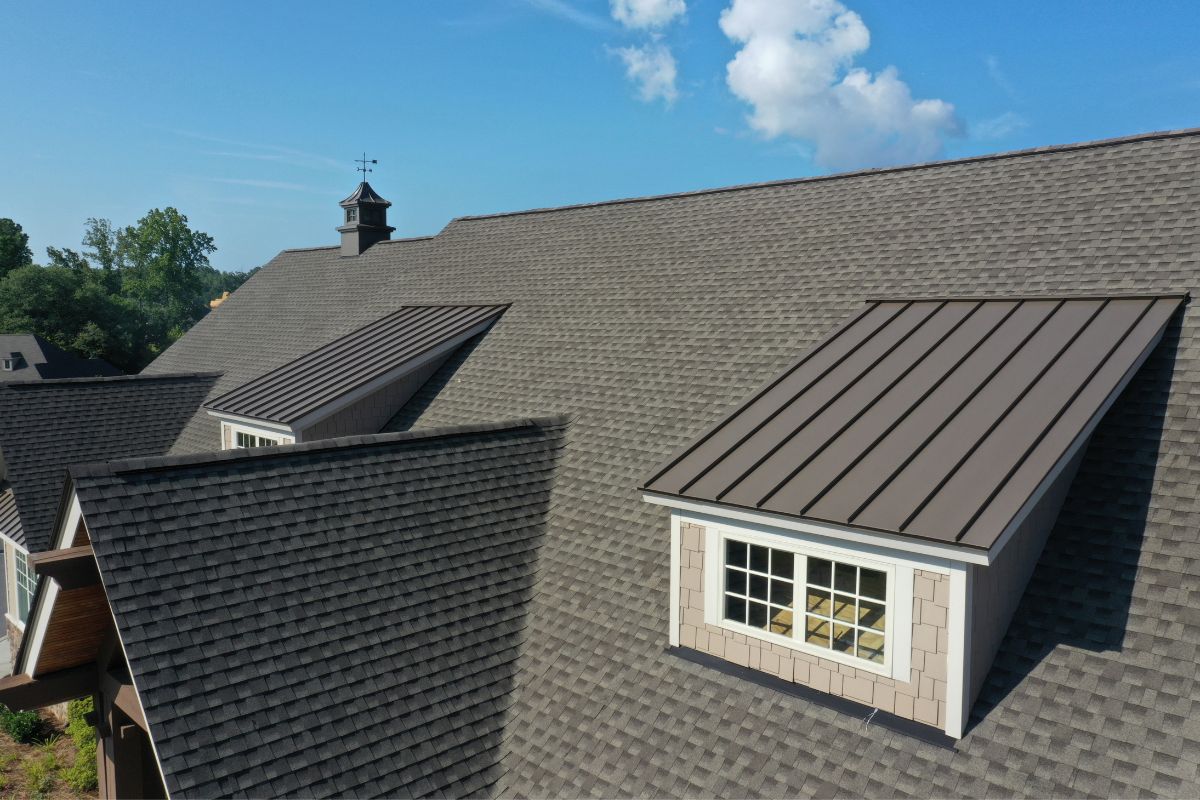 So what are the advantages of painting your roof shingles? Below we've outlined all the reasons why doing so is a good idea.
Extended Longevity
If shingles are properly painted, they can last longer by protecting them from the elements, just like painting a fence can.
If you choose to paint your shingle roof, be careful to pick paint that will shield it from UV radiation damage and everyday wear and tear.
The only option is a premium 100% acrylic latex paint with a flat finish.
New Look
Sometimes, the only justification you need for painting your roof shingles can be purely cosmetic.
Doing this is a great way to update the appearance of your home if you've noticed that the shingles on your roof are looking a little worn out or just seem lacking.
Painting your roof shingles can instantly update the look of your home.
Affordability
The typical way to update a roof's appearance is to reshingle it, however, painting your shingles is a much more cost-effective option.
Reshingling the roof would cost far more money than buying the paint, renting a paint sprayer, and painting the roof yourself, so if you're looking for an affordable maintenance option, then painting your roof shingles is the way to go.
Cons Of Painting Roof Shingles
While there are advantages to painting your roof shingles, there are also disadvantages. We've also listed reasons why painting your roof shingles might not be the best idea for you.
Maintenance
If you decide to paint your roof shingles, you should be aware of the ongoing upkeep needed to maintain the appearance.
This is especially true if the initial completion of the task was sloppy. Be ready to inspect your roof at least once per year and possibly redo the job again.
The type of environment you live in is the only factor that affects how quickly your paintwork ages.
A person who lives in a location with a lot of rain or intense sunlight might have to put in more effort than someone living in a more neutral climate.
Potential Damage
Paint can extend the lifespan of your roof by shielding it from the elements, but if you choose the wrong paint, it could also harm it. You will need to get a water-based, acrylic latex paint designed specifically for rooftops.
This kind of paint enables water to evaporate off the shingles, preventing the growth of mildew and algae as well as preventing roof leaks from entering your home.
Not A Repair Substitute
While a simple color change is an excellent method to help your property's aesthetic, it's essential to keep in mind that painting the roof does nothing to fix any damage that already exists.
The paint is not a reliable barrier against significant roof damage (see also 'How To Patch A Hole In The Roof') and it cannot repair leaks in the roof or patch cracks in the shingles. Before you can paint the shingles on your roof, it must first be professionally repaired if it is damaged.
Tips For Doing It Yourself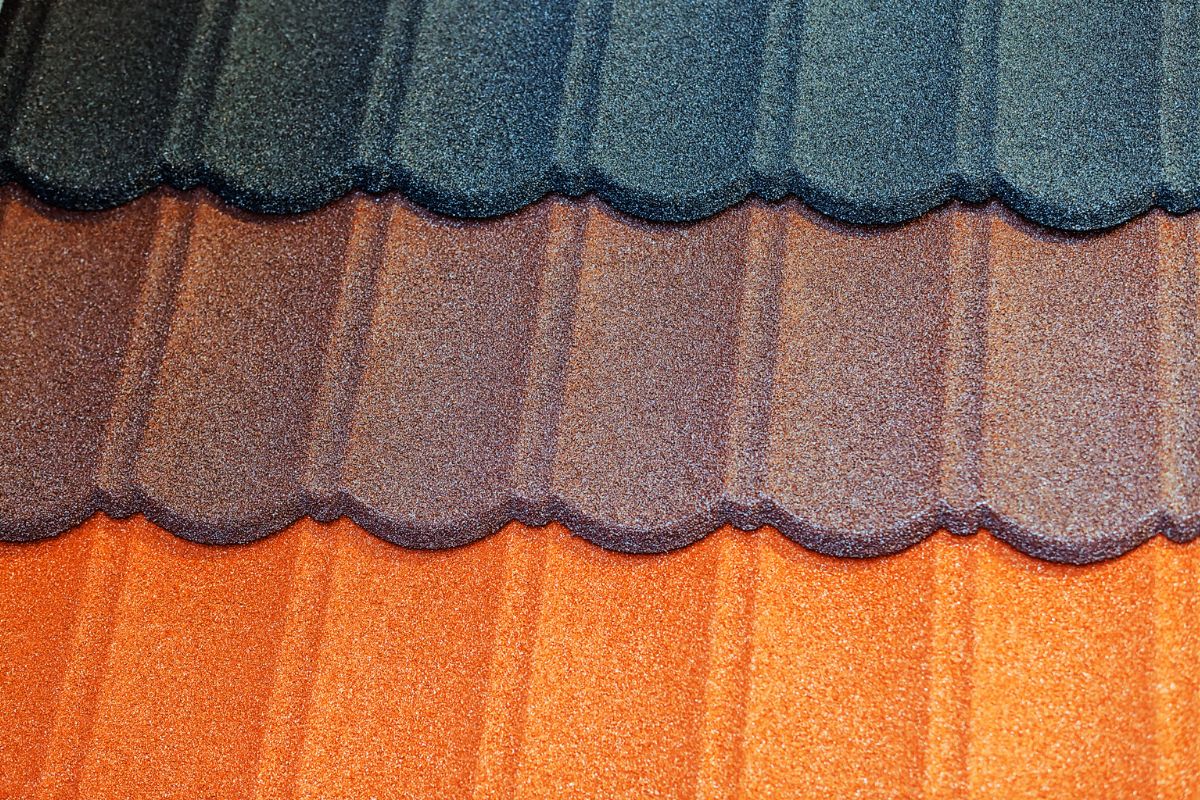 If you decide to paint your roof shingles yourself, then we have some handy tips and tricks to help you complete this project to a high standard.
Doing it yourself can save you some money and allow you to paint your roof exactly the way you want it.
Get An Inspection
Before painting your roof shingles, you should get a roof inspection by a professional to determine if you have any underlying problems.
Any severe issues need to be resolved, and it may be better for you to replace your roof shingles rather than paint them.
Fix Any Damage
You should also take minor damage into consideration before painting your roof shingles, and ensure those repairs are made before you start.
Ensuring your roof is in good condition will make sure that painting your roof won't make any existing problems worse.
Get The Right Equipment
You will typically need the following equipment, however, it depends on your roof: an extension ladder, a high-pressure water blaster, and a paint spray gun and pump.
Additionally, you'll need a full body suit to protect your clothes, a supplied-air respirator to prevent fume inhalation, and tarps to reduce errors.
Install Safety Equipment
We strongly advise purchasing safety equipment, as there are numerous incidents that can occur when working on your roof. Using safety equipment will minimize your risk of injury.
In case of a slippery roof, it is advised that you build temporary anchor points, wear a harness, and use edge protection.
Clean Thoroughly
A necessary first step to achieving a nice, even, and consistent color (see also 'How To Choose Roof Color For Red Brick House') is to thoroughly clean your roof of any accumulated dirt and grime.
Find The Right Paint
When painting your roof, it's crucial to get an acrylic latex paint that is specifically marketed as roofing paint.
To make sure you get the best product for painting asphalt shingles, check with the paint manufacturer or talk through your options with a knowledgeable retail salesperson.
Final Thoughts
It's always best to get the help of a professional when it comes to painting your roof, however, if you do decide to do it yourself, you can use this simple guide to help you on your way.
We've outlined the pros and cons of painting your roof shingles (see also 'What Are Roof Shingles Made Of?') too, so you be sure that you're making the right decision for your roof.