We hope you love the products we recommend! Just so you know, when you buy through links on our site, we may earn an affiliate commission. This adds no cost to our readers, for more information read our earnings disclosure.
Last Updated on July 1, 2022 by Todd
This Hitachi Roofing Nailer NV45AB2 is the ideal choice for professional contractors and DIYers. This tool is reliable and offers accurate nailing without a commercial price tag. It can handle long and difficult projects.
It's lightweight, well balanced, easy to operate with one hand, comfortable, and you can count on it even in extreme weather conditions (hot or cold).
If you want to see how this Hitachi nailer compares with the competition, check out our latest article on the best roofing nailers 2022.
Features:
All-Weather Nails
Carbide-tipped push leveler
Anti-slip rubber pads on the body
Ergonomic grip & Well-Balanced
Lightweight at 5.5 lbs
Metal Housing for Durability
Quick Depth of Drive Adjustment
Fast nailing: 3 nails per second
Nail size: 7/8 inch to 1-3/4 inch
Cons:
After extended use can misfire.
It's a pretty straightforward tool that has all everything placed logically so it could be easy to use for anyone who never touched a roofing nailer.
---
All-Weather Nailer: Hot or Cold, You Can Count on it.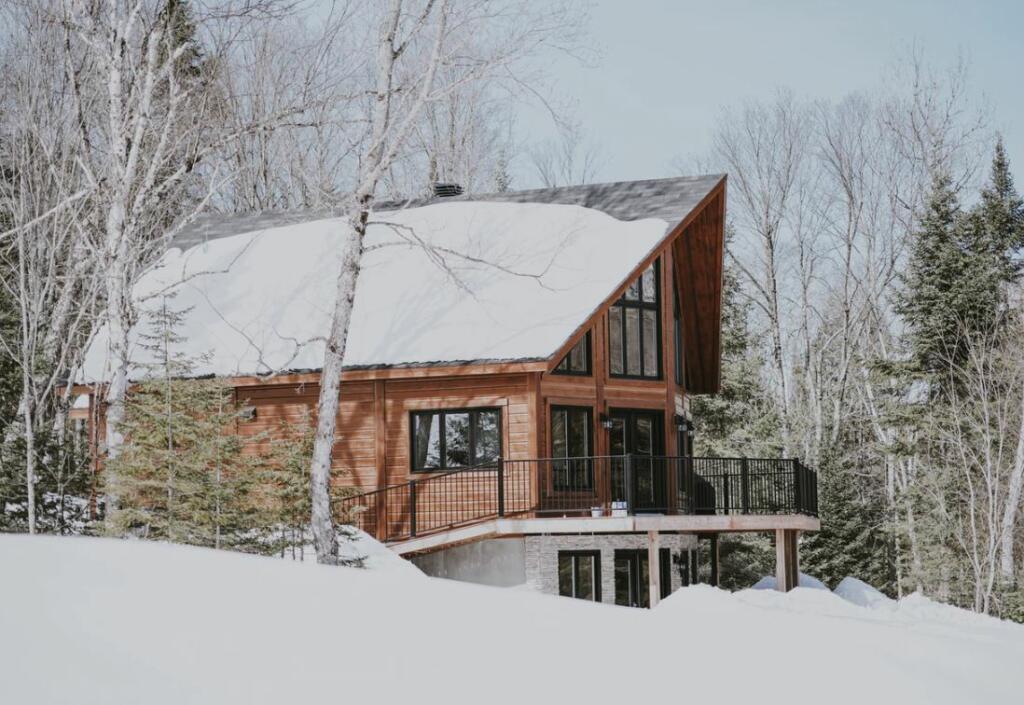 No matter the weather, hot or cold, Hitachi can handle it. One of the greatest things about this nailer is that was designed to withstand extreme weather conditions. This Hitachi roofing nailer is the tool you can rely on even in snow, rain, and hot or cold temperatures.
Many other roofing nailers simply freeze up and stop working when the temperature gets too cold. The Hitachi NV45AB2 was tested in the most extreme conditions and you can count on it in any weather.
The secret to this Hitachi is the air-powered nail-feed system that automatically eliminates dirt, residue, and moisture from the tool.
If you need to install a roof in winter or repair a roof in cold weather, then this Hitachi is the nailer we recommend.
Magazine Layout, Capacity, and Nails
This nailgun is designed with a side-loading magazine, one of the most popular layouts on roofing nailers.
The magazine accepts up to 120 coiled nails, sized from 7/8-inch to 1-3/4 inch with a shank diameter of 0.120.
It's nice to have the option to use smaller-sized nails, most of the roofing nailers allow nails sized from 3/4 inch to 1-3/4 inch.
When you're installing a roof you'll need to reload the magazine pretty often. It's crucial that the reloading process is easy to do.
Hitachi's magazine is easy to open, reload and close. The process of putting a new coil of nails is straightforward, and after some practice can be done in a few seconds.
Specs and Values Table
| Specifications | Value |
| --- | --- |
| Power Source | Air-Powered |
| Operating Pressure | 70-120 PSI |
| Magazine Capacity | 120 nails |
| Weight | 5.5 lbs (2.5 kg) |
| Collation Type | Wire |
| Nail Gun Angle | 16-degrees |
| Strip or Coil | Coil |
| Minimum Fastener Size | 7/8 inch |
| Maximum Fastener Size | 1- 3/4 inch (45mm) |
| Nail Shank Diameter | 0.12 (3mm) |
---
Lightweight, Well-Balanced, and Ergonomic
The weight of your tools is very important when you're working 12 hours a day. Holding a heavy hand tool all day long can increase fatigue, stress, and pain in the forearm, wrist, neck, or anywhere on your body really.
Hitachi NV45AB2 is a lightweight nailer and it feels good in the hands. Due to it weighing only 5.5 lbs (2.5kg), ergonomic grip, and good balance, the tool can be used all day long with comfort.
The grip is rubberized, ergonomic, and comfortable. It's well-balanced, and it's easy to maneuver with one hand.
The weight distribution is spot-on, and that makes you feel in control increasing your productivity and nailing accuracy.
Rubber Pads on the Body: It doesn't slide off the roof
The tool has rubber pads on the sides to keep it in place even on the steepest roofs. When you're not using it, you can put it down on the roof without the fear that it will slide off.
These small rubberized pads create friction with the pitched roof and keep your tool in place.
Power Source: Pneumatic (Air-Powered)
This Hitachi roofing nailer is an air-powered tool. These pneumatic roofing nailers require an air compressor like this (link to Amazon) in order to work.
Pneumatic power is the most common power source used by roofing nailers.
Make sure to look at the CFM (air volume) and PSI (air pressure) of the air compressor to make sure it is compatible with your nailer.
Hitachi NV45AB2 works with an air pressure of 70 to 120 PSI. Don't exceed the maximum recommended air pressure.
Built to Last: Metal Housing for Durability
The nailer is made to last, withstand harsh roofing conditions,, and handle heavy abuse. Somehow, Hitachi managed to add these extras to the nailgun while keeping it lightweight.
Comes with less plastic, and the metal housing protects it from extreme conditions and increases its longevity.
Hand tools always get dropped and handled roughly. This Hitachi nail gun is well-constructed and solid. It is able to handle the wear and tear without breaking.
Less Wear with Carbide Tip Push Leveler
The carbide tip is present to avoid unnecessary wear, making the nose sit evenly on the work surface. This increases its durability and allows you to drive nails perfectly flat every time.
Precision Nailing: Easy Drive Depth Adjustment Feature

It comes with a well placed knob adjuster that allows you to control the nailing depth. Depending on the length of the nails on the work surface, you will need to adjust the depth according to your needs.
The nailer can fire nails shallow,  flush, or countersink. The knob can be turned to adjust to the desired depth, even if you're wearing work gloves.
Versatility: Applications
It's a versatile nailer that can be used for multiple purposes. The manufacturer recommends the following applications:
Asphalt Roofing Installation
Insulation Board Installation
Lubrication: Increase the Longevity and Performance
To ensure the best performance and that the parts will not wear too early, the nailer should be properly lubricated. You can use any oil for pneumatic tools, and just put a few drops in before each use.
Quick Firing Mode
The fastest way to drive nails and get the job done quicker is to use contact mode also known as bump mode.
This Hitachi NV45AB2 roofing nailer comes with a Contact mode that works like this:
Hold down the trigger.
Bump the nailer's tip against the work surface.
Done, a nail is set.
Basically, all you need to do is hold the trigger, and every time the tip of the tool touches the work surface it will drive a nail.
---