We hope you love the products we recommend! Just so you know, when you buy through links on our site, we may earn an affiliate commission. This adds no cost to our readers, for more information read our earnings disclosure.
Last Updated on June 15, 2022 by Todd
If you're wondering what are the best roofing tool belts, this article is for you. After hundreds of hours of researching, analyzing and comparing top brands, we selected our favorite roofing belts of 2020.
Roofing is an extremely physically demanding job and at the same time, it's also very dangerous. You need proper training, experience and the right gear and tools to be able to thrive in the roofing industry.
Besides the constant physical effort and having to constantly pay attention to their safety, roofers need to carry all kind of roofing tools like:
hammers, nailguns, screws, utility knives, rippers, seam rollers, steel tapes, snips, nails and many more.
It's safe to say that all of these tools and accessories need to be organized in an efficient way to make roofing work easier.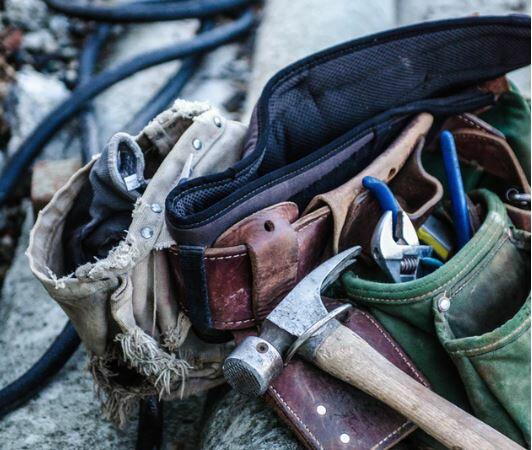 A roofers tool belt is the best option to hold your tools and nails safe, snug, close-by, easy to access, and always ready to use.
We think that a good tool belt should be extremely comfortable, lightweight, durable and practical to make things easier for you and facilitate easy access to the tools.
If you're a roofer and want to increase your speed and productivity at work, then you should consider investing in a proper tool belt.
A heavy or inadequate tool belt can really slow you down. 
Best Roofing Tool Belts in 2020
---
1. Occidental Leather 5089 Seven Bag Framer
---
2. CLC Custom Leathercraft 175274 Heavy Duty
---
3. Bucket Boss 50200 Builders Rig
---
4. Task Tools T77265 Carpenter's Apron
Conclusion: If you want the best of the best, and you have the budget for it, go for Occidental Leather tool belts. If you need a tool belt for a small DIY project or for seasonal small jobs, then any of the belts we recommended above are a great option for you.