We hope you love the products we recommend! Just so you know, when you buy through links on our site, we may earn an affiliate commission. This adds no cost to our readers, for more information read our earnings disclosure.
Last Updated on June 15, 2022 by Todd
After tons of research, and analysis, we've put together this in-depth review of the Thorogood MaxWear wedge sole. Many hardworking people out there choose Thorogood boots to wear on the site. No wonder, Thorogood is one of the most respected and trusted brands in the workwear industry.
Their boots are used in rough conditions by hardworking people like roofers, ironworkers, carpenters, framers, bricklayers, welders, landscapers, firefighters and many more.
One of the most important things in a pair of work boots is the outsole, also known as the sole. Since it's the part that comes in direct contact with the ground, it must be durable, slip-resistant and provide superior traction.
There are different types of soles out there, each designed to fit the initial purpose of the shoes. For example, football and golf shoes require cleats and spikes to provide the best traction on the grass.
Why Wedge Sole 
A wedge sole is constructed to be flat and does not come with a heel. This particular design provides the best support and traction, and besides that, it leaves no room for your arch to fatigue.
If you're climbing ladders, then a wedge sole is extremely helpful since it distributes the pressure evenly all through the foot allowing for a perfectly flat surface.
From Vibram Christy to Thorogood MaxWear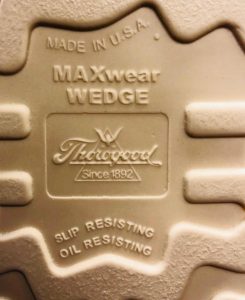 Thorogood boots used to have Vibram Christy Cream wedge soles. They used the Christy sole since 1964.
It performed really well, and back then it was the only solution that met their demands: slip-resistant, comfortable and durable enough.
All that changed 4 years ago, when Thorogood decided they want something better and set up a product development team to come up with a new outsole more excellent than Vibram Christy.
They spent 2 years and managed to develop a much superior sole named: Thorogood Polyurethane MaxWear Sole which is:
ultra comfortable
more slip-resistant than Vibram
lasts with 20-30% longer
soft
light
flexible
sticky
Most of their boots are made in the USA, 65% of their footwear is still made in Wisconsin, one of the union factories.
You might like: Best Thorogood Roofing Boots in 2019
Comfort
The fantastic amount of cushion and support gives excellent comfort all day long. The outsole is light and soft, and it comes with a solid shock absorption technology.
The sole is actually really flexible as well, unlike other rigid soles, these MaxWear bottoms can actually bend and allow you to have the best support when walking on difficult inclines.
Available in White and Black Color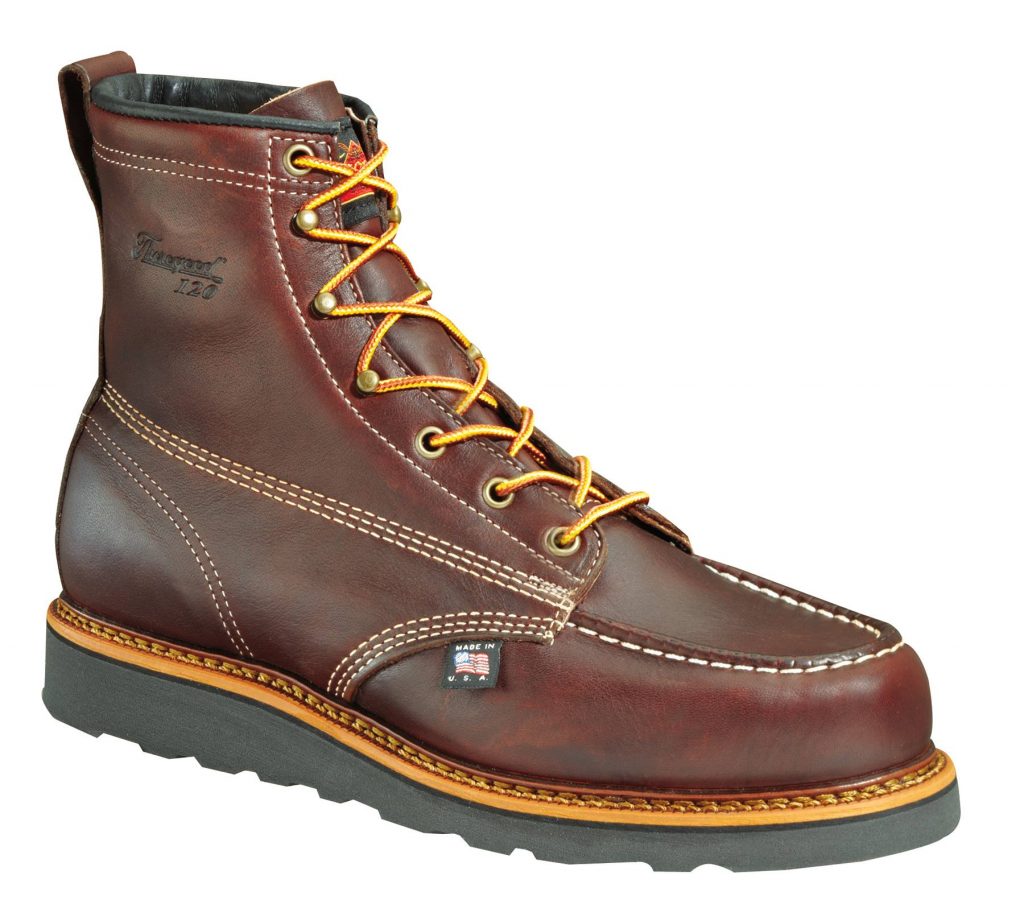 MaxWear soles come in two different colors: black and white. They both look beautiful and elegant. They're the same in quality, so when it comes to picking one, it's just a matter of taste.
You may think that the white soles get dirty more quickly. They don't dirtier than any other regular boots. The important thing is that the sole can get cleaned easily with a damp paper towel and water.
Durability
If you wear these every day, 12 hours a day 7 days a week, you'll be surprised by how durable the soles are. Depending on how harsh is the surface you're walking on daily, they can last you 6 months to a couple of years.
The smart thing about Thorogood MaxWear Wedge boots is that whenever the soles wear out, they can easily be replaced with brand new soles. This saves you money since you won't have to buy a new pair of boots whenever the bottoms wear off or tear off.
Craftsmanship
Thorogood boots are not made just by pushing a button. The majority of their footwear is handcrafted in the United States of America by skilled craftsmen and women.
The shoes are well and solidly constructed, the stitching is on point so they could last you a very long time.
Slip-Resistance
The outsoles are marketed as slip-resistant and oil-resistant. That means that they should provide a superior traction and grip on difficult and slippery surfaces.
The soles should "stick" to a wet and oily surface and prevent you from slipping and injuring yourself. Thorogood work boots are often used on excessively slippery and high pitched metal roofs.
Credits:
Images provided by: www.Thorogoodusa.com