We hope you love the products we recommend! Just so you know, when you buy through links on our site, we may earn an affiliate commission. This adds no cost to our readers, for more information read our earnings disclosure.
Last Updated on June 15, 2022 by Todd
Bostitch RN46-1 Roofing Nailer: a lightweight tool that's made to last. This model is one of the most popular nail-guns available on the market, it's versatile and proudly used by professional contractors to DIY-ers.
It's a reliable tool, great in terms of performance and it's reasonably priced. We barely could find something negative about it, but like any other nailer, it can double fire or experience jamming occasionally.
If you're interested to see how the RN46-1 stacks up against the competition, check out our latest article on the best roofing nailers. 
Lightweight (Aluminum Housing) Yet Durable
Zero Nail Lock-Out: No Dry-Firing
Easy to Adjust Depth of Drive
Versatile with multiple applications
Over-molded Grip: good grip in any weather conditions
Nosepiece Carbide Inserts
Cons:
The nail cartridge area can come loose after extended use, feels a bit like plastic.
Check The Current Price on Amazon
| Specifications | Value |
| --- | --- |
| Power Source | Air-Powered |
| Operating Pressure | 70-120 PSI |
| Magazine Capacity | 120 nails |
| Weight | 4.8 lbs (2.2 kg) |
| Collation Type | Wire |
| Nail Gun Angle | 15-degrees |
| Strip or Coil | Coil |
| Minimum Fastener Size | 3/4 inch (19mm) |
| Maximum Fastener Size | 1- 3/4 inch (45mm) |
| Nail Shank Diameter | 0.12 (3mm) |
Lightweight & Comfortable to operate with one hand
Weight
At only 4.8 lbs (2.2kg), this Bostitch nailer is one of the lightest models available on the market.
When it comes to hand-tools that you use 12 hours a day, weight is a major factor to consider. The heavier the tool, the more pain, and fatigue on the wrists, forearms, shoulders and eventually on the entire body.
A lightweight tool allows you to work at a higher speed, without experiencing any pain and frustration.
Balance
Another important factor to consider when choosing a roofing nailer is how it feels in your hands. It may sound silly, but this is a crucial thing to look for. Hand-tools must be designed with a spot-on weight distribution, to be easy to operate with one single hand.
This Bostitch model is well-balanced, has an ergonomic grip, allowing you to maneuver it with ease and comfort.
Both Durable and Lightweight
Bostitch created a lightweight model without compromising its durability. Unlike other tools, RN46-1 is sturdy, durable, solid-built and at the same time light as a feather of 4.8 lbs.
It's designed with a magnesium housing, known to be durable yet lightweight.
Even with every-day use, it can last you years. The magnesium housing protects the nailer and makes it withstand the abuse.
Versatile with many Applications
It's a versatile tool that can be used for different projects, not only roofing. This coil roofing nailer has the following applications:
Roofing
Exterior Drywall
Insulation board
Fiber Cement Applications
Vapor Barrier Installation
Vinyl Siding
Composition Roofing
and more.
Roofer's Help: Comes with Shingle Guide
It comes with a shingle guide at the bottom, that gives you the possibility to place the shingles and the nails with high accuracy every time.
Over-Molded Grip
Comfortable and Secure Grip in every Weather Conditions
The grip is over-molded designed to give extra comfort and firm gripping even in the worst wheater conditions, including during wet weather.
No Dry Firing: with Zero Nail Lockout Feature
The nailer has a lock-out feature, to avoid jamming or dry firing holes into the work surface without knowing. It's extremely helpful to know when the magazine is empty and when it's the time to reload it.
Magazine Layout, Capacity and Nails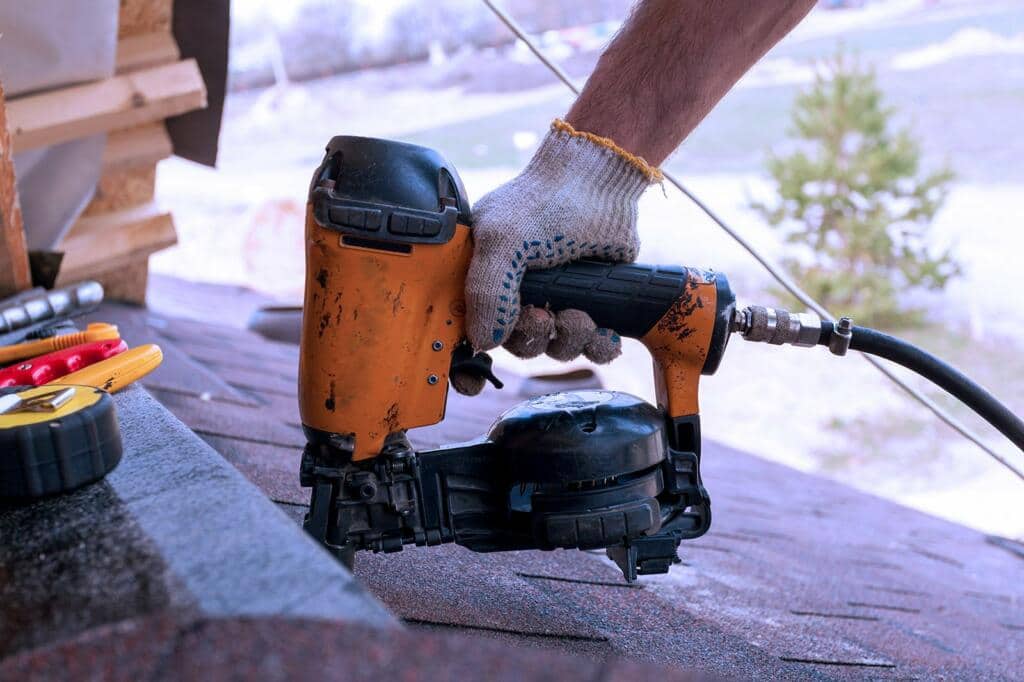 Check The Current Price on Amazon
The magazine has a side-loaded design and can hold up to 120 coil nails, with the minimum size length of 3/4 inch and a maximum size length of 1-3/4 inch. The shank diameter accepted is of 0.120 inches.
It's quick and easy to reload, you just have to slide the magazine door down, reload it and close it. That's it.
Get the right depth of drive with the Depth Dial
Another helpful feature is the depth-adjustment dial. It allows you to control the depth of the drive from shallow, flush or countersink. This feature allows you to do a quality work and choose from 5 different levels.
To adjust the desired depth, you just have to twist the dial. Even if you have roofing gloves on, you still can easily adjust the drive depth without having to remove them.
Contact & Sequential Operation
This model comes with two different types of operation techniques: contact or sequential.
The most common and the way this model works at its best is the contact mode, also known as the bump mode. It's the fastest way to drive nails, but you have to be careful cause it can get dangerous if you're a beginner.
When the nailer is in the contact trip, you only need to hold the trigger and every time the tip bumps the target it drives a nail.
The sequential trip is a safe and a slower way to fire nails. It works like this: the tool only fires nails when you hold the nail against the work surface and then press the trigger.
About the Brand
BOSTITCH is one of the most trusted, popular and respected brands in the world known for manufacturing high-quality fastening tools, automotive, power and hand tools for professional, industrial and home applications.