We hope you love the products we recommend! Just so you know, when you buy through links on our site, we may earn an affiliate commission. This adds no cost to our readers, for more information read our earnings disclosure.
Last Updated on June 15, 2022 by Todd
Durability, precision, and good balance: Senco RoofPro 455XP roofing coil nailer definitely caught our attention.
This model is rugged, extremely durable, made to last and withstand the abuse. It's air-powered, suitable for professional use for large roofing projects. Unlike other tools, RoofPro 455XP is rarely double nailing or jamming.
It's a versatile tool that can be used for asphalt shingles, fiberglass shingles, underlayment, waterproof tar paper, insulation boards and siding (with a special optional siding attachment).
What you might not like: It seems that it can be a little louder than other nailers and after extended use, you can experience some forearm fatigue.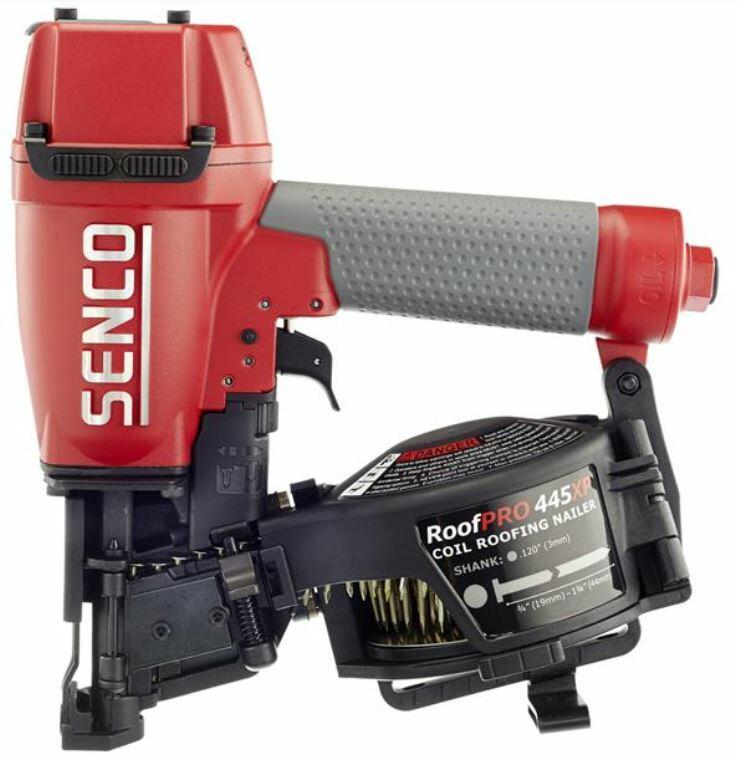 Check the Price and Reviews on Amazon
| Specifications | Value |
| --- | --- |
| Power Source | Air-Powered |
| Operating Pressure | 70-120 PSI |
| Magazine Capacity | 120 nails |
| Weight | 5.21 lbs (2.36 kg) |
| Collation Type | Wire |
| Nail Gun Angle | 15-degrees |
| Strip or Coil | Coil |
| Minimum Fastener Size | 3/4 inch (19mm) |
| Maximum Fastener Size | 1- 3/4 inch (45mm) |
| Nail Shank Diameter | 0.12 (3mm) |
Lightweight and Properly Balanced
Weight
At only 5.21 lbs (2.36kg), RoofPro 455XP is a lightweight tool. And that's crucial when you're working ten hours a day.
Lightweight hand-tools make your job easier and can drastically increase your productivity, comfort, and work-speed. Every pound counts. The heavier the tools, the more fatigue, pain and stress on the forearms and the body.
Balance
This model feels good in the hands and it's properly balanced. The ergonomic grip makes it comfortable to hold and operate. When it comes to hand-tools, having a good balance is very important.
With this model, you can really feel you're in control. Due to the ergonomic design and the spot-on weight distribution, it allows you to maneuver the nailer with ease and stability.
A good balance is also required for performance purposes. Having a stable control of your nailer increases your nailing accuracy. That will help you drive the nails with high precision, always in the right spots.
Made in the USA:
Senco is a trusted brand known for high-quality, made in USA fasteners and power fastening tools.
The brand was founded in 1947 and now produces over 750 different types of fasteners in the United States in Cincinnati, Ohio.
They manufacture a wide range of products like nailers, staples, fasteners, compressors and more.
Extreme Durability: Designed to handle abuse
Well-built Aluminum Housing
This is where the RoofPro 455XP shines. Many times, tools are often dropped on the ground and not handled with care. You need a solid nailgun made for harsh environments.
The SENCO roofing nailer is solidly constructed to withstand rough abuse. With an aluminum housing, which is lightweight but extremely durable, this model is designed to handle harsh roofing conditions.
It's a reliable and well-built tool that won't let you down in terms of durability.
Magazine and Nails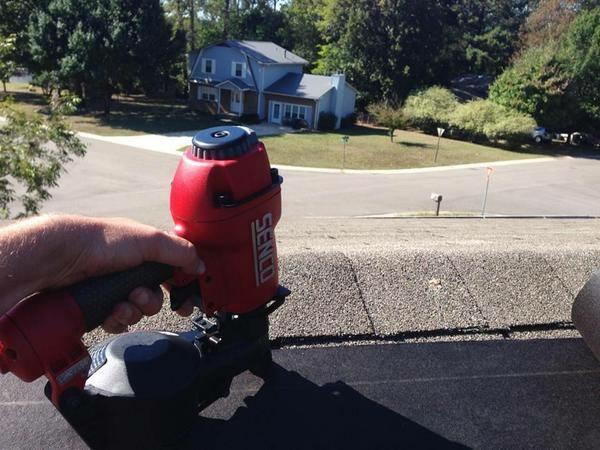 Nail Size Compatibility
The side magazine can fit the most common sized nails used for roofing: from 3/4 inch (19mm) to 1-3/4 inch (45mm) with a shank diameter of 0.120 inches (3mm).
Nailing Speed
This nailer is designed to handle speed, it can drive 12 nails per second at 100 PSI. You'll like this tool if you're a skilled roofer, who knows how to install shingles fast without compromising quality.
Nail Depth
It's crucial to have control of the nailing depth. Sometimes, you need to drive nails shallower, sometimes to countersink them.
The Senco 455XP comes with an adjustable depth of drive feature, so you could set your desired nailing depth.
Magazine Layout and Capacity
The tool has a side-load magazine, that's easy to open and reload. The process of reloading it is simple and straightforward. The capacity is pretty big and can hold 150 wire-collated nails.
Power Source: Air Compressor
The power source of this SENCO nailer is pneumatic, also known as air-powered. In order to work, the RoofPro 455XP needs to be hooked up to an air compressor.
When operating air-powered tools, it's extremely important to pay attention to the CFM (air volume) and PSI (air pressure). The CFM and PSI need to be in the range recommended by the manufacturer.
The Senco RoofPro 455XP Roofing Nailer specifications:
Operating Pressure: 70 – 120 (PSI)
Operating Pressure: 4.8 – 8.3 (Bar)
Air Consumption: 3.86 (SCFM)
Air Inlet NPT: 1/4″
Service & Repair
Whenever you buy a new tool, you have to make sure you can easily get it repaired and find parts and accessories to replace.
The great thing about SENCO, is that's a trusted brand, offering a good warranty and service for its products. Parts and accessories are easy to be found.
Credits: Thank you SENCO for giving us permission to use the photos of the RoofPro 455XP model.