We hope you love the products we recommend! Just so you know, when you buy through links on our site, we may earn an affiliate commission. This adds no cost to our readers, for more information read our earnings disclosure.
Last Updated on June 15, 2022 by Todd
The answer is: Yes! Roofing can be done in winter, but you need to take special measures. Whether you need to install or repair a roof, cold weather and snow shouldn't stop you. There are lots of materials that don't act differently during cold temperatures and have no issues with winter installation.
For example, metal roofs can be installed without any problems during winter time, since the quality is not compromised by cold weather.
BUT, if you need to install asphalt shingles in winter, make sure you do it right and don't compromise the quality of the roof or risk your warranty. You will have to pay attention to the products you use and change the application technique according to the manufacturer's instructions.
If the roof is covered with snow or ice, make sure you clean the roof first, from the ground, using a roof rake.
Dmitry, the owner of Storm Group Roofing, explains really well in this video what steps you need to take to properly install a roof in winter time:
What happens to the asphalt shingles in cold weather
Asphalt shingles are not designed to waterproof the roof, they have the purpose of shedding water away down to the ground.
Asphalt shingles have a seal between them, designed to firmly bind and secure the shingles together when exposed to sun and warm temperatures.
So, if it is warm outside, after installation a seal will be activated, acting as an obstacle protecting the roof from any water, ice or snow going under the shingles.
Because of the cold temperatures, there is a high risk of that seal not to happen. This is the reason, why contractors and roofers need to make sure the seal is applied manually – a process named hand sealing.
Hand Sealing is a must
Hand sealing involves lifting up the asphalt shingles manually and applying a line of cement or a special adhesive using a caulking gun.
Since this is a manual process, it will take more time to complete the job. Most of the time, more roofers are needed and it requires buying extra materials.
Read manufacturer instructions about hand sealing during cold temperatures. The majority of the manufacturers will advise you exactly the proper ways to hand seal.
It is the ideal technique to make sure that the shingles will seal properly. Hand sealing will prevent shingles to be blown off by the wind and will make sure they're perfectly bonded to avoid leaks or water damage.
Roofing in winter is more expensive
If you are a homeowner who needs a roof installation (see also 'How To Attach A Patio Roof To An Existing House') or repair in winter, expect to pay your contractor much more than in summer. There are numerous reasons why roofing during winter is more expensive.
First of all, it's more dangerous for roofers. The risk of slipping or falling off the roof is much higher in winter since the surface of the roof is extremely slippery.
All the crew needs to take extra safety measures and equip themselves with the latest security equipment: harnesses, fall protection systems, non-slip shoes, ropes, brackets and more.
Furthermore, as we said above roofing in winter requires more labor and more materials, so it is understandable that the price goes up a bit, usually up to 30%. Hiring more people and buying more materials are a must in order to get the job done properly.
Read the instructions carefully to prevent voiding your warranty
Most manufacturers specifically say in their terms what exactly they recommend for cold applications. Most of them, specifically mention that the shingles MUST be hand sealed during cold temperatures, or in sandy, dusty areas.
So, if you don't follow the instructions and you decide to not handseal – if something bad happens you'll lose the warranty.
What are the cold temperatures?
If you install when the weather shows temperatures below 40 degrees, then it is considered cold temperatures.
You Should Wear Proper Shoes with Anti-Slip Soles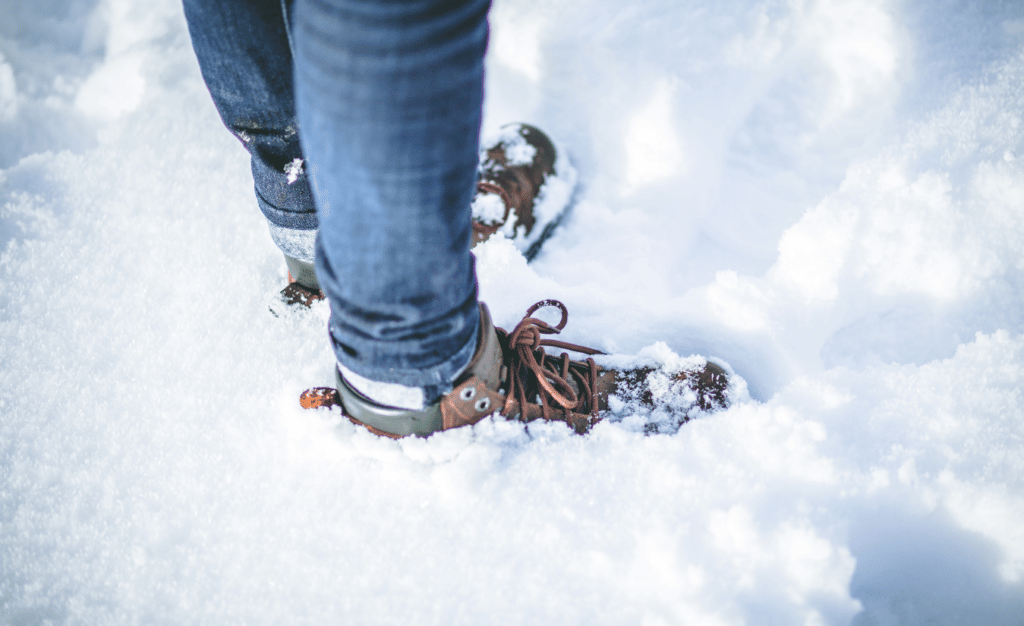 During winter, the surface of the roof can get extremely slippery. You need shoes with added traction soles that can stick onto the roof and make you feel safe.
You need boots with rubber outsoles since rubber grips firmly on slippery and wet surfaces. That's why the majority of the people working on decks, or on boats user full rubber footwear.
#1 Merrell Waterproof Hiking Boots | Best Value
These Merrels are made for hiking, but if you are a roofer you already know that hiking shoes are one of the most popular footwear choices for roofers.
The outsoles are made from Vibram, which is one of the best types of rubber soles out there. They are waterproof and slip resistant, so if you walk on snowy surfaces you should be fine.
Merrell is a brand that is known for its high-quality products, there are many Merrell options out there, with different designs and colors. They are excellent to wear in cold temperatures since they'll keep your feet warm and dry.
#2 Ever Boots Insulated Work Boots | Best Budget
Ever Boots is known for its high-quality products at affordable prices. These boots are made of full-grain leather, which is rigid to give you stability and in the same time is soft to give you comfort.
The outsole is made of rubber to give traction on slippery surfaces. These boots are used in the construction industry all the time. I think the design is also great, they come in the classic yellow version as well.
It's awesome that they are insulated, so if you're wearing them for roofing in winter, they'll keep your foot warm and comfortable. Great choice if you want something affordable and high-quality.
#3 Thorogood American Heritage Work Boots | Professional & Expensive
Thorogood makes some excellent boots, they're not only fashionable, they're also extremely high quality.
If you look closer, you'll see a tiny USA flag stitched to the leather. Thorogood proud itself by making their products in the USA.
These boots are comfortable, made of full grain leather and have a MAXWear Wedge slip resistant outsole. They make their own sole which so much better quality than Vibram.
They are extremely durable, can last you years and some good seasons of rough roofing. It gives your feet support and comfort, because of the high-quality leather uppers and the secure lacing system.
We hope we were helpful and answered to your questions. Happy Roofing and stay safe!