We hope you love the products we recommend! Just so you know, when you buy through links on our site, we may earn an affiliate commission. This adds no cost to our readers, for more information read our earnings disclosure.
Last Updated on June 15, 2022 by Todd
More and more people choose hiking shoes for roofing. Hiking shoes are also a top pick for home inspectors, adjusters, estimators, solar installers and many others who climb roofs. There is nothing worse than walking on high pitched roofs wearing the wrong shoes.
The risk of slipping and falling is really high if you don't wear appropriate footwear and equipment. Roofs are steep, slippery and dangerous. If that's not enough, any moisture, dust, moss or debris often found on roofs make them even more slippery.
So, in order to safely climb onto roofs, you need proper slip-resistant footwear with high traction, excellent grip. The shoes need to be comfortable, durable, and lightweight. The most slip resistant type of outsole out there is rubber. This is one of the reasons why hiking shoes are a favorite for climbing roofs.
We made lots of research and we chose our favorite hiking shoes. Almost all of the shoes we picked are available for men and for women. If you prefer hiking boots rather than shoes, please read our recent article about the best hiking boots for roofing.
For more details and information, you can see the criteria we used to evaluate these best hiking shoes for roofing, below our top picks. Enjoy!
#1 Merrell Moab 2 Vent Hiking Low Shoe
Everyone knows Merrell, it's one of the most popular brands out there, known for it's high-quality, comfortable and durable products. Moab stands for Mother-Of-All-Boots, that's indeed a perfect name.
These Merrells are not only one of the best hiking shoes but they're great for roofing too. The outsole is Vibram which is the perfect choice for a superior traction and grip.
Check the current price on Amazon >>>
Because they're made with hikers in mind, who often walk on wet rocks and on rough surfaces, they are made to face the roughest conditions. When you'll climb a roof, you should feel like they're practically sticking onto the surface. They can successfully grip even a wet metal roof.
The shoes are available in a waterproof version as well, that comes in handy during rainy days. For roofing in winter, we recommend mid-cut hiking boots.
We chose to recommend the vent version (non-waterproof) because of its breathability. Waterproof models have a meaningful impact on breathability. The vented model allows more air to flow and keep your feet fresh and dry in the warmest weather. We highly recommend Merrell Moab versions (1 or 2) for any roofing work you do.
#2 Salomon Men's X Ultra 2 GTX
These are some excellent shoes to wear on the roofs. Salomon hiking shoes are one of the most popular choices when it comes to hiking.
They are incredibly lightweight and very comfortable to wear 12 hours a day, 7 days a week. The high-quality rubber outsole grips extremely well on slick, or wet surfaces.
These shoes barely need any breaking time, which means they'll be super comfy from the moment you put them on the first time.
Check the current price on Amazon >>>
These Salomons are indeed excellent hiking shoes for roofing, performing great even on standing seam metal roofs.
The shoe is light, so you can step with confidence that you won't damage any tiles or shingles. Hikers are impressed that this model performs really well in muddy, dirty, even snowy areas.
The previous models of Salomon Ultra had some issues with the lacing system, in short, the laces tended to get loose. But fortunately, Solomon fixed this problem and this new model has a perfect lacing system.
#3 The North Face Ultra 109
This model provides an amazing comfort, stability, and traction. The outsole is rubber, so they'll grip well on steep roofs.
Even if it's a low cut model, the lace-up closure will give you a snug and secure fit.
Check the current price on Amazon >>>
The ankle support is really good, so it will give you a safer feeling. The break-in period is around a few days, and after you pass that period you can enjoy a long time of comfort.
What we didn't like about these ones is that they are a bit heavier than Merrells, and that can be a negative thing for some people.
#4 Keen Men's Voyageur Hiking Shoe
 If you are in the construction industry, you already know that Keen brand makes one of the most durable and comfortable work boots.
This time, we recommend the low cut Keen Hiking shoes for roofing even in the hottest summers. Due to the mesh design, the shoes provide great breathability allowing air to flow continuously.
Check the current price on Amazon >>>
They are super comfortable, and also have replaceable soles which is great if you want to upgrade to a greater level of comfort by adding your favorite footbeds.
The rugged rubber outsole gives an insane grip on every surface, able to face even a wet and high pitched metal roof. It is worth mentioning, that you should always wear a harness and safety rope if you need to climb roofs like that.
#5 Adidas Terrex Swift R2 GTX
Adidas created the Terrex models for outdoors, hiking, and why not, roofing.
This model is still fresh, perfect to wear in 2018, and came with improvements.
The design is really nice, the colored lines really stand out beautifully. They are lightweight and can be used on metal roofs. The uppers are made from a firm material, and they should perform really well with asphalt shingles.
Check the current price on Amazon >>>
The midsole is super light and feels like a pillow, giving comfort and cushioning for all those long days of work. These hiking shoes for roofing are breathable, you can work in hot temperatures without sweating. Your feet should be fresh and dry.
The outsole is continental rubber, that gives a good grip and tractions on every surface. Lacing is quick and snug, so you could feel your ankle secure and flexible at the same time.
#6 Vasque Mantra 2.0 Hiking Shoe
These shoes made it to our best hiking shoes for roofing, because they are simply outstanding.
The leather uppers give extra durability and allow you to use them in rough conditions.
The sole is Vibram, so it can grip on every surface really well. The lacing system allows a snug fit.
Check the current price on Amazon >>>
Another great thing about these Vasque shoes is that they come with a stability Vibram technology. That gives a secure balance in different awkward angles.
They are very durable and comfortable to wear 12 hours a day. If you have flat feet, you should feel really cozy and comfortable wearing these shoes.
They fit perfectly and need almost no break in period. Nothing bad to say about these shoes.
Criteria We Used For Evaluating The Best Hiking Shoes for Roofing: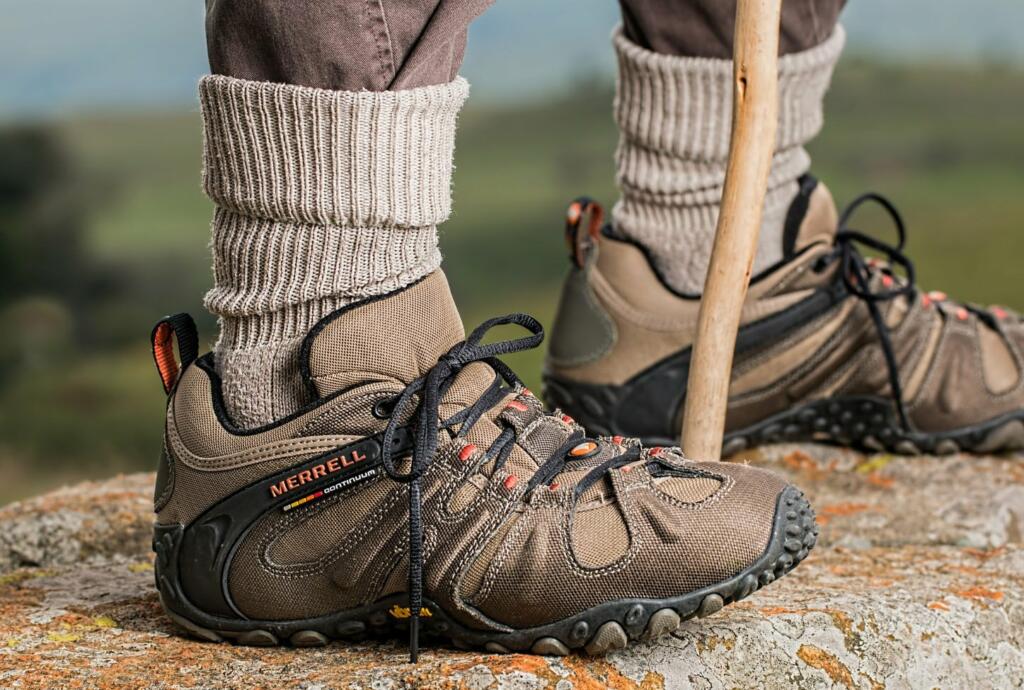 Outsoles and Traction
The most important thing to consider when picking roofing shoes is traction. The greatest grip and traction is offered by Vibram outsoles or other similar high-end rubber technologies.
These shoes are made for hiking, able to face any rough conditions and to handle wet, rocky, muddy surfaces. Hiking shoes must provide excellent balance and stability on critical angles.
It is safe to say that hiking shoes should perform admirably on roofs. Not all the brands use Vibram, there are many big companies like Salomon that made their own technology (ContraGrip) just as good and sometimes better than Vibram.
Insoles and Cushioning
Most of the high-performance hiking shoes come with decent and affordable insoles. However, many people consider that you can achieve true comfort only if the insoles are replaced with the superior ones like Superfeet insoles (link to Amazon).
Most of the shoes allow you to easily remove and replaces the insoles. Replacement pads/insoles are great because you can choose the insoles that fit your exact needs.
This way you can choose pads with more or less volume of cushioning, maybe you need wider insoles or you want the latest shock absorption technology.
Comfort and safety should come first. A comfortable pair of shoes will increase your productivity and reduce fatigue. If you choose the right footwear, then you will stay away from blisters, pain, sweating or discomfort.
A good pair of hiking shoes for roofing should make your feet feel comfortable, fresh, dry and give you an energized feeling.
Boots vs Shoes
There are people who prefer boots and other who prefer shoes. The main difference between hiking shoes and hiking boots is the height.
The low cut models don't provide such a great ankle support like boots do. But instead, they are lighter and more comfortable to wear in warm temperatures. When you are on the roof, any extra weight carried can decrease your productivity. So if it is summer, you should go for shoes.
The mid-cut models or high cut models are hiking boots that provide an excellent, secure, fit ankle support. They also prevent any debris, small rocks or sand from getting into your boots. However, they are heavier and rougher, and it is best to wear them during fall or winter.
Conclusion: both are reasonable and practicable options. It is more a matter of taste and what you personally like. We recommend having both shoes and boots to be prepared for any season.
Durability
Working on roofs can be rough for your footwear, especially if you do asphalt roofing. The shingles can be very harsh on the uppers and outsoles of your shoes.
You need to wear shoes with uppers that are made from high-quality and durable materials that can last you even years. A cheap roofing shoe won't last you long, but if you invest more in the quality of the shoe you end up saving money in the long term. A quality pair of shoes should last you years.