We hope you love the products we recommend! Just so you know, when you buy through links on our site, we may earn an affiliate commission. This adds no cost to our readers, for more information read our earnings disclosure.
Last Updated on June 15, 2022 by Todd
Since metal roofing is really popular these days, now is the perfect time to put your safety first and learn how to walk on metal roofs without slipping. If you work in the roofing industry, you should expect to install more and more metal roofs since its gaining popularity year by year.
Metal roofing is more dangerous than for example asphalt roofing because the metal surface can get extremely slippery, especially if it's wet or dirty.
Safety comes first for everyone. So, you should stick around and read along even if you're not a roofer.
If you have any other job where you have to walk on roofs, if you're a gutter installer, home inspector, insurance adjuster, roofing estimator, window cleaner, chimney sweeper or solar installer, this article is for you too. For your own safety, it's important to know how to walk on a metal roof.
On metal roofs, it's a must to wear rubber-soled shoes. The metal surface is very smooth and slippery, so you need to have good traction and a secure grip.
You should have the feeling that your shoes are sticking to the metal. The best shoes/boots for metal roofs are the soft-soled shoes, usually made of a light, pliable rubber.
Before walking on any metal roof, it is crucial first to verify the condition of the roof and check for dust, pollen, oil residue or moist on it. To be safe, the metal surface needs to be completely dry and clean.
Professional roofers should be properly equipped with ladders, barriers, safety ropes, ascenders, harness, proper footwear, fall protection systems, anchors.
If you're interested in how to secure yourself on a roof, read our latest guide with the best roof safety equipment in 2019 here.
Uncomfortable being on the roofs? Stay off them!
I think it is worth mentioning, that if you feel scared, uncomfortable or if you're afraid of heights, you need to stay off the roofs! You have big chances to fall if you climb on steep roofs without any confidence.
To safely work on metal roofs you need to be comfortable on roofs in general and have no fear of heights. If you're inexperienced, don't ignore this advice and hire professionals to get on your roof to do anything you need.
If you're a homeowner, please don't climb on any roofs, even if you think you can totally handle it. Walking on any type of rooftops, metal or asphalt, steep or flat, is a dangerous thing to do. We truly advise you to hire a professional even for small jobs.
Inspect the roof carefully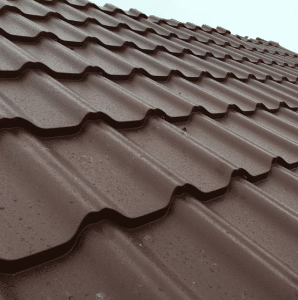 Before starting the job, you need to find ways to check the condition of the roof you'll be working on. You can also inspect it from the inside.
If the metal roof is already installed, check if it's wet or if it has layers of dust, dirt, oil residue or pollen.
Be very careful, cause it can look like it is very safe to walk on.
You can easily slip and fall if the roof isn't completely dry and clean. Look for weak spots, holes, or any dangerous hazards. This step will give you a clear view and you'll know how to safely approach the roof.
Clean the bottoms of your shoes from dirt or rocks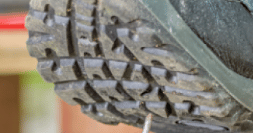 Not only the roof surface needs to be dry and clean, but also the outsoles of your shoes need to be free of rocks or dirt.
You can wipe them a day before the job to allow them to dry completely. You shouldn't walk on metal surfaces with wet outsoles, especially when the roof is already sleek.
Can you walk on a metal roof without damaging it?
This is a question we get a lot. When the roof is already installed and you have to walk on it for different reasons, for example, to inspect it, to replace it, or to clean the chimney, make sure you wear shoes with rubberized outsoles. They are light and won't damage the surface.
Heavy work boots with rigid soles will bend and damage the roof.
Also, clean your shoes before climbing metal roofs. You can scratch or damage the roof tiles if you have rocks stuck on the outsole of your boots. Another way you can damage and bend the rooftop is if you drop your tools on it.
The conclusion is that if you follow these simple rules: clean shoes, rubber-soled shoes and don't drop your tools, you won't damage the roof.
You might like: Best Metal Roofing Shoes in 2019
How to walk on a wet metal roof?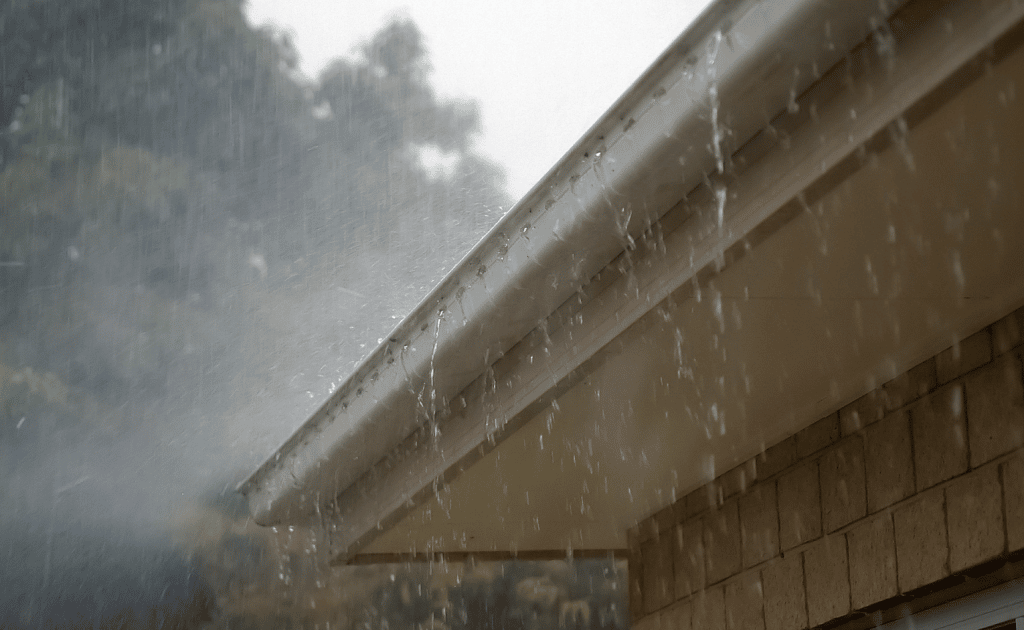 The answer is: you should not walk on a wet metal roof, period. Sorry if that's not the answer you were looking for. In general, you should avoid getting up on any type of wet rooftops. Even if you have to do asphalt, composite or wood roofing, if it rains – don't go up.
Wet metal roofs are extremely slippery and the risk of falling is really high.
Usually, when it's raining, the majority of the contractors reschedule their roof work for another day with clear sky. 
But, if you don't have any other option and you really have to work on a wet metal roof, make sure to take all the extra safety measures: use a safety rope, wear proper rubber footwear, wear a safety harness, safety glasses, gloves, anchors and of course use a fall protection system. Pay attention to every step, walk slowly and with caution.
Roofing Tips from Alaska
There are roofers living in areas where it's raining and snowing all the time.
We found a guy who does a lot of industrial metal roofing, 14 hours a day, 7 days a week, in Alaska, where is always wet.
He said that all of his roofing crew wear Xtratuf Boots and they are simply amazing for wet metal rooftops.
These boots are made to provide an excellent grip on wet surfaces and they stick to the roof insanely well, as long as they're properly cleaned. The Xtratuf boots are made entirely from rubber and you can get them in insulated and non-insulated version.
If you also work in wet conditions, please let us know in the comments below what shoes do you wear for doing wet metal roofing (sharing is caring).
If you live in a place where rain comes and goes, always choose a clear day for roofing. Safety comes first.
Non-Slip Shoes for Metal Roofing
If you want to know what are the best shoes to wear working on a metal roof, it's simple: flat shoes with soft rubber outsoles. To avoid any confusion, outsoles are the bottom part of the shoes that have direct contact with the ground.
Why rubber? An outsole made of rubber is slip resistant even when it is in contact with water or oil. The rubber is soft, flexible, and gives good grip and traction on sleek surfaces. Make sure to choose a high-quality sole, we recommend Vibram and MAXwear Wedge.
#1 Budget Shoes: 
Many roofers, home inspectors, solar installers or estimators wear casual converse, skate shoes or tennis shoes. Because of their flat rubber-soled bottoms, they really perform well and have a decent grip on the metal roofs.
However, the majority of these shoes won't last you so long, especially if you work with asphalt shingles which are very rigid and can destroy a pair of shoes in days.
Cons: Not durable, no ankle support.
Related Post: Best 5 Cheap Shoes for Roofing in 2019
#2 Affordable Shoes
Hiking and trail shoes are a big favorite for roof workers from all over the world. They are not too expensive, not too cheap, they are just the perfect choice if you want a great quality shoe at an affordable price.
We highly recommend Merrell Moab Hiking Shoes, they're one of the best non-slip shoes for metal roofing. They're ultra-lightweight, have Vibram outsoles and give insane traction on metal roofs that are sleek and steep.
If you're interested in Merrells, make sure to check out their trail shoes (link to Amazon). They're, again, lightweight, very comfortable and promise sure traction and grip even on wet surfaces with extreme temperatures.
Related Post: Best Hiking Shoes for Roofing in 2019
#3 Expensive and Professional Shoes
If you love your job, you most probably dream about wearing the best equipment out there.
Many roofers dream about having the closet full ofRed Wing and Thorogood Boots. Correct us if we're wrong.
But who wouldn't want handcrafted, luxurious, extra comfortable, triple stitched leather boots?
Professional roofing shoes are handcrafted, beautiful, made of the best materials, are extremely comfortable and durable, and the most important part: they are made with your safety in mind.
Let's just take one example. Thorogood American Heritage Boots (link to Amazon) come with full grain leather, have the latest shock absorption insoles, the leather uppers are supportive.
The leather is flexible to give you the maximum ankle support, the outsole is Thorogood MAXwear Wedge which is one of the best slip-resistant soles out there.
Related Post: 21 Best Roofing Shoes 2019 (Professional & Budget)
Shoes for Home Inspectors & Estimators
If you're not a roofer and you have a job where you have to climb metal roofs (maybe you're a claim adjustor, home inspector, estimator etc.), we recommend you the Clarks Originals Trek Chukka Boot (link to Amazon).
The first thing you'll notice about them is that they are super stylish and the lace-up system is great.
Other professional brands worth mentioned, that make the best roofing boots, are Irish Setter, Timberland, Clarks, CAT, Cougar Paws.
Conclusion
Metal roofing is a trend that won't go away. Yes, it's more dangerous, but if you know what to do to keep yourself safe, comfortable and productive on metal roofs, you're one step ahead of the competition.