We hope you love the products we recommend! Just so you know, when you buy through links on our site, we may earn an affiliate commission. This adds no cost to our readers, for more information read our earnings disclosure.
Last Updated on June 14, 2022 by Todd
The Thorogood Lace-To-Toe Roofer Boots are a huge success in the roofing industry. We've spent this week researching and asking around roofers about what makes this model so unique.
Below you'll find a comprehensive review with pros and cons to help you find out everything about these Thorogood roofer boots.
Thorogood Roofer Boots Lace-To-Toe | 100% Leather
If you're looking for professional roofing boots, then you should consider this model designed for roofers by Thorogood. Here are some quick key features we like about these boots:
premium quality
secure and smart lace to toe system
full grain leather
triple stitching
double layered leather on the sides
MaxWear Wedge for extra grip
expensive
made in the USA
---
We paid close attention to the following details:
traction and grip
comfort
ankle support
breathability
weight
durability
lacing system
Let's get this review going starting with the design.
BEAUTIFUL DESIGN
If you show up at work wearing these shoes, you'll be in the spotlight. These are indeed some handsome shoes. The doubled layers of leather on the side are beautiful, the white wedge outsole is elegant, the shoelaces and the triple stitching stand out beautifully.
The boots have some famous vibe because Jamie from the Mythbusters TV Show wears them.
Related: Best Thorogood Roofing Boots of 2020
SUPERIOR COMFORT
Usually, when you buy a new pair of shoes, the first days or even weeks are a bit rough for your feet. The break-in process is usually very painful for most leather work boots.
But what's great about these work boots is that the leather breaks in really fast and it's a pain-free process.
Some say that the leather almost doesn't need any breaking time. For many people, these roofing boots were comfortable from the first moment they've put them on.
People who wear them 12 hours a day, 6 days a week, say they are extremely comfortable, and that helps them increase their productivity.
The full-grain leather is flexible, soft and durable at the same time.
PREMIUM OUTSOLE: MAXWEAR WEDGE
If you are familiar with Thorogood boots, then you know they used to use Vibram Christy outsoles.
Thorogood wanted something better and developed their own MaxWear Polyurethane Sole which outperforms Vibram in terms of durability and grip.
According to Thorogood, these outsoles last 20-30% longer than Vibram. And besides that, they are extremely slip-resistant and perform excellently on wet, dusty, muddy, slippery and high pitched surfaces.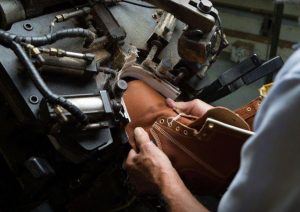 The sole is very flexible and lightweight, ready for your metal roofing or asphalt roofing projects.
The boots are lightweight and no damage will be caused when stepping on the roof surface (metal or asphalt).
We also read that they don't get as muddy as other work-boots do. You would think that that beautiful wedge sole gets dirty really fast. Apparently, that's not the case with these boots.
The soles are extremely durable and made to withstand harsh work conditions.
However, after some hard seasons of roofing, when the soles wear out, you can have them resoled very easily and make them good as new. That's helpful cause instead of buying a new pair, you can just replace the outsole.
STICKY GRIP
The grip is a very important aspect to consider when buying roofing boots. You need good traction to avoid slipping.
These shoes feel like they're sticking onto the roof. The rubber outsoles of these roofer boots are slip-resistant, have an excellent grip even on high pitched roofs. They grip firmly on asphalt shingles and on metal roofs.
GOOD ANKLE SUPPORT FLEXIBILITY
These Thorogood Roofer Boots are made from full grain leather that is rough enough to give you that secure tight feeling, but soft enough to give you the comfort you need. Perfect balance.
They allow you to be as flexible as you need, kneeling, standing, squatting, bending on different ankles while making you feel secure.
Thorogood Roofer Boots Durability
Asphalt roofing can be ultra tough on the soles, and on the sides of the upper shoe. When you're constantly in direct contact with the harsh shingles, the shoes can wear out the leather upper pretty fast.
What's great about these Thorogood Lace-To-Toe model is that they were designed to solve this issue.
Thorogood added extra layers of leather on the sides, which adds extra durability. It is safe to say that they're built to last you years, maybe full seasons of roofing.
CONS: A small part of customers said they had some sizing mismatches. The boots were bigger with half a size than expected. But if you choose a half a size smaller, you should be fine.
Thank you, Thorogood, for providing us with the photos!