We hope you love the products we recommend! Just so you know, when you buy through links on our site, we may earn an affiliate commission. This adds no cost to our readers, for more information read our earnings disclosure.
Last Updated on June 17, 2022 by Todd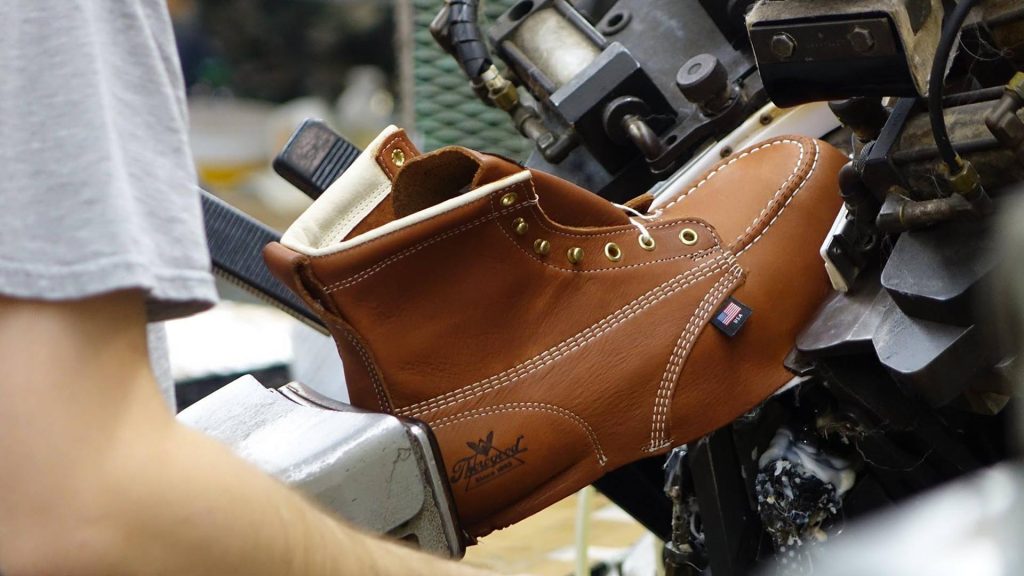 If you're looking for the most exceptional Thorogood roofing boots, this article is for you. Thorogood has been around since 1892 and is one of the most trusted and appreciated footwear brands in the world, known for its high-quality work boots.
Their footwear is not made by just pushing a button, Thorogood boots are handcrafted in the United States of America, by highly skilled craftsmen and craftswomen. The name Thorogood is associated with style, comfort, quality, and durability.
We did some research and found that roofers are not the only ones loving the Thorogood brand. Many firefighters, ironworkers, welders, linemen, and hundreds of other professions choose Thorogood as their work boots.
We selected the highest-rated Thorogood boots that were ideal for roofing projects: with the grippiest outsole, superior comfort, and high durability.
If you want to see more information about what criteria we used to evaluate these shoes, check the section below on our top pics.
In short, the things we looked for were: slip-resistant outsoles, comfort, ankle support, breathability, flexibility, lightweight, a good lacing system, and durability.
---
1. Thorogood Men's American Heritage 
These boots are one of the most popular Thorogood models and are the perfect choice for roofers from all around the world.
The boot looks stylish and unique, and with that white/black outsole it has an elegant look.
This is the reason why there are so many people out there buying these shoes for fashion purposes. They are so rugged looking, and it may be hard to believe that they are actually working boots. Made to survive the roughest work conditions in the world.
These Thorogood boots come in multiple colors: tobacco, black, black walnut with a black sole (our favorite), crazy horse, and black walnut with a white sole.
The outsole is MAXwear Wedge, which is similar and even better than Vibram. It is slip-resistant and provides added traction even on wet surfaces.
The fact that the bottom is perfectly flat is a big plus for roofers. The flat outsole offers more stability and comes in handy when you're on a high-pitched roof.
The comfort is top-notch. The leather breaks in easily, it is really soft and offers the greatest comfort.
At the same time, the leather is rigid enough to last long seasons of roofing and handle harsh terrain. The wedge sole makes you feel like you're stepping on pillows all day long.
The boots are made in the United States and can last you several years if you take good care of them. The leather can stay looking new if you use mink oil and heavy-duty conditioners to preserve and protect it.
---
2. Thorogood Roofer Lace-To-Toe Boots | Black Version
As the name says, these boots are designed for roofers in particular.
They are built to last, to provide sticky traction on steep roofs, to give comfort 12 hours a day, and to give your ankle a snug and tight fit.
Thorogood exceeded all the expectations and created a boot that performs really well on both asphalt and metal roofs.
They are not only practical but fashionable as well. The design is beautiful and the triple stitching really stands out from all the other models.
The upper part is made of high-quality durable leather, the break-in process is really fast and pain-free compared to other leather boots.
If you take a look at the sides, you'll see double layers of leather that are triple stitched and designed to handle harsh shingles.
The outsoles are rubberized and completely flat. For the sole, they seem to use their own Thorogood Outsole which is even better than Vibram. A flat rubber sole is a perfect recipe for grip, traction, balance, and stability.
---
3. Thorogood Roofer Boots Lace-To-Toe | Tobacco Classic Version
These beautiful boots are known as Thorogood Men's American Heritage Lace to Toe or as the boots Jamie Hyneman from Mythbusters wears. The lacing system is really important in a work boot.
The shoes you wear need to be a perfect fit and your ankles should have maximum flexibility and protection.
A lace-to-toe system allows you to control how tight or loose you want the laces to be, from the toe, all the way up to the ankle. This adds to comfort, stability, and protection.
The full-grain leather, the triple stitching, and the rubber outsole really show the quality of the Thorogood brand.
The flat sole will give you stability even on the steepest roofs and at multiple difficult angles. You can have traction even on excessively slippery surfaces, like metal roofs.
They are comfortable to wear for hours, so you should not experience any back pain, knee pain, or fatigue.
If you want to extend your boot's lifetime, you should treat the leather uppers with mink oil or with any other special leather conditioner, to give them a fresh and healthy look.
Read Full Review: Thorogood Roofer Boots Lace To Toe Review
---
What Makes Thorogood Roofing Boots So Special
Quality and Craftsmanship
When it comes to quality, Thorogood footwear shines. The boots are handcrafted in the US by skilled and hardworking craftsmen and women.
From the first step of choosing raw materials to the final product, Thorogood puts quality first. The leather is carefully selected by the workers and inspected for marks or spots.
The handcrafting process includes the following: cutting, pattern marking, skiving, labeling, binding process, stitching, fitting, lasting, welting, shank application, bottom filling, sole pressing, roughing, polishing, and packing.
There are many processes involved before you get to a finished boot. And every step is made with attention to detail and quality in mind.
Traction and Outsole
One of the most important features a roofing boot must have is traction. When you are climbing a steep roof, it is very important to have shoes that grip the roof surface and provides traction and stability. A slip-resistant sole will reduce the risks of slipping or falling.
The best type of outsole a roofing shoe can have is a rubber one. Thorogood used to use Vibram rubber outsoles, but now they use their own branded outsoles: MAXwear Wedge. The majority of the people who tried both Vibram and MAXwear say that MAXwear technology outperforms Vibram.
Extra Comfort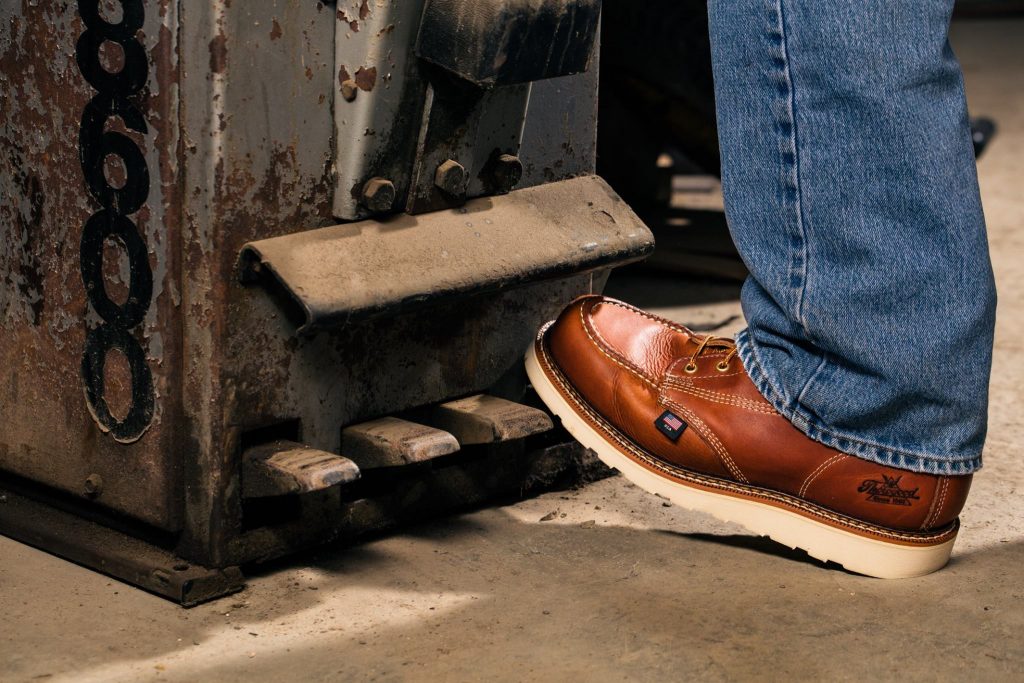 Roofers are hardworking people, who can work 12 hours a day, 7 days a week. Comfort is crucial when you spend so much time working outside in such rough conditions. Thorogood boots come with cushioning and foam insoles that can keep you productive all day and reduce fatigue.
The break-in process is also pain-free. Usually, when buying leather boots or any other new type of footwear, there is a period in the beginning when the leather breaks in and usually it is a painful process full of blisters and discomfort.
Thorogood roofer boots are really comfortable from the moment you put them on. If you match your sizing, then you should not feel any discomfort and the break-in process should be very easy.
100% Leather and Durability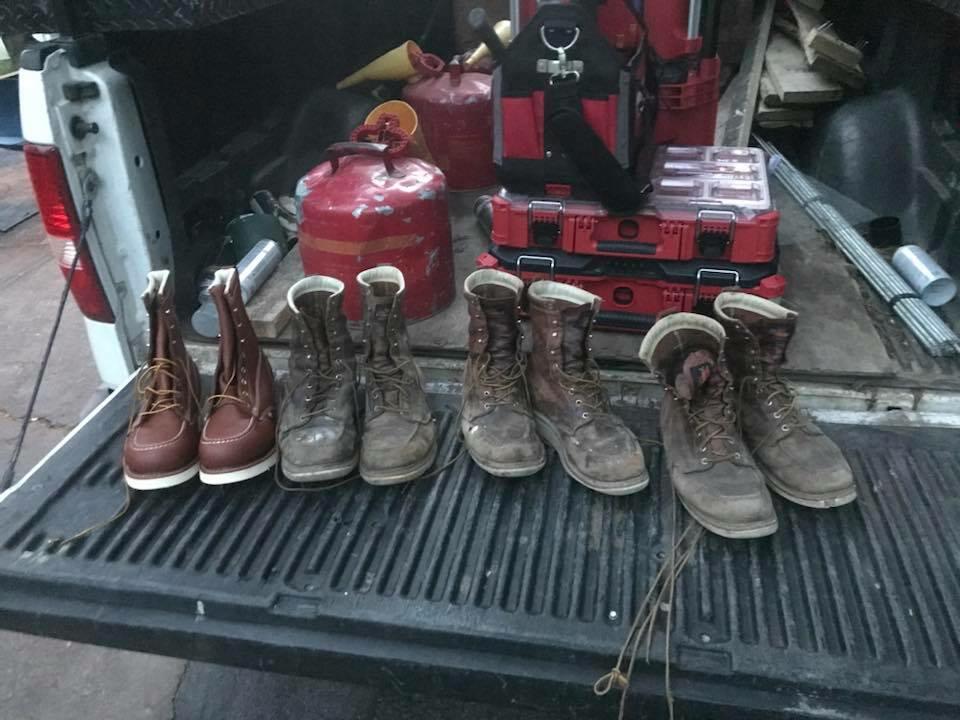 The leather Thorogood uses is mostly full-grain, which is resistant, durable, and designed to handle all the harsh shingles, but at the same time, it is very soft and provides the greatest comfort. The leather is handpicked and checked for spots, defects, or marks.
The breathability is also fantastic, it allows air to flow to keep your feet fresh and dry even in the hottest temperatures. Great for summer, great for winter.
Thorogood boots are made to last you for several years. Every material is chosen with durability in mind. The triple stitching and double layers of leather increase the longevity of the boots.
Fashionable Design
You will definitely be complemented by your coworkers if you show up wearing Thorogood roofing boots.
They are so stylish that people wear these boots all the time for casual purposes. You can see the quality from a distance, and they can be worn with jeans, work pants, or even with a suit. Yes, they are not only functional and practical, but they're also versatile and fashionable.
Happy Roofing!
Credits:
Photos by: www.Thorogoodusa.com