We hope you love the products we recommend! Just so you know, when you buy through links on our site, we may earn an affiliate commission. This adds no cost to our readers, for more information read our earnings disclosure.
Last Updated on August 16, 2022 by Todd
If you find that you need to replace the roof on your home there will be many things that you need to consider, not least of which will be the cost of the materials and labor. But there is another factor that you should bear in mind. How long does it take to replace a roof?
---
What Affects How Long A Roof Takes To Replace?
Of course there is no one answer that will apply to everybody's home. There are many styles and sizes of roofs, constructed from different materials needing different application methods.
The length of time that a roof replacement will take also depends on whether it has sustained a lot of damage that may mean some of the underlying structure is affected.
It would be a waste of time to replace the roof covering if the timbers underneath are in a poor condition. You would just end up redoing the roof months or years down the road.
The size of the roof is a key consideration as well as the style, for example the pitch, number of hips and valleys etc… Then you have to work out how you will gain access to the roof and work on it safely.
Of course, there are the roofing materials to consider. Some are quite quick to replace while others may take a bit longer to fit.
Finally there is the weather to allow for. Working on a roof is a dangerous occupation and should only be done when the weather is favorable.
So let's take a look in more detail at some of the factors that will affect how long a roof (see also our guide to installing a patio roof) takes to replace.
Size & Complexity Of The Roof
The size of your roof is the most obvious influencing factor in how long the work of replacing it will take. How it is styled will also contribute to the timeframe. A straightforward pitched roof will take less time for example than one with lots of hips, valleys, facets or angles.
A roofer will price your roof per square foot and a hundred square feet is typically called a roofing square (see also 'What Is A Square In Roofing?'). Obviously the larger the area the longer the work to remove the old roof and replace it with new materials will take.
Although your roofer may employ laborers to help with the work, this extra manpower will end up costing you more money. So it depends on whether you want the roof replaced quickly or beneath a certain budget.
How high your roof is will also determine whether the roofers need to take more precautions and work at a slower pace for safety reasons. A responsible contractor will always put safety first.
So while a simple roof with two or four facets may take a day to replace, a more complex structure and style may take 3-4 days to complete.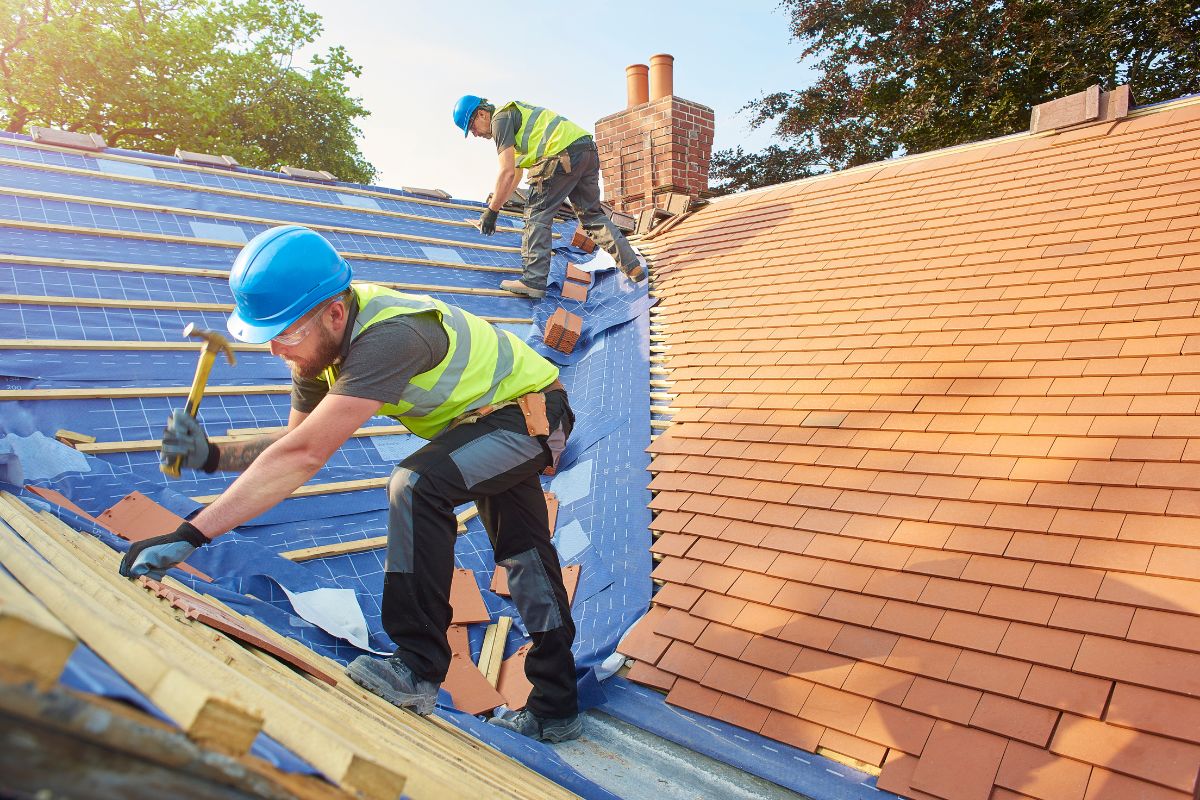 Access To The Roof
Getting access to the roof is important for removing the old roofing materials, getting it into a dump truck and then bringing the new materials up onto the roof.
This all has to be done in a safe manner, not just for the contractor but for you, neighbors, pedestrians who might be passing and for the structural integrity of your roof.
If there is a lot of landscaping around your house this may present a problem for the roofing contractor getting access.
The same is true for fences that are close to the property or if there is no paved area from the road access to the house.
All of these issues will mean that the work will take longer as the roofers need to work around the difficulty of accessing the roof to replace it.
If your home is in a built-up urban area then roof access can be particularly difficult.
This could mean that the timescale for replacing your roof will be extended if the contractor has to consider how to safely remove old roofing materials and get the new materials up there.
Roofing Materials
The type of roofing material that you are putting on your roof can impact on the time that a replacement will take. Shingles and tiles come in many different types of materials some of which are quicker to remove and replace than others.
Asphalt shingles typically take one to three days. Slate tiles take on average six to seven days and wooden shingles six to eight days. Concrete tiles take the longest to replace for obvious reasons and normally will take eight to nine days.
The pattern or style that the shingles are laid in will also affect how long the work will take. A simple, uncomplicated pattern will not take as long as a more complex and intricate one.
Weather Conditions
As a roof is fully exposed to the elements it is important to choose the right time to replace your roof.
Weather conditions that are too hot, cold, wet or windy will not only impact the roofers working but may impact the effectiveness of the new roof materials.
If the weather is very cold materials such as asphalt shingles can be affected particularly if the temperature gets below 40 degrees Fahrenheit.
For this reason your scheduled roof replacement may be delayed if the weather is forecast to be close to freezing.
You will not want anyone stripping your roof and having your home exposed if there is a chance of rain, hail or snow.
While a roofing contractor can cover your roof temporarily with a tarpaulin or roofing sheet during a sudden shower heavier rain can penetrate this covering.
It is better to reschedule your roof replacement if bad weather or a storm is forecast. Very hot or windy conditions are also not safe for roofers.
In Conclusion
The length of time that your roof replacement will take will depend on a number of factors. As long as you take these into account and act on them the work should not be delayed for too long.