We hope you love the products we recommend! Just so you know, when you buy through links on our site, we may earn an affiliate commission. This adds no cost to our readers, for more information read our earnings disclosure.
Last Updated on June 15, 2022 by Todd
Are you looking for the best hiking boots for roofing? You're in the right place. Let's face it, searching for the right shoes for roofing can be challenging and time-consuming. There are so many things to consider, and so many brands and models out there to choose from. Roofing shoes must be comfortable, durable, lightweight, and most importantly slip-resistant.
There is no room for mistakes when it comes to safety on the roofs, that's why you need proper footwear to prevent any slips or falls.
Hiking boots and hiking shoes are the perfect choices for anyone who needs to walk on roofs: from roofers, home inspectors, adjusters, estimators, solar installers, gutter cleaners, homeowners and many others.
Most of the standard hiking footwear is designed to face rough conditions, steep surfaces, wet rocks, and muddy terrain. They are made to give you balance, traction, and protection even in the worst conditions.
Roofs can be dangerous, they are often steep and excessively slippery. We made some research and today we share with you the top and the best hiking boots available today.
If you want to know what criteria we used to evaluate the boots and how we got to these results, check the section below our picks. In short, we looked for: rubber outsoles for traction, stability, extra cushioning, waterproof options, durable materials, weight, lacing systems and many more.
If you prefer low-cut shoes instead of boots, check our recent article on the best hiking shoes for roofing.
 These beauties are not only gorgeous looking, but they are also practical, comfortable, durable, waterproof, lightweight, come with Vibram Fuga outsole and MegaGrip compound to give you the most excellent grip on wet and slippery surfaces. These Danners are built to last, and the uppers can handle harsh seasons of asphalt roofing.
They are comfortable from the moment you put them on, the break-in period is short to none.
Check the current price on Amazon >>>
We were glad to see that Danner collaborated with Vibram for this model, and the results are fantastic: Vibram Fuga Outsole with MegaGrip. That's an insane combination for the best grip and traction on wet, slippery, rough or muddy surfaces. They should perform great on high pitched metal roofs, on standing seam even if the roof surface has moisture, pollen or oil residue on it.
Even the midsole is Vibram, which increases the comfort and stability you need on roofs.
For some people, the boots fit slightly larger and it is recommended to choose half a size lower for the best results.
You probably already heard about Merrell, which is a very popular brand making high-performance hiking and trail footwear. This Moab 2 model (Moab stands for mother-of-all boots) is a favorite because of how light, grippy and comfortable it feels.
These hiking boots are perfect for climbing roofs, giving a secure, comfortable and snug ankle support.
Check the current price on Amazon >>>
The outsoles are Vibram, the best for traction on slick surfaces like metal roofs. The boot feels really light, so no extra weight will stay in your way. Overall is a fantastic choice that comes at an affordable price.
Merrells are popular among roofers, inspectors, and adjusters. They seem to love the Vibram sole and the durable uppers. The outsole feels like it is sticking onto the metal surface, almost like a magnetic roofing shoe.
Merrell footwear provides multiple versions of their shoes, including waterproof and non-waterproof (vent). So feel free to choose which one fits your needs better.
 If you are looking for the best ankle support, excellent comfort and great grip on slippery and steep roofs, then these Salomon hiking boots are a perfect choice. The uppers are very durable and can resist well on rough asphalt roofing.
This model looks fierce, a bit bulky perfect to face harsh surfaces, dry, muddy or wet terrain.
Check the current price on Amazon >>>
The boots come with Contagrip sole that gives added traction and protection. The combination of leather and nylon is great for ankle mobility, breathability, and comfort.
Although it is waterproof, due to the membrane, it allows air to flow and gives a nice, refreshed feeling even in warm temperatures.
Thel lacing system is well done, the laces remain tied all day long. Great choice if you are looking for a fierce pair of hiking boots for roofing.
 With a fresh and cool design, these hiking boots are some great boots to climb harsh asphalt shingles. They are made for the rough and rocky terrain. The outsole is rubberized Vibram and its design gives protection, stability and fantastic grip on steep, slippery and awkward angles.
Check the current price on Amazon >>>
It's a high cut boot that is designed to give a secure and comfortable ankle support. Maybe at first look, you may think it is not so comfortable around the ankle, but actually, the cushioning is excellent and you barely feel the material around the ankles.
It is waterproof and it does a great job at preventing water from getting inside your shoe. Even if it's waterproof, the upper material allows your feet to breath and keeps sweating, swelling or blisters away.
They are made for high-performance and are a bit pricey, but if you have the budget you won't be disappointed. However, the only negative thing we found is that the upper suede tends to be a magnet to dust which makes them look older.
KEEN is a favorite brand chosen by many working in industrial and construction area. They make high-performance footwear and the Targhee line is one of the best out there for hiking.
The low cut design won't give you as much support as the other ones presented above but overall is a solid choice. The uppers are made of leather and it should last you a long season of roofing.
Check the current price on Amazon >>>
The outsole is made of rubber and roofers say they grip excellent even on high pitched roofs of 10/12. The lacing system is secure and it still gives a good ankle support for its low cut design. They are great to wear even in hot summers since it is designed in a way that allows airflow and keeps your feet dry and fresh.
Conclusion:
There you have it, these are the best hiking boots for roofers, home inspectors, adjusters or homeowners who are ready to walk on roofs. As an advice, if you need boots for summer, then choose a non-waterproof model, that is lighter and made from a breathable material. If you'll need to climb roofs in winter, when raining (although NOT recommended), choose a waterproof boot.
Criteria for Evaluating the Best Hiking Boots for Roofing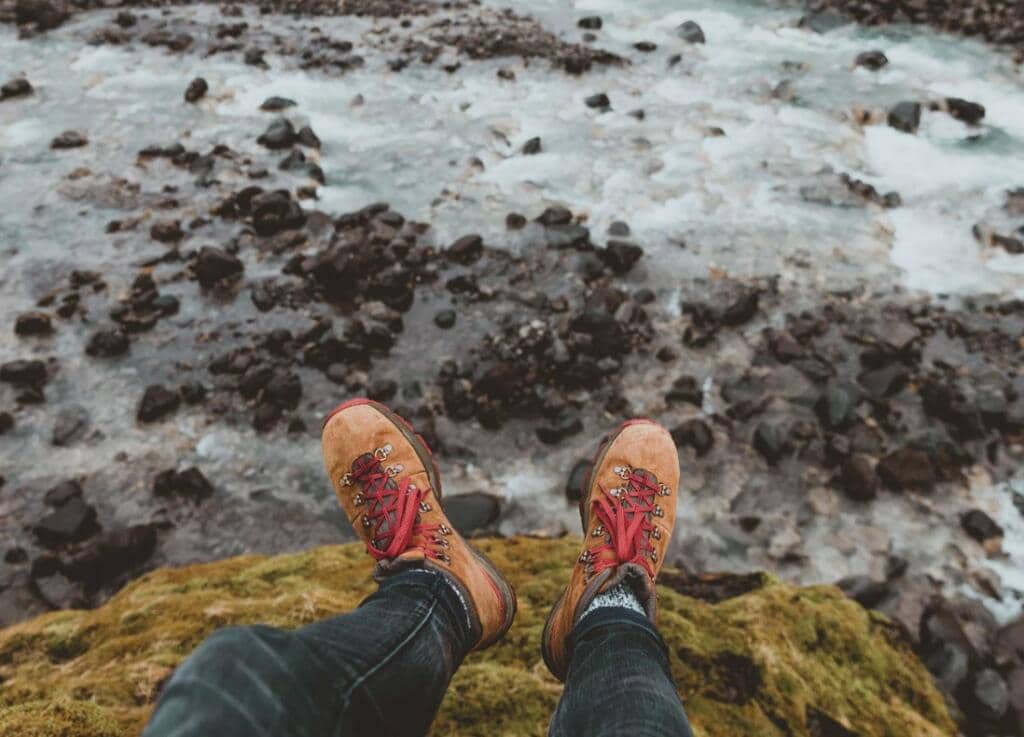 Outsoles and Traction
Roofs are often very steep and slippery, especially if they have any moisture, debris, sand or oil residue on them. That's why you need to climb them carefully and safely by wearing shoes that have slip-resistant soles.
The best non-slip soles are made of rubber, we recommend Vibram. Rubber outsoles feel that they're sticking onto the roof surface, and provide excellent traction even on wet, dirty surfaces. The reason why hiking shoes are always a good option for walking on roofs is that they have rubberized outsoles made to give stability, protection, and grip on a wet, rough and steep terrain.
Weight
A standard boot is usually heavy, rough and stiff, and it is not recommended for walking on roofs because of multiple reasons. But hiking boots come in multiple versions: lightweight, midweight and heavyweight.
For roofing, you need to choose the lightest model since roof shingles and tiles need to be treated with care. If you walk on roofs with rough boots with stiff outsoles you can damage the shingles, and you risk to injure yourself.
A lightweight boot is better also for your comfort. When you are spending 10 hours a day working on roofs, any extra weight carried will slow you down and decrease your productivity. These hiking boots should feel like a foamy running shoe.
Durability
Roof work is harsh, you are constantly squatting, kneeling and rubbing your upper footwear on the rough shingles. That's why you need shoes that won't wear off easily and are designed for heavy-duty work.
Hiking shoes and boots can last you years if you choose them well. Usually, because they are made of a mix of nylon, good leather, and mesh. The leather is always a fantastic choice, that's why most professional roofing shoes are made from leather.
Comfort
Whether if you plan to wear hiking shoes for roofing or for any other reasons, it is clear that comfort is a crucial thing to consider. But comfort comes only if more aspects are met like breathability, traction, safety, good ankle support, cushioning. If you have great cushioning but you cannot find balance or if your feet are sweating, then it is safe to say that the boots you wear are not comfortable.
You need an overall great boot that also has shock absorption insoles, and cushioning to make your feet feel like they're stepping on fluffy clouds.
All the hiking boots we chose are comfortable and are design to reduce fatigue and keep you productive and refreshed all day long. Every step you take on a roof should keep you in balance and give you safe stability. A mid-cut design will provide a good ankle protection, support, and stability.