We hope you love the products we recommend! Just so you know, when you buy through links on our site, we may earn an affiliate commission. This adds no cost to our readers, for more information read our earnings disclosure.
Last Updated on October 5, 2022 by Todd
It may not be something that you have previously thought about, but your roof color alongside the brick color can make a massive impact on your homes looks.
The type of roof may affect what color you go for. Yet, normally, your roof color is a great way for you to show off your own style.
There may be various reasons why you might have to consider replacing your roof (see also 'How Long Does It Take To Replace A Roof?'). However, if you have a red brick house, you need to consider what color roof will complement those red bricks.
In his article, we will be discussing how you can choose a roof color for your red brick house.
---
Choosing Roof Colors That Suit A Red Brick House
Before we discuss how to choose what color roof you should have on your red brick house. It is important that you are aware of some of the best colors that you should be considering. This includes:
Gray – Red bricks are seen as quite a warming color; therefore, gray is a good cooling color to help balance your home's exterior. As a result, gray and red colors are a great contrast that works well together.
In addition to that, you may want to consider light shades of gray color, as this can have a cooling effect on your home in the warmer seasons.
Dark Blue or Green – A dark blue or green color roof alongside a red brick will make an impact. Especially as these are very contrasting colors, which are usual to see.
Dark Brown – Dark brown color roofs work well with particular shades of red bricks. This is because it is a neutral color that works well with any color. Alongside that, red and brown colors are a classic pairing that you know will always work well together.
Black – Black is another neutral color that works well with everything. Alongside that, red and black make a statement, but black color roofs aren't always cool. It is known that black roofs can make our house warmer when it is hot outside.
Roof Color Composition with Brick
When it comes to deciding what color roof to have on your house, you need to consider the color composition of your bricks.
The color composition generally refers to the different colors you see on the bricks that make up your home. Red brick is a general term that is used when you see a majority of red-colored bricks.
Newer red bricks have a darker color than older red bricks. However, you may also notice other brick colors, such as brown, tan, black, red, and orange.
However, when it comes to choosing your roof color, you need to see how your home looks from the street view instead of close-up.
If, from the street, your home looks all one color, then a statement roof such as dark blue or black may be a good choice. However, if you can see shades of other colors, then maybe a gray or brown roof to tie in with all the colors.
Climate and Roof Color
The climate you live in will affect what color of roof you want to get. A darker roof such as black will absorb any heat and make your home feel overall hotter.
Thus, if you have an air conditioning unit, that will try to work harder and cost you more money.
Thus, if you live in a warm climate, then lighter colors of roof such as gray or brown are better suited. In addition, they will also help you stay cool at home.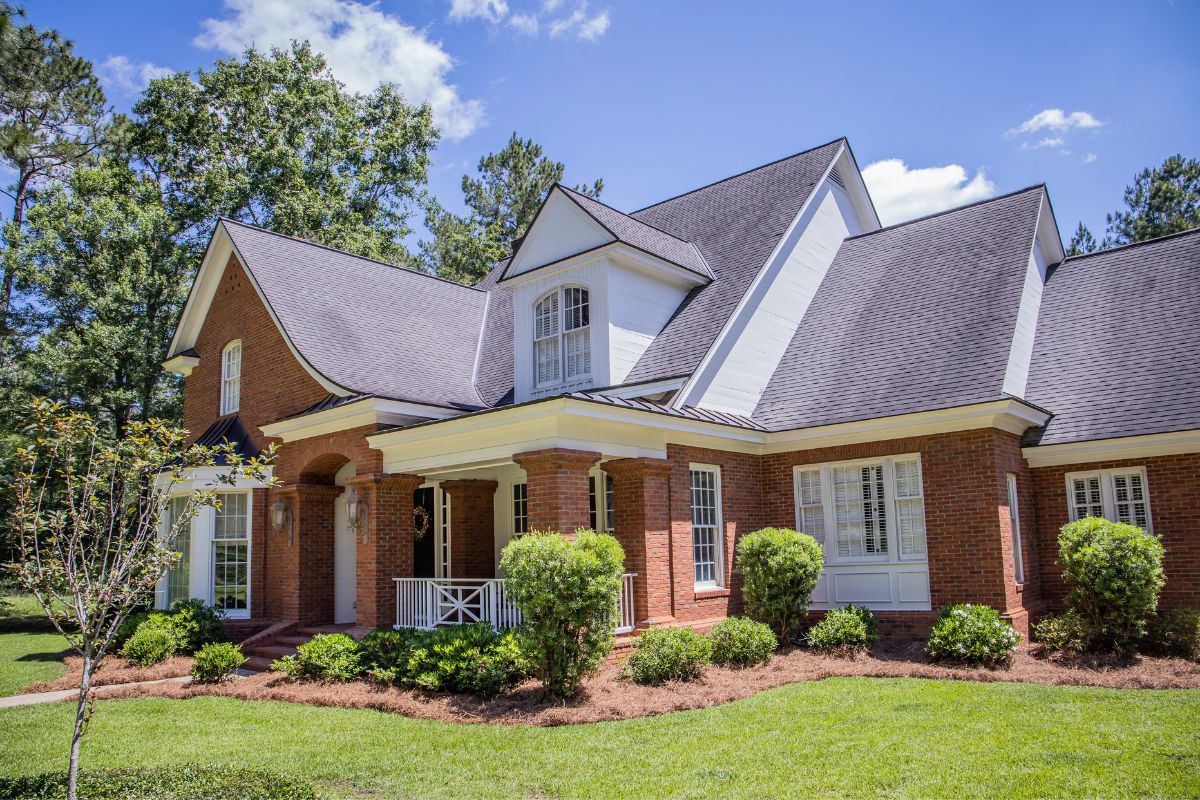 Roofing Material and Color for Brick
The type of material your roof is made from will affect the heating and cooling of your home. It is known that asphalt shingles will absorb heat, while metal roofs will keep your home a lot cooler.
The material colors are a really important factor to consider, especially if you live in warmer climates.
For example, if you want a black roof, we suggest a black color of metal roof as it will keep your home much cooler than black shingle roofs.
Style Of House
The overall style of your home will affect the color of roof to go with. If your roof has various architectural elements like columns or gables, then a darker-colored roof can help you to accentuate these features to make them stand out even more.
This can also make your home much more appealing and sought after if you ever decide to move and sell it. Thus, you want to show off the special roof features instead of trying to hide the theme.
Neighborhood and Roof Color
In some neighborhoods, the houses have all been built with the same bricks and roofs.
However, if you decide you want to change your roof, and decide to go with a completely different color, this could make your home stand out. It can actually decrease your curbside appeal, as it does not match the rest of the street.
As a result, you need to consider the other roofs that are on your street and next to your home. Then try to have a similar color and style if possible.
Also, it is important to note that not all neighborhoods give you that much freedom on your roof color. Sometimes there are neighborhood association rules that you need to follow.
Final Thoughts
If you decide that you want a new roof, this alone is a huge project to take on. Also, you need to make sure that you choose the right roof before work begins, as you can't change your mind halfway through.
When it comes to red brick houses, the color of roof you choose will be affected by the climate you live in and the type of material that the roof is made up of. Black, gray, brown and dark green are all really popular roof colors for red houses.