We hope you love the products we recommend! Just so you know, when you buy through links on our site, we may earn an affiliate commission. This adds no cost to our readers, for more information read our earnings disclosure.
Last Updated on June 18, 2022 by Todd
Not sure how to cut corrugated metal roofing? You're not alone.
After weeks of research and interviews with professional roofers and metal workers, we've found the best and the least destructive ways to cut corrugated metal easily, efficiently, and without cutting yourself.
Because of its unique wavy shape, some people find it difficult to cut corrugated metal sheets. If you adequately prepare before you cut. Use proper cutting tools and safety gear. Cutting corrugated sheets is easy.
Tin sheets are lightweight, easy to maneuver, flexible, and soft. You can cut them manually using snips or by using electric tools like turbo shears, nibblers, or grinders.
Today we share the safest, best, and least destructive ways to cut corrugated metal roofing. With the tools we recommend, you'll make clean, fast, and efficient cuts with smooth edges.
HOW TO CUT CORRUGATED METAL ROOFING
---
I. Put on your safety gear: Gloves, Hearing Protection, and Eye Protection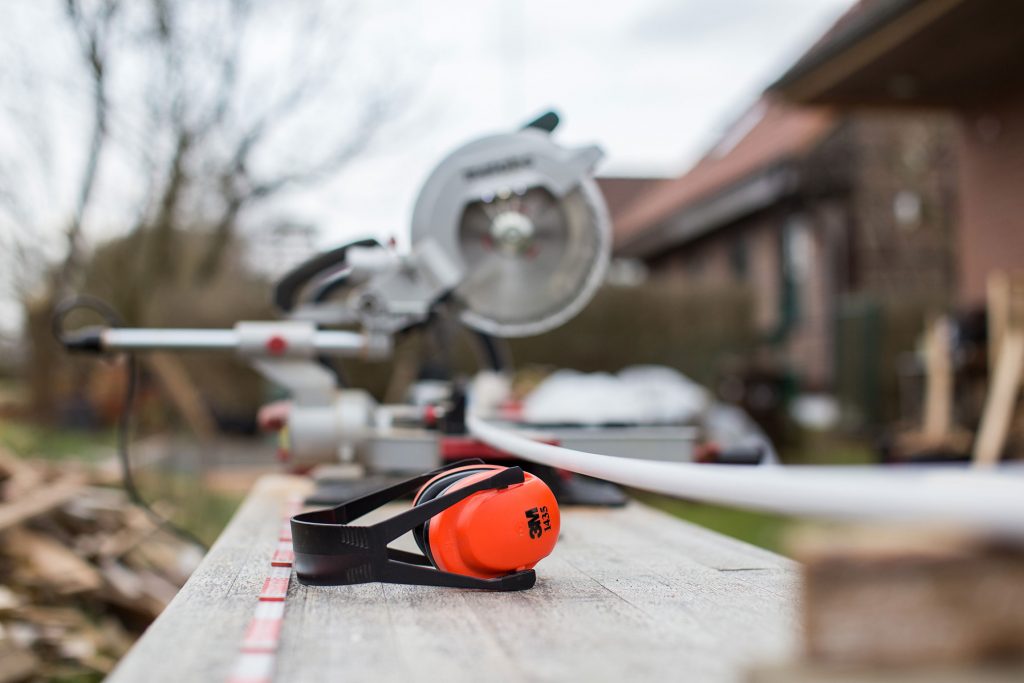 When handling metal roofing, you need to be very careful. Protect your hands from dangerously sharp edges or raised burrs by wearing appropriate safety gloves.
If you're using tools that use heat up like circular saws or grinders (although we don't recommend it, see why below), you need to be extra careful and add safety glasses, ear protection, a face shield, safe roofing boots, and long-sleeved clothes to avoid burns.
---
II. Plan ahead, prepare the metal, and measure before you cut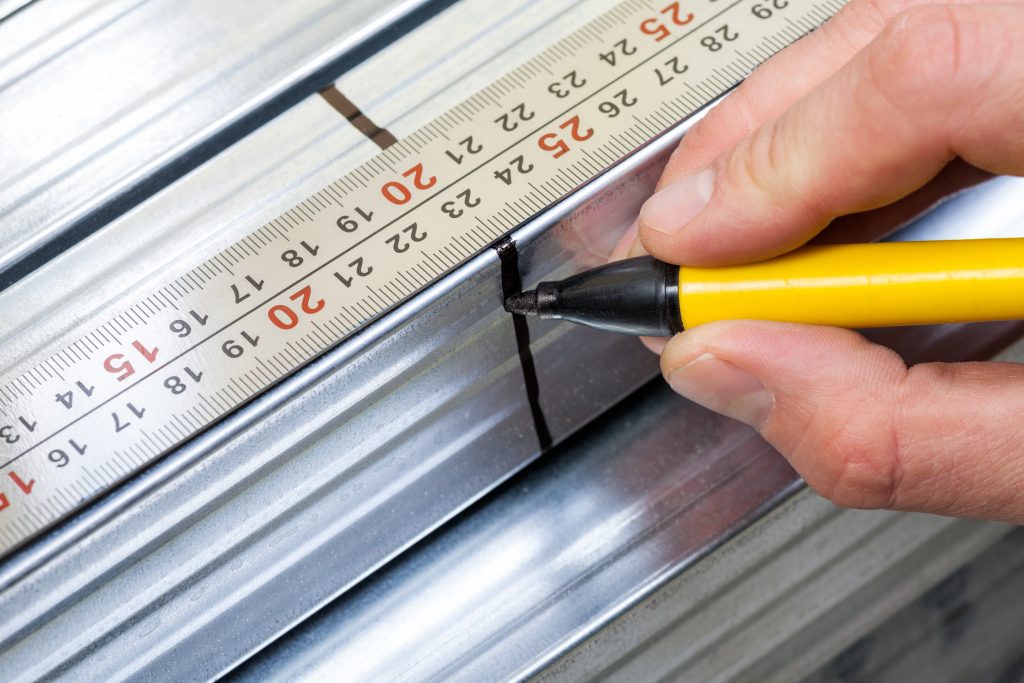 First of all, measure your roof (see also 'What Is A Square In Roofing?') and order the sheets the exact length you need.
When you are ready to cut, place the sheet onto a flat, wide, and sturdy work surface.
To make the cutting process easier, make sure the work area is wide enough so that you have enough room to move freely and handle the material with ease.
Measure the material you need to cut and mark the length (on both sides.)
Use a tape measure, a carpenter's square or a two-by-four, and a permanent marker.
---
III. Choose the right cutting tools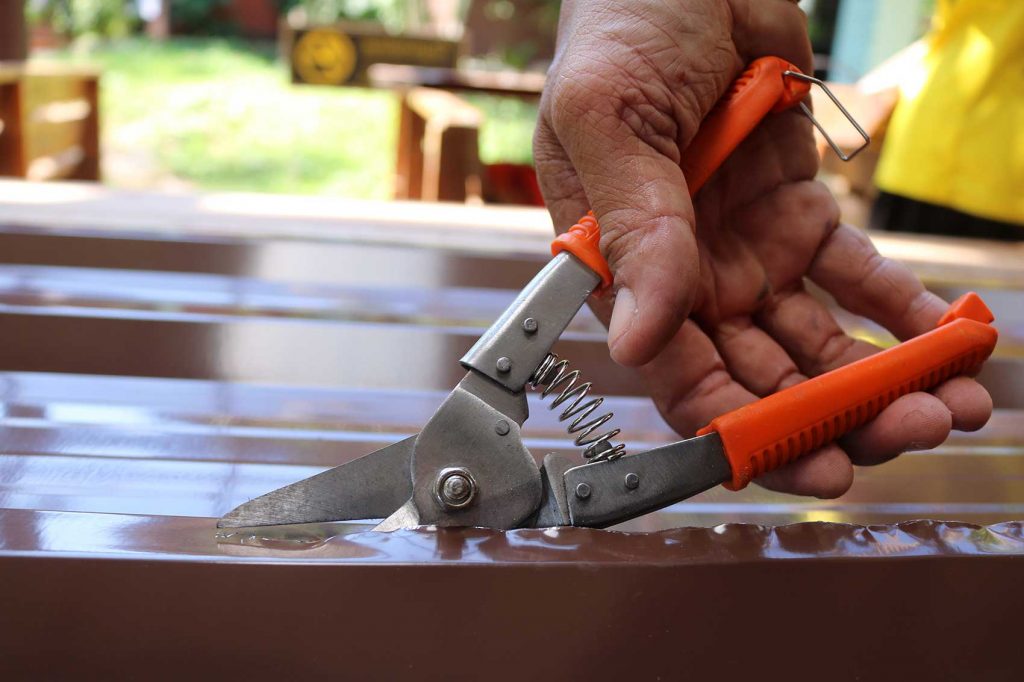 1. TIN SNIPS: Slow but safe
Best Snips for Corrugated Metal: MIDWEST Aviation Snip Set Left, Right, Center Offset Cuts
These snip sets are designed for easy cutting (compound leverage), are comfortable to use, and long-lasting.
Ideal for professional sheet metal workers, and metal roofers.
The blades are very sharp and built to last, with maximum strength and durability.
Snips are ideal for cutting any type of corrugated roofing, especially for cutting softer metal like tin sheets. It is also the cheapest way to cut corrugated tin roofing.
Tin roofs are lightweight and soft by nature, this is why cutting them manually with snips is a good option.
There are many types of snips available on the market, designed either for straight or curved cuts.
Left offset snips
Right offset snips
Straight-cut tin snips
Whether you're cutting galvanized, stainless steel, or plastic, corrugated sheets, tin snips can handle it.
Although very slowly, snips will give you clean, controlled cuts. They're also great for making small cuts and help you with detailed work.
TIN SNIPS: PROS AND CONS
Pros:
Cons
2. NIBBLERS: the best way to cut corrugated metal
Best Nibbler for Corrugated Metal: Makita JN1601 5 Amp 16 Gauge Nibbler
The Makita nibbler is a reliable, durable, and easy-to-operate tool
It cuts effortlessly through corrugated metal, doesn't jam, and can easily cut straight lines and curves.
Nibblers are ideal for cutting corrugated sheet metal, making fast, safe and clean cuts. Easy to operate, nibblers can cut along the sheet and around corners quickly and easily. Ideal for professional roofers and metal workers who want quality work. Leaves smooth and neat edges.
How do nibblers work?
The tool nibbles its way through the sheet, so it literally punches tiny pieces of metal one at a time at high speed, leaving behind waste material in the form of tiny metal chips.
Somehow, this way of cutting protects the edges from corrosion.
If you're a professional roofer, an electric nibbler is the main tool you should use to cut corrugated metal.
Another thing we like about this tool is that it doesn't damage the metal, the paint, or the protective coating. This is what makes nibblers the most professional, safe, and cleanest cutting method.
NIBBLERS: PROS AND CONS
Pros:
Cons
3. DOUBLE CUT ELECTRIC SHEARS & ATTACHMENTS
Best Double-Cut Electric Shear: Milwaukee 2635-20 M18 Cordless 18 Gauge Double Cut Shear 
Makes two cuts at a time, leaving clean and smooth edges, and minimum waste.
The Milwaukee double cut shear is a rugged tool, highly-durable that helps you cut corrugated sheets fast and efficiently.
The cordless design is convenient and makes the tool ultraportable.
This cutting tool is lightweight, easy on the hands and the ergonomic grip makes it easy to handle.
Another efficient way to cut corrugated metal sheets is by using electric shears. We prefer double-cut shears instead of single-cut shears.
The double-cut design leaves clean and smooth edges on both sides (unlike the single-cut shear) and doesn't create too much waste. The Milwaukee double shears make two cuts at a time, leaving a wider strip of steel behind that is easy to clean up.
If you don't want to buy a standalone electric shear, turbo shear attachments might be a great option for you. Plus, they're much cheaper than a standalone shear tool.
Best Turbo Shear Attachment: Malco TSCM Corrugated Metal Turbo Shear
We like the Malco turbo shear because it fast, durable, cuts straight and curved lines with ease, and leaves smooth edges.
Malco products are made in USA, and they're always reliable, made for professionals and designed for maximum durability.
The 360-degree rotating head is a great feature, making the tool very easy-to-use and versatile. Excellent for professional large projects.
We recommend the Malco TSCM and the Dewalt DWASHRIR attachments. They quickly attach to a drill or impact driver you already own.
Shear attachments help you make clean and fast cuts. They're able to cut curves or straight lines, leaving neat edges.
Like any other tool, you have to practice and learn how to make the cleanest cuts. Once you know how to use it, everything becomes very easy.

ELECTRIC SHEARS & ATTACHMENTS: PROS AND CONS
Pros:
Cons
4. CIRCULAR SAWS & GRINDERS: The worst way for cutting corrugated metal roofing?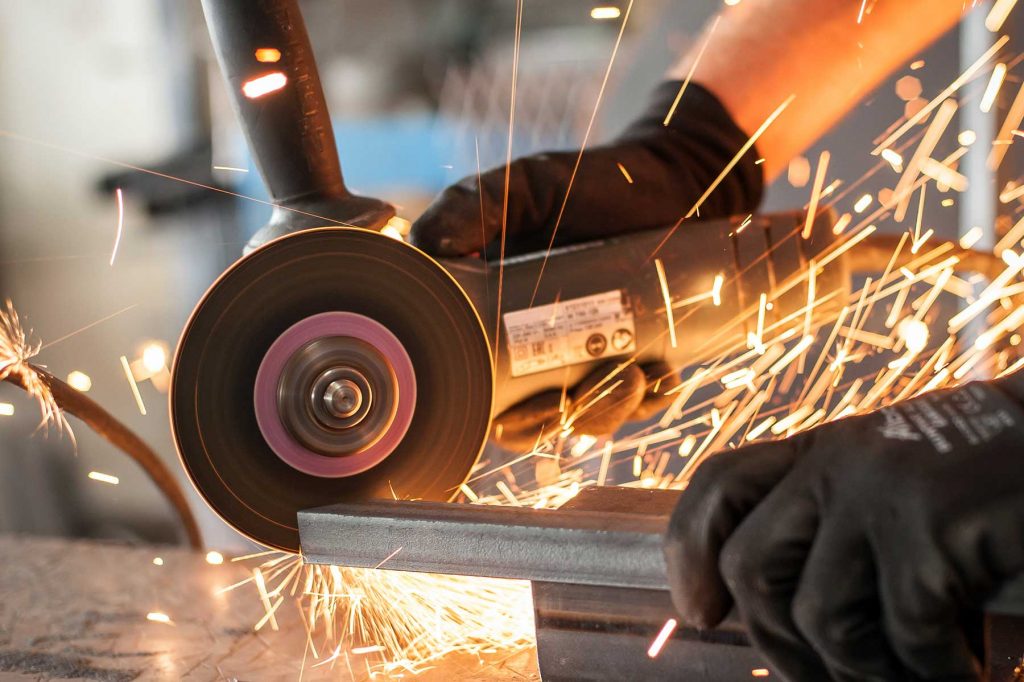 After talking to roofers and pro sheet metal workers, we've come to the conclusion that cutting corrugated metal with anything producing heat is destructive, messy, and not professional.
We do not recommend this method.
Cutting corrugated metal with anything producing heat can void the warranty by your manufacturer, and can cause permanent damage to the metal sheets, causing them to rust.
Whether you use an angle grinder or a circular saw, the heat damages the edges. The shower of hot sparks can destroy the protective coating and burn the paint finish.
TIP FROM A PRO: "Never use a heated saw, it burns the coating or the paint which will get them both to rust, cut with shears or nibbler"
However, if you still want to use a saw or a grinder, use high-quality blades like carbide blades. They're more expensive, but will last longer, leave smoother edges, and are more efficient than steel-tooth cheaper blades.
Circular saws and grinders cut corrugated roofing very fast, no matter how thick the steel is.
Some roofers say that using a circular saw with the blade put it backward has good results but overall, we do not recommend using a circular saw or grinder.

CIRCULAR SAWS AND GRINDERS: PROS & CONS
Pros:
Cons
Related Articles: