We hope you love the products we recommend! Just so you know, when you buy through links on our site, we may earn an affiliate commission. This adds no cost to our readers, for more information read our earnings disclosure.
Last Updated on July 1, 2022 by Todd
If you're looking for the best roof rake for snow on the market, you're in the right place. Roof snow removal should be a priority for every homeowner. Snow weight represents a danger to your roof, and it's a must to keep that excess weight off your house.
---
What factors to consider:
Not sure what to look for in a snow rake? Here are the main features to consider before buying a roof rake.
Reach – the length of the pole should be long enough to fit your needs best. If you want to reach the roof of a 2 story house, consider buying the longest rake. Usually. you'll find rakes from 15 feet to 24 feet.
Weight – like any other roofing tool, you need a lightweight yet sturdy rake that is not hard on your back and can hold a good amount of snow without breaking or bending too much.
Width – the wider the blade, the better. A large scoop head will help you get the job much faster and rake tons of snow in a quick time.
Design – a smartly designed rake will make sure you eliminate the snow in a safe, efficient, ergonomic, and fast way. Smartly designed snow shovels will include telescoping poles, a protective rolling system, and an innovative slide tarp.
---
Best Roof Rake for Snow in 2022: Our Top Picks
1. Avalanche Roof Rake: 500 Snow Removal System
Best for Asphalt Shingles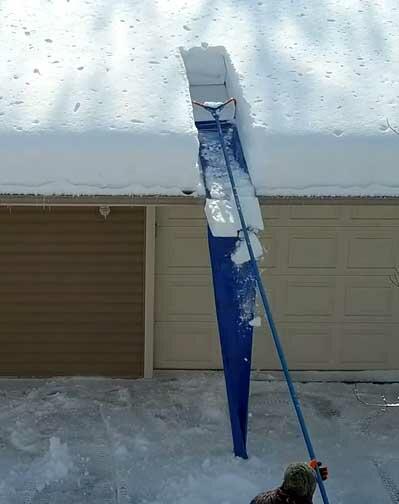 The Avalanche roof rake is by far our favorite. With a smart design, it cuts and removes tons of snow fast, effective and in a neat way – without damaging the shingles.
The rake is lightweight, ergonomic, designed with wheels to protect the shingles. The snow effortlessly falls down the slide to the ground.
After hours of research, we are convinced that the Avalanche Original 500 is the best snow rake for most people looking for a fast, efficient, and smart way to remove all the snow from an asphalt shingled roof.
Easy to maneuver plus comes with a unique blade system that quickly removes up to a ton of snow per minute.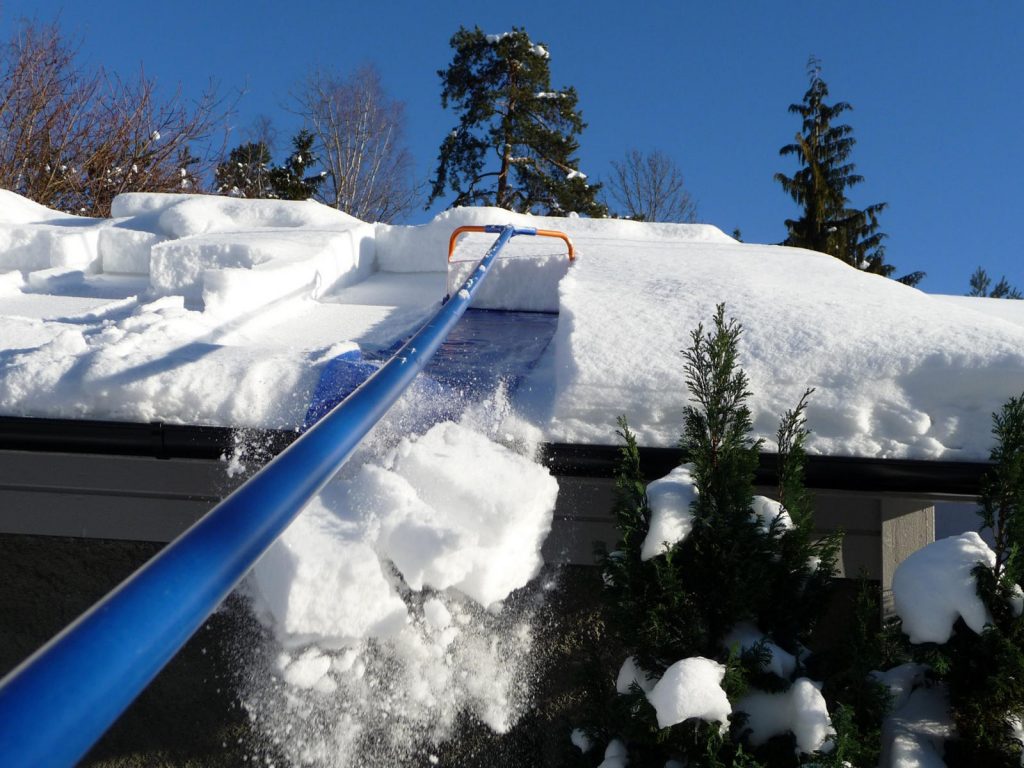 This tool is very popular on the internet and it is one of the best-selling snow removal tools in the world. 
For extra reach, you can get the extension kit (8-foot handles) which allows you to easily remove snow from taller buildings (3-story houses). With the extension kit, it becomes the longest roof rake for snow on this list.
The Avalanche original is easy to assemble with a snap-together assembly and requires no extra tools to set it up. 
At the end of the rake, it's cleverly designed with a patented cutter head that cuts through the snow.
What we really like about the Avalanche is that it comes with wheels designed to protect the shingles and makes the cleaning process much easier. They roll up over the roofing surface without damaging or dragging the shingles.
Compared to other standard rakes, the Avalanche roofing rake takes less effort to push under the snow and clear the snow. 
With fluffy and dry snow, it takes little to no effort to get the roof cleared.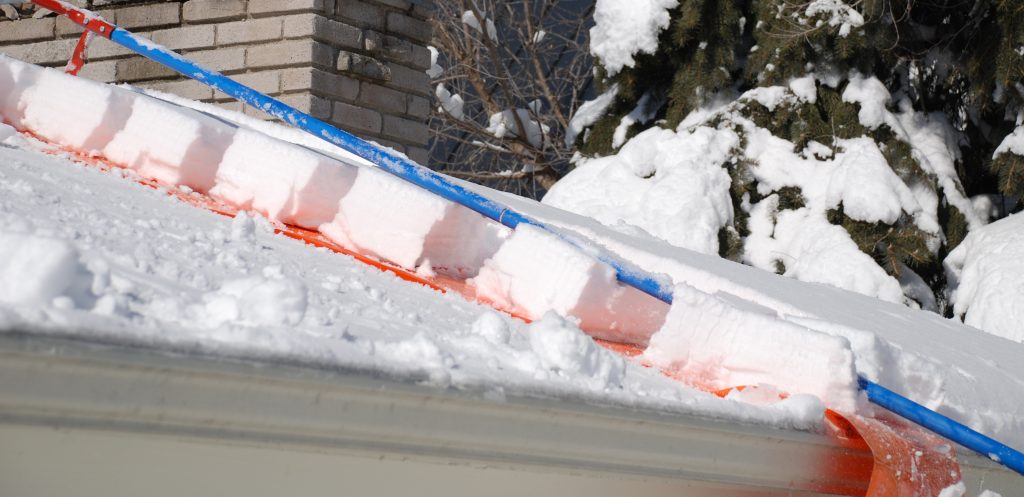 We were pleasantly surprised to see that it works really well with frozen snow and ice dams. 
If you want to remove snow from metal, solar panels, shake, or tile roofs, then you should get the Original 700 model. 
Pros: extremely effective, smart design, easy to use, great for wet snow and for ice, sturdy, extension kit available.
Cons: more expensive than others
---
2. Garelick 21-Foot Aluminum
This patented roller system protects the shingles and makes it easier for you to roll the rake up and down on the roof.
Homeowners who bought this say that the Garelick is easy to control, lightweight and effective. 
When you're using the rake at full length (21 feet), the pole tends to bend and can get a bit awkward to maneuver. However, it does a good job on the snow. 
Pros: Lightweight, long reach, large shovelhead
Cons: Some people complained that the wheels are designed poorly
---
3. Garant GPRR24U Yukon 24 inch with Poly Balde
The handle is made from aluminum which is a lightweight yet strong material.
However, 15 feet in length might be too small for you. We recommend it for smaller and lower buildings (garages, outbuildings, single-story houses).
You'll be able to remove snow effectively using this tool, without too much effort. The grip is ergonomic and makes snow removal more comfortable. 
It's a very lightweight tool, weighing only 4 lb., making it easy to maneuver. Some people found this to be a disadvantage because it feels a bit awkward when handling heavy loads of snow.
Pros: lightweight, versatile, wide blade
Cons: only 15 feet long, plastic blade
---
4. Snow Joe Telescoping Shovel Roof Rake 21-Foot
It features a highly adjustable twist-n-lock telescoping pole, that can extend up to 21ft long. 
The pole's design is quite unique and it can be twisted so you could turn the blade at any angle and reach any area on the roof. It's lightweight, under 6lb, easy to handle, and easy to set up in less than 1 minute. 
The rake does a fantastic job pulling the snow down, preventing ice damming. We also like that it's priced conveniently. 
Pros: highly adjustable handle, lightweight, oversized blade for maximum clearance, cheap.
Cons: telescoping pole has the tendency to retract
---
5. Suncast 24'' Adjustable Roof Rake
If you're looking for a versatile tool you can use all year long for snow, leaves, and debris removal, then you should check out the Suncast rake. 
Even if it's a bit heavier than others, weighing less than 8lbs, it's still a lightweight option easy to handle. People who bought this say that it is easy to maneuver even if you're not in such good physical shape.
The handle extends from 7' to 21' for maximum range. Like most traditional rakes, it tends to bend when you extend it to full length. However, it's quite sturdy and can hold the weight just fine. 

Tips:
1. Leave a thin layer of snow on the top of the roofing. If the roof rake doesn't come with protection wheels, be careful. Don't scrape the shingles because this will damage or loosen your roofing material, causing leaks. 

2. Watch out for electrical lines, don't touch any wires! Be careful when the snow comes off, keep the distance.

3. Don't go on the roof, unless you're a professional. 

4. For maximum efficiency, before shoveling the roof, use a snow blower to clear a path around your house.

---
FAQ