We hope you love the products we recommend! Just so you know, when you buy through links on our site, we may earn an affiliate commission. This adds no cost to our readers, for more information read our earnings disclosure.
Last Updated on June 15, 2022 by Todd
If you're looking for a new pair of Red Wing roofing boots and you're not sure which model to choose, this article is for you. We researched, analyzed and compared top-rated models and today we share with you our 5 best picks.
A little bit about the brand:
Red Wing is a distinctive and one of the most respected brands in the work footwear industry. It all started in Red Wing, Minnesota, with a shoe merchant named Charles Beckman.
Since 1905, Red Wing offers a superior line of work-boots which is sturdy enough to outlast rough working conditions, and at the same time that is extremely comfortable and handsome looking.
Owning Red Wings is an entire experience, comes with huge pride and once you experience that high standard of excellence, you'll never want to wear something else.
The boots are handcrafted in the U.S.A
They handcraft all of their boots in the United States of America. All of the boots are made by skilled craftsmen and craftswomen. From the beginning to the end, every process needs a critical human eye and supervision.
Many times, a machine cannot do what a human can do, for example meticulously analyzing the leather color and inspecting it for any small imperfections, defects, marks.
Here are our Top 5 Red Wing Roofing Boots:
Red Wing Heritage Men's Classic Moc *OUR FAVORITE
These Red Wings are a classic, also known as style 1907. The outsole is Traction Tred rubber, with a flat design that is perfect for gripping slippery surfaces.
This boot is made of a great quality copper rough and tough leather. Even the shoelaces are made of leather. They take some time to break in and prepare yourself for a painful break-in period.
Once you put them on the first time, they will feel stiff and probably not so comfortable. It is recommended to wear them first with thick socks and for the best results, during the break-in time, you should treat them with lots of mink oil.
But once you pass this first phase, they become one of the most comfortable boots you can wear. Roofing is a harsh job, and shingles can wear out your shoe outsoles and uppers very fast.
But these Red Wings are made to last and they were designed to outlast the rough work conditions you find on roofs. The outsole provides great grip and traction on metal roofs as well.
Some say the outsole can last you years, and when it wears out it can easily be replaced. They are some great American made Red Wing roofing boots.
The triple stitching offers that durability every work boot should have. They come in 6 different colors: Oro Legacy, Briar Oil Slick, Black Harness, Charcoal Rough and Tough, Oro-russet Portage, and Brown.
---
Red Wing Heritage Men's Round Boot
The special thing about these boots is the round toe design, that gives extra room and comfort to your toes.
The crepe sole is white and elegant and in the same time is extremely functional when walking on steep and slippery surfaces.
If you're wearing these on a roof, asphalt or metal, you should feel like the wedge sole is sticking onto the surface giving a secure and safe grip. The sole is designed with a Traction Tred technology and triple stitched quality.
The uppers are made from full-grain leather which is known for its toughness and durability, but at the same time, it is flexible and soft enough to give the ultimate comfort.
The boots are made in the U.S and the craftsmanship is simply perfect. They come in 3 colors: Black Chrome, Cooper, and a more reddish Cooper Worksmith.
If you take good care of them and oil them, they can last you years. The lacing system is made with ankle support in mind. The break-in period will take some days and after that, you will experience great comfort all day long.
---
Red Wing Men's Iron Ranger Vibram
The Iron Ranger style is one of the most popular Red Wing models. They come in multiple versions and we chose the Vibram soled one.
Why Vibram? If you are familiar with roofing shoes, you should know that soft rubber soled shoes provide the best traction on slippery surfaces.
That's why we chose to recommend the Iron Ranger Vibram model. The round toe design is present to provide great support, comfort and more room for your toes. They are handcrafted in the USA and come with durable and comfortable leather, and with triple stitched quality.
The fitting is usually 1/2 size smaller than your normal size. The break-in period can go up to 3 weeks, but it is worth it since, after that, you'll experience only great comfort, with zero fatigue or pain.
---
Red Wing Heritage Blacksmith Vibram
These boots come also with a round toe design, to give extra room to your feet. If you have wider feet, then the round design will add extra comfort.
They come with uppers made of premium Red Wing Leather and the outsole is Vibram 430 Mini-lug.
The 6-inch design will protect your ankle from the harsh shingles and will give a nice support, balance, and stability in difficult angles.
You can wear these during summer and during winter. Blacksmith model is made to last, the stitching is really solid and beautiful. You should care for them with mink oil to keep them look as new and to make the leather break in faster.
Some choose to wear this model for fashion because they look really stylish and go with pretty much every outfit.
A negative thing about them is that they are not the most comfortable model to wear 12 hours a day. But if you add your own comfy insoles and oil them really well, you can get to experience a great level of comfort. We recommend these boots for home inspectors.
---
Irish Setter 83605 Work Boot
You might think: "Wait, these are not Red Wing boots!". Actually, they kinda are. Irish Setter is a brand owned by Red Wing, so they definitely deserve a place in our top picks.
At a much more affordable price than Red Wings, these boots come with all the features a hardworking person would need.
The uppers are made of a full-grain, Trout Brook Leather. The leather looks beautiful and it is very durable and comfortable around the ankles.
The outsole is rubberized, it is designed to be heat-resistant, and has electrical hazard protection. Comes with triple stitching quality, and they can last you many years.
These Irish Setter 83605 are extremely comfortable, the insoles and midsoles come with superior cushioning.
The boots are available in Safety Toe and Non-Safety Toe version. Both are waterproof, so they can perform excellently in every weather circumstance.
Irish Setter boots are one of the best choices out there for roofers, home inspectors, estimators, solar installers and anyone who works on risky inclines. They grip extremely well on metal roofs due to the rubber flat sole and they can also handle great the harsh asphalt shingles.
Unlike classic Red Wings, these shoes are pretty easy to break-in and they are comfy from the first time you put them on.
---
HOW TO CARE FOR RED WING BOOTS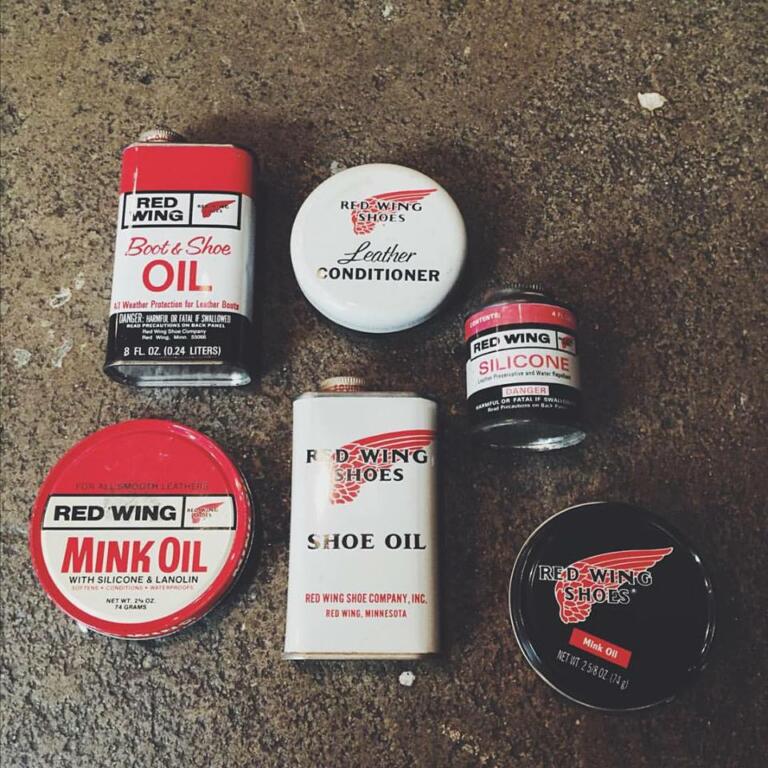 Red Wing also has its own care products line to help you clean, condition and protect your leather boots. There are 3 essential and simple steps you need to take in order to make your Red Wing roofing boots look as new:
Clean
Condition
Protect
Red Wing Heritage Care Line includes the following products:
Leather Cleaner
Leather Conditioner
Mink Oil
Leather Protector
Boot Cream
Horsehair Brush
Cloth
Here's a video from Red Wing Heritage official Youtube Channel, where we are taught how to properly care for different types of leather boots.
The first step is deep cleaning. You need to remove the laces and with the brush clean the boots from any dirt, sand, debris or mud. With a cloth and a bit of water apply the cleaner on the upper of the boot.
The second step is conditioning. You take the boot oil and apply it with the cloth. Let the shoes dry for 1 hour or more.
The third and last step is protection against water and stains. Take the leather protector and spray it all over the boot.
You might like: Thorogood Roofing Boots That We Really Love
HOW LONG TO BREAK IN RED WING BOOTS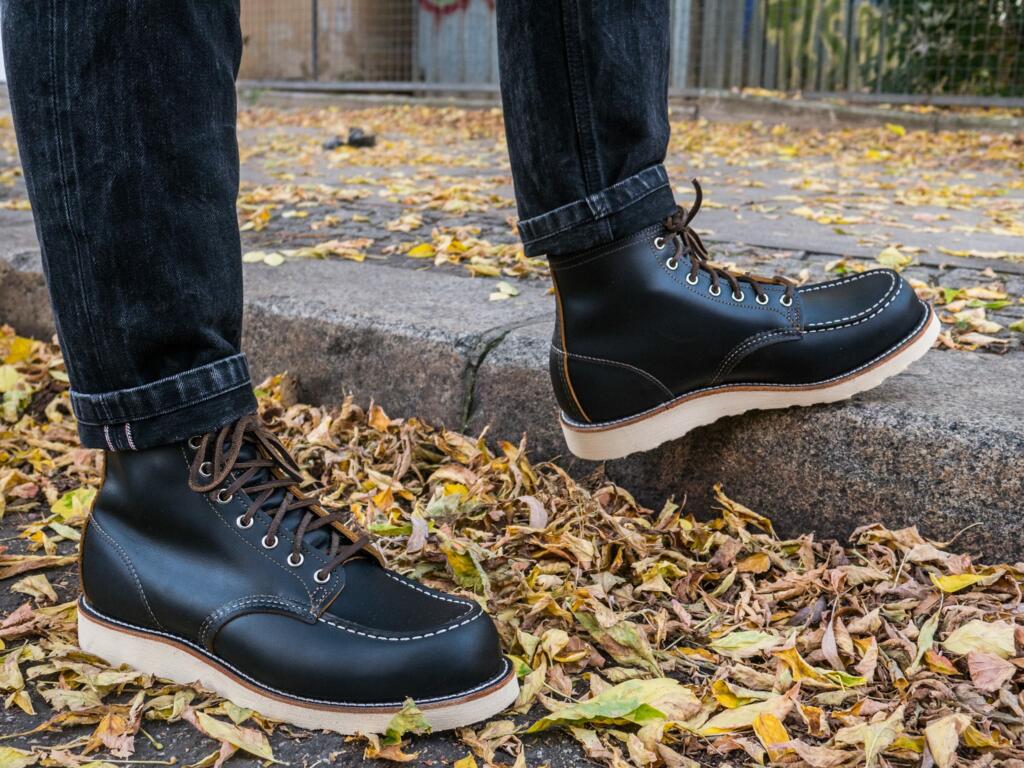 Red Wing boots need some breaking-in time, it can take 2 – 4 weeks until the leather is fully broken in. But there are ways to shorten this period and make it less painful.
The first trick is that you should oil them really well to shorten the break-in period and to get some really great comfort right after the first week.
During your first days of wearing the new boots, make sure to wear some thick socks. Also, try to wear them around and inside the house as much as you can. For some people, the break-in process is really painful, can cause blisters and some mild swelling. This doesn't happen all the time, though.
It is absolutely normal to take a longer time for Red Wing boots to break-in. Why? Because the boots are very well, solid and superbly constructed, having multiple layers of leather and triple stitching.
Once you pass the first weeks, you will experience the greatest comfort and you will be able to enjoy pain-free, no fatigue with the cushioning 12 hours a day, 7 days a week. So, in the end, it is totally worth the pain.
RED WING MERINO WOOL SOCKS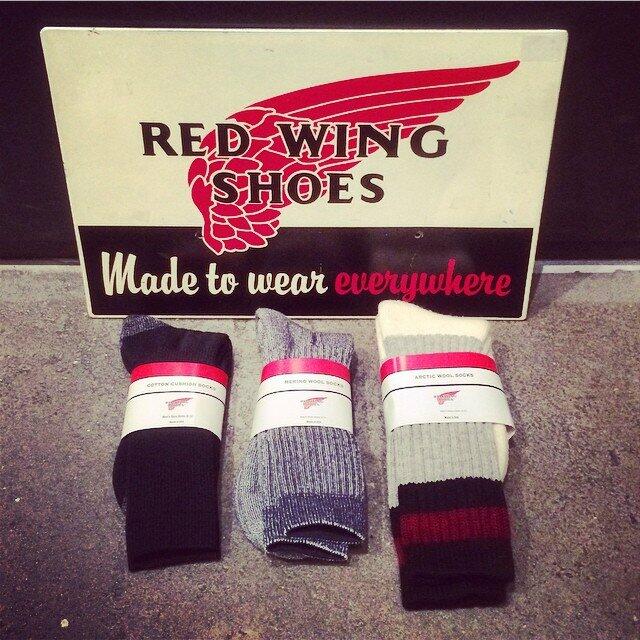 When you work all day long, and you have to wear your boots all the time, it can be pretty rough for your feet. So comfort must come first. Assuming you already have a comfy pair of work boots and insoles, you need to also choose very comfortable socks.
The best socks to wear with work boots are the ones that can keep your feet dry, allow air to flow in and out, and that are soft and comfortable.
Red Wing makes its own line of socks which fits perfectly with their footwear. Red Wing Merino Wool Socks (link to Amazon) are one of the thickest models they offer.
So they keep your feet dry, comfortable and warm during the harshest cold seasons. They are best to wear in cold seasons when you first break-in the boots.
Are available in different colors and styles and are nicely cushioned. As we expected, even the Red Wing Socks are made in the United States.
If you want some good socks for your work boots to wear in every season, we highly recommend Wigwam Socks (link to Amazon)
Conclusion:
We hope we helped you choose the best Red Wing Roofing Boots and if you are a lucky owner of RW boots, leave a comment below and tell us what is your experience with roofing and Red Wings. Happy Roofing!
Photo Credits: Thank you Red Wing Berlin/Hamburg/Munich for letting us use your photos!