We hope you love the products we recommend! Just so you know, when you buy through links on our site, we may earn an affiliate commission. This adds no cost to our readers, for more information read our earnings disclosure.
Last Updated on June 21, 2022 by Todd
To perform a roof tear-off quickly and effectively, you need the best shingle removal tool to tear off all the existing roofing materials. Absolutely everything needs to be removed from the roof: shingles, nails, staples, paper, adhesives, and more.
In the end, you want to leave a clean deck that's ready for laying new shingles.
Stripping off an old roof is the toughest part of roofing, you need to be prepared with the right roofer tools, safety equipment, and proper workwear: long-sleeved shirts, long pants, and roofing gloves.
After weeks of research, we picked our favorite roofing removal tools and pry bars available on the market. If you want to see the criteria that we used for choosing our picks, check out the section at the end.
Basically, a roofing removal tool should be lightweight, sturdy, easy, and comfortable to maneuver. It should also be featured with teeth specifically designed to pull up nails in one motion.
BEST SHINGLE REMOVING TOOLS
1. Best Roofing Shovel: Bully Tools
This Bully Tools shingle remover shovel is designed to tear off multiple layers of shingles, and pretty much scrapes every roofing material that stands in its way – definitely one of the best shingle removers available on the market.
The teeth are sharp and spaced just the right amount to pull out pretty much every roofing nail they hit.
This shovel removes nails and staples like a monster, including flushed-driven roofing nails or 16d nails from the sheathing.
The tool is well-built and completely made in the USA. We can say that the quality is certainly good. Moreover, it comes with an affordable price tag.
It's a heavy-duty tool, made from superior materials built to last.
It features extra-thick 10 gauge steel, and the D-Handle is made of reinforced fiberglass. All of that makes it remarkably durable and break-resistant.
The handle is comfortable to hold and easy to maneuver.
Weight could be improved:
The reinforced fiberglass handle and the extra thick steel make the tool very durable, which is a great thing. But all these materials do make the shovel heavier.
However, the weight might also be an advantage here, since the extra weight actually helps to tear off the shingles much easier.
---
2. Hardly Miss a Nail: Malco The Beast
Suited for both professionals and for DIY-ers, this tool is easy to maneuver, tears off shingles like a beast, and hardly misses a nail or a staple.
It's designed with a 3 position adjustable head that lets you tear off shingles on different pitch roofs. This makes it very versatile, being able to handle virtually any roof pitch.
The tool is rugged and made to last, it can lift up heavy loads of shingles without breaking.
Comes with 10 gauge steel blades, and the teeth have different lengths which is really useful. The longest teeth are designed for heavy prying, and tearing off the shingles. The short teeth are aggressive and pull up almost every nail they hit.
"The Beast" is made from a rugged all-steel handle and heavy-duty fiberglass. It's very durable and designed to withstand harsh tear-off conditions.
This shovel can easily scrape off even 3 layers of shingles.
Removing old roofing and tearing off shingles require a great amount of physical effort, that's why you need your shingle tear-off tools to be as lightweight as possible. The weight of this Malco shingle removal tool could be improved, it feels a bit heavy.
Because it is a hand tool, after longer use, you can experience some fatigue on the forearm, shoulders, and muscles.
---
3. Most Popular: Shingle Eater 
The "Shingle Eater" is well-known in the roofing world and it's clearly one of the most popular tear-off shovels available on the market.
These shovels are manufactured in the United States and built with rugged high-quality materials.
This shingle remover shovel is well-built with an ergonomic and comfortable design. It's easy to maneuver and light enough to make it comfortable for you to hold all day long.
It's nice that the tool does its job just as well even if the roofer is standing down.
The Shingle Eater slides further under the shingles and scrapes off any materials that stand in its way.
It pries out almost every nail it hits, including 16d nails. The shovel scrapes off multiple layers of shingles, staples, paper, and membranes.
It comes in a wide range of sizes from the small junior-sized to longer models.
Finally, the weight is spot on, heavy enough to scrape off anything it touches, yet light enough to be comfortable and easy to operate without getting you too tired.
---
4. Shingle Ripper Pry Bar: Dasco Pro
This Dasco shingle ripper is a must-have tool for removing shingles and nails without causing any damage.
Obviously, this is not a tool you use to remove an entire old roof.
This pry bar comes in handy when you want to remove a few shingles and pull up nails, without damaging the roof surface.
It's built in the USA and works for prying out wood, slate, tile, and asphalt shingles.
The tool is also designed as a nail remover, it reaches way under the shingles and with a simple movement, it can grab and remove all the nails or staples you want.
The Dasco Pro tool is a great asset to have for roofing, repair, or re-roofing projects.
---
→
What to Look For in a Roofing Tear Off Shovel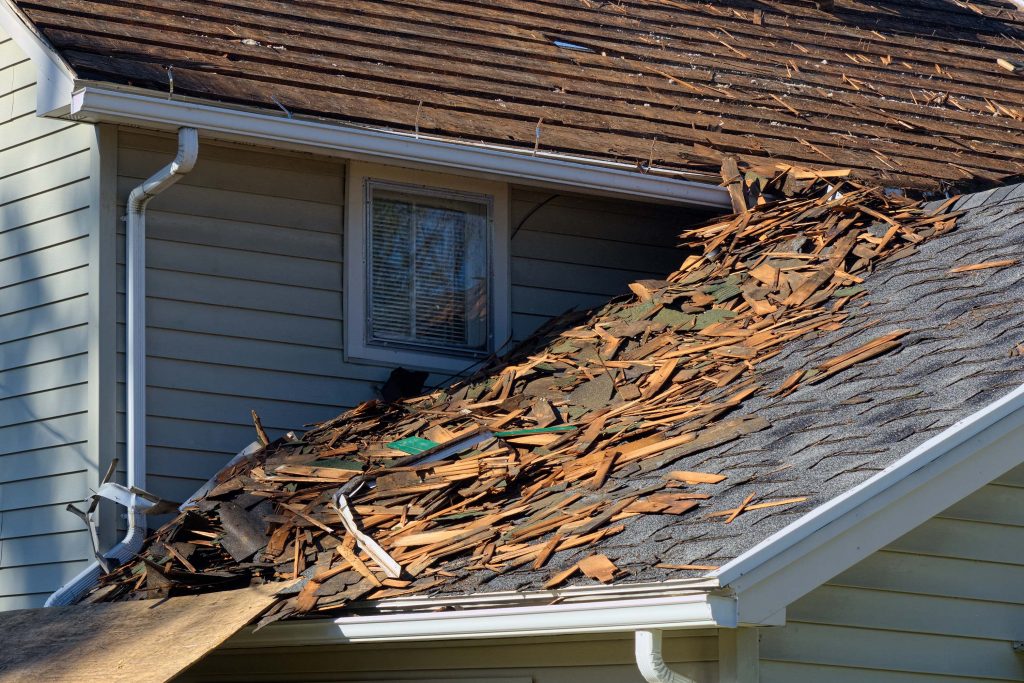 ♦ LIGHTWEIGHT BUT STRONG
A good shingle removal tool should be lightweight and at the same time sturdy enough to withstand a tough tear-off job.
A heavy hand tool will increase fatigue and pain in the arms, shoulders, and ultimately on the entire body. This will have a negative impact on your productivity and speed.
Go for a light tool made from high-quality and rugged materials. It should also provide a strong surface to push on without breaking.
♦ ERGONOMIC DESIGN AND COMFORTABLE TO MANEUVER
The scraper should be designed to be as comfortable as possible. The handle, the length, and the shape play a huge role in how comfortable the tool is to operate.
Choose a shingle removal tool that is appropriate according to your height, so you won't have any difficulty handling the tool.
The grip of the handle should be designed from a material that will not cause any blisters or pain to your hands.
The bottom part of the shovel should be large enough to lift a high volume of materials, without having any trouble handling the tool.
♦ DURABILITY
Tearing off old roofing is a tough job and requires strong tools that can withstand some abuse. You need tools that are solid-built, with high-quality materials like reinforced fiberglass and steel.
You need shingle removing tools that won't break during harsh tear-offs.
Fiberglass is a great material known to be very durable and yet light.
The blades and gauges should also be made from a tough material like tempered steel, that's able to last a long time without breaking.
♦ NAIL REMOVER TOOL FEATURE: Designed with Gauges and Spikes
Shingles are not the only things that need to be removed during a tear-off. At the end of a tear-off, you need a clean surface without any nails or staples in the sheathing.
You need a tool that's designed to pull up nails and staples with ease. Look for a roofing shovel or pry bar that features strong teeth that are able to remove any nail that stands in its way.
The shovels we recommended above are some of the most effective in prying out almost every nail driven into the roof.