We hope you love the products we recommend! Just so you know, when you buy through links on our site, we may earn an affiliate commission. This adds no cost to our readers, for more information read our earnings disclosure.
Last Updated on June 15, 2022 by Todd
We've spent dozens of hours researching about the best insoles, the ultimate comfort, foot types, and we managed to put together this in-depth review of the Dr Scholls insoles for work boots.
Working and standing all day long can be really harsh for your feet and for your overall health. Wearing the wrong pair of shoes and insoles can cause damage not only to your feet but to your entire body. Problems like back pain, hip injuries, fatigue, flat feet, and joint pain can appear if you're wearing wrong, missized and uncomfortable footwear.
Insoles, also known as "footbeds" or "inserts", are pieces of materials that go inside your shoes to offer comfort and support.
If you're a worker standing and walking on rough surfaces all day, then you need extra comfortable insoles with good shock-absorption, ankle support, and ultra-cushioning technologies.
Some of the more expensive shoes (eg. Thorogood) come already with excellent and high-quality insoles. Others come with footbeds that are thin, uncomfortable, have low-cushioning, without any arch support or shock-absorption technologies. If that's the case for you, then you should replace them with better inserts.
We reviewed Dr. Scholl's Comfort and Energy for Work with massaging gel technology. We looked for: cushioning, arch support, fatigue prevention, breathability, and durability.
 Features and Specs:
√ Massaging Gel Technology.
√ Designed for Work Boots, and casual footwear.
√ Keep feet cool and dry
√ Cut to Fit
√ Extra Cushioning for Comfort and Energy.
√ Great Arch Support
X Feel a little squishy at first
Comfort & Arch Support
The greatest feature of these insoles is the comfort and arch support it gives to your feet. The gel present on the bottom makes you feel like you're stepping on pillows and you're getting a foot massage all day. People are enjoying this comfort all day long at work, walking and standing on rough surfaces like cement.
Check The Current Price on Amazon>>
If your job implies harsh physical effort and walking on rough and hard surfaces then these insoles are one of the best options for you. The impact with the ground doesn't feel rough at all.
If your work is not so physically demanding, then these insoles definitely will provide you with great comfort all day long. The gel cushioning is soft and reduce any fatigue and stress in your feet.
Cut to fit
These Dr. Scholls insoles can be easily cut to fit your exact size. They come in a larger size so you could have the flexibility you need to adjust the trim as much as you need to fit your exact size. They're really soft and easy to be trimmed with any household scissors.
Cost & Value
These insoles come at an affordable price with excellent comfort and arch support. If your foot type is normal (medium arch), then you'll find the cushioning really great. People with flat feet, plantar fasciitis or high arch find these insoles to perform really well.
Dry Feet and No Sweat
Due to the "air holes", they come with a nice level of breathability. It doesn't block the air, allowing it to flow in and out so your feet to be dry and refreshed. Make sure the boots you wear are also made from a breathable material. Sometimes, if you're feet are sweating it's not the insole's fault. Most of the time, the material of the uppers may be too rigid and too stiff.
How long will Dr. Scholls Insoles last?
Usually, a good pair of insoles lasts about 6 months of everyday use. Depending on how harsh are the surfaces you're stepping on every day, they may wear out faster. If you see signs of wear, for example, if you see deep molds of your toes on the insoles then it's time to change them.
Check The Current Price on Amazon>>
Conclusion: Dr. Scholls Insoles for Work Boots are an overall great choice for harsh work environments. They are worth the price and come with great gel cushioning solid arch support and durability. They're one of the best options for physically demanding everyday jobs since these insoles provide with good shock absorption.
Bonus Guide: How to Identify your foot type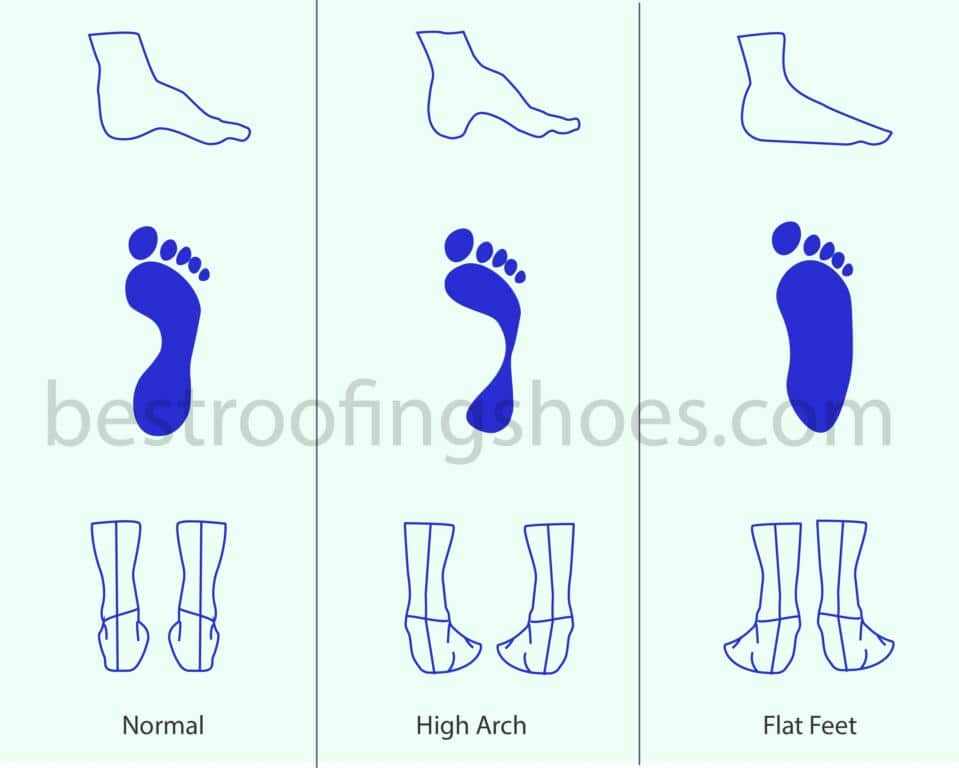 Not sure what is your foot type? Make the

Wet Test

Now:
One of the easiest methods to find out what foot type do you have is to dunk your foot in a bucket of water and step onto dry cement, a white piece of paper or on a paper towel. You'll get to see how your footprint looks like and you should determine if you have normal, high arch or flat feet. Here's a clear video explanation made by FootSmart: