We hope you love the products we recommend! Just so you know, when you buy through links on our site, we may earn an affiliate commission. This adds no cost to our readers, for more information read our earnings disclosure.
Last Updated on June 28, 2022 by Todd
Picking the right roofing shoes for shingles can be a time-consuming and nerve-racking process. There are so many models out there and if you have no idea what to look for in a roofing shoe, you'll end up with some slippery, uncomfortable shoes that will not hold up in the long run.
As always, we did our research and we picked our favorite shoes and boots for asphalt shingles. If you want to read how we got to our top choices, check the section below the picks.
There's nothing worse than walking on a shingle roof with slippery shoes. Safety comes first and you should take all the safety measures you can before going up on the roof. When it comes to climbing steep roofs you need slip-resistant, sturdy, durable, and comfortable shoes.
Roofing is a physically demanding job. Asphalt shingles are very harsh on the outsoles and uppers of your shoes or boots. You need shoes with solid construction, soft yet sturdy soles, and durable uppers, that are comfortable and provide secure ankle support.
The following shoes are also a great choice for home inspectors, adjusters, solar installers, roof cleaners, estimators, and anyone else who needs to walk on a roof.
Best Roofing Shoes for Shingles
---
1. Best Bang for The Buck: Merrell Moab 2 Ventilator
MOAB models are well thought out and designed to withstand wet, rough, muddy, steep, and slippery terrain. The outsole gives you the feeling that it practically sticks to the roof surface.
In terms of comfort, they are extremely comfortable from the moment you put them on the first time. Merrell brand always improves and updates its technology for extra comfort and traction.
This model is one of their most popular lines of MOAB (Mother-of-all-boots). It's available in both ventilated and waterproof versions. The ventilator version is more breathable and it allows air to flow in and out, keeping your feet dry and comfortable.
They also make hiking boots that have more secure ankle support and are a good choice for colder temperatures.
If you're roofing in summer, then these are an ideal option for you. They're affordable and we didn't really find any negative things about these shoes. If you want to take your comfort to the next level, add some SuperFeet insoles to enjoy the best cushioning.
---
2. Best Professional:

Thorogood American Heritage
Thorogood is one of the most popular, trusted, and respected brands of roofing shoes for shingles. They are known for high-quality work footwear, produced in the United States of America.
This American Heritage model performs admirably on roofs. The traction is insane and that is because of their new sole: MAXwear Wedge.
Thorogood used to use Vibram Christy Cream wedge soles, because of their slip-resistant technology in dry and wet conditions. However, they wanted something even better than Vibram, and after years of studying and testing, they created their own sole called: Thorogood Polyurethane MaxWear Sole.
MaxWear lasts 20-30% longer than Vibram outsoles. Besides that, a MaxWear wedge sole is extremely slip-resistant (even on wet surfaces), flexible, soft, sticky, and ultra-comfortable.
The upper is made from full-grain leather which is sturdy enough to withstand the rough conditions on a roof, and at the same time, it's very comfortable and soft to give your ankles enough flexibility.
---
3. Best Splurge:

Red Wing Heritage Classic Moc
Red Wing is one of the most prestigious and trusted brands in the workwear industry.
They are known for extremely high-quality and handsome leather boots, durability, and brilliant comfort.
Their products are handcrafted in the United States by skilled and talented craftsmen and craftswomen.
One thing is clear: Red Wings are not cheap. To get such superior quality you need to pay a higher price. For roofers, a pair of Red Wings is the kind of present they'd want for Christmas.
These classic boots (style 1907) come with a flat rubberized outsole that provides you with a solid grip on steep shingle roofs. The sole will give you the traction you need, and because it's flat, you'll have more stability.
They're also lightweight, so you could walk safely on the roof without causing any damage to the shingles. The uppers are made from sturdy yet comfortable copper leather. The boots are made to withstand the rough asphalt shingle roofing conditions.
The only downside, which is a downside only for a week or two, is that they take a longer time to break in than some other boots. This process can be painful for the first few days. It is recommended to oil them and wear some thicker socks during your first week.
But once you pass the breaking-in process, they're extremely comfortable and will fit you just right to give you a flexible yet secure fit.
You might like: Best Red Wing Roofing Boots (Reviewed)
---
4. Best Lacing System:

Thorogood Roofing Boots Lace to Toe
One of the most popular models of roofing shoes for shingles is the classic lace-to-toe model made especially for roofers.
The outsole is the MAXwear wedge, the best option for slip-resistance, comfort, traction, and grip on dry, dusty, wet, and steep surfaces.
The shoes are made with roofers in mind, and the most interesting thing about these boots is the triple stitching and double-layered leather on the sides. They wanted to increase the longevity of the boots by adding sturdy layers of leather on the sides to withstand the harsh contact with shingles.
The outsole is replaceable, so whenever it wears out you can replace it easily without having to buy a new pair of boots. The boots are made to be worn all day long while providing extra comfort and cushioning.
The Lace to Toe system is very smart and something unique about these boots. It's great having the ability to tie the strings to fit you perfectly from the toe all the way up. This way you'll have a snug, secure and comfortable fit for the unique shape of your feet.
The leather is breathable and you can wear these during a hot summer without having to worry about sweating and blisters.
---
5. Best Value:

Irish Setter 83605 Work Boot
Irish Setter is a brand owned by Red Wing. The quality of their products is really high, and surprisingly, they come at a much more affordable price than Red Wings.
This model 83605, is one of the most popular work boots out there.
The upper side is made of full-grain trout brook leather, which is known to be extremely durable, yet comfortable and flexible once it's broken in. We like the color choice: white rubber sole and brown leather with some beautiful stitching.
The shoes come with premium cushioning so they are really comfortable to wear all day long. It features triple stitching for extra longevity, they can last you a good year of hard roofing. The grip is great on asphalt and metal.
The leather breaks in really fast, without any pain. If you want to increase your productivity at work, these Irish Setter work boots are a smart choice.
---
6. MegaGrip & Comfort:

Danner Mountain 600 Hiking Boot
Hiking shoes are one of the best options out there for any roofing work.
They are made to withstand extremely difficult terrain, muddy, wet, rocky, steep, and slippery surfaces.
So it is safe to say that if they perform excellently in such difficult circumstances, they'll do a fantastic job on roofs. Danner came with a perfect model for hiking that is comfortable, fashionable, durable, waterproof, and lightweight.
The outsole uses the latest technology: Vibram Fuga and MegaGrip compound. This adds extra traction and makes the shoes super "sticky" on wet surfaces. You can safely wear these on asphalt shingle roofs, and on metal roofs.
The upper part is very resistant and made to last. They're waterproof but don't make your feet sweat. The flat sole is designed to give a secure footing and better balance at different awkward angles.
People hike dozens of miles per day in these and say they are extremely comfortable and the cushioning is fantastic. The break-in period is painless and happens fast.
You might like: Best Hiking Shoes for Roofing
---
7. Best Budget PRO Boot:

Ever Boots Ultra Dry
The upper is made of full-grain leather, which is very durable and doesn't rip or tear easily. It is waterproof and insulated, at the same time, it is very breathable so your feet could be moisture-free and dry.
The traction is decent due to the rubberized sole, and it performs well on metal roofs as well. The boots will give good ankle support which will help with your balance and the stability of your footing.
The breaking-in time lasts around a week or two, so make sure to wear thick socks and oil the boots before the first use. After that, they're really comfortable to wear all day long.
---
8. Best Steel Toe:

Timberland PRO Pit Boss
Timberland is one of the most trusted brands for work boots.
This model is part of the PRO collection and comes with well-thought-out features made to help hard-working people.
The upper is high-quality leather that can last you for years.
It's a bit thicker so that it can withstand brutal roofing conditions. But even though the leather is thick and sturdy, they break in really fast, and they're pretty comfortable.
For best use, you should oil them and use a leather conditioner to help make the leather softer and more comfortable, especially around your ankles.
The sole is rubber and it provides you with excellent traction while giving you stability on an asphalt roof.
A thing we didn't like: insoles are not comfortable. The shoes are great but the insoles don't do them justice. We recommend that you replace the existing insoles with your own favorite insole brand.
---
9. Best with Replacement Pads:

Cougar Paws Roofing Shoes
If you are a professional roofer, contractor, or estimator, you probably already know about Cougar Paws.
The brand is extremely popular and makes some really great boots for roofing.
Because they are built with roofing in mind, they have some really smart and practical features like replacement pads.
When the outsole of a Cougar Paws boot wears out, you can simply replace it yourself with another brand new sole. This saves you time and money.
In terms of grip and comfort, the shoes are known for their extra traction on high-pitched roofs. They are comfortable enough to be worn 12 hours a day, 7 days a week.
The ankle support is secure and comfortable, and the lacing system comes with a practical strap to ensure a tight and snug fit.
---
10. Cheap Pick:

Vans Skate Shoes
We had to insert a budget choice into our list.
We chose Vans because they seemed to be extremely popular among roofers and they provide a decent grip due to the rubberized outsole.
However, don't expect much in terms of durability and ankle support. They wear out pretty fast, and you'll have to buy a new pair in less than a month.
Like other cheap roofing shoes, they are good to wear if you have a limited budget and you don't spend 12 hours on the roofs every day.
---
What to look for in Roofing Shoes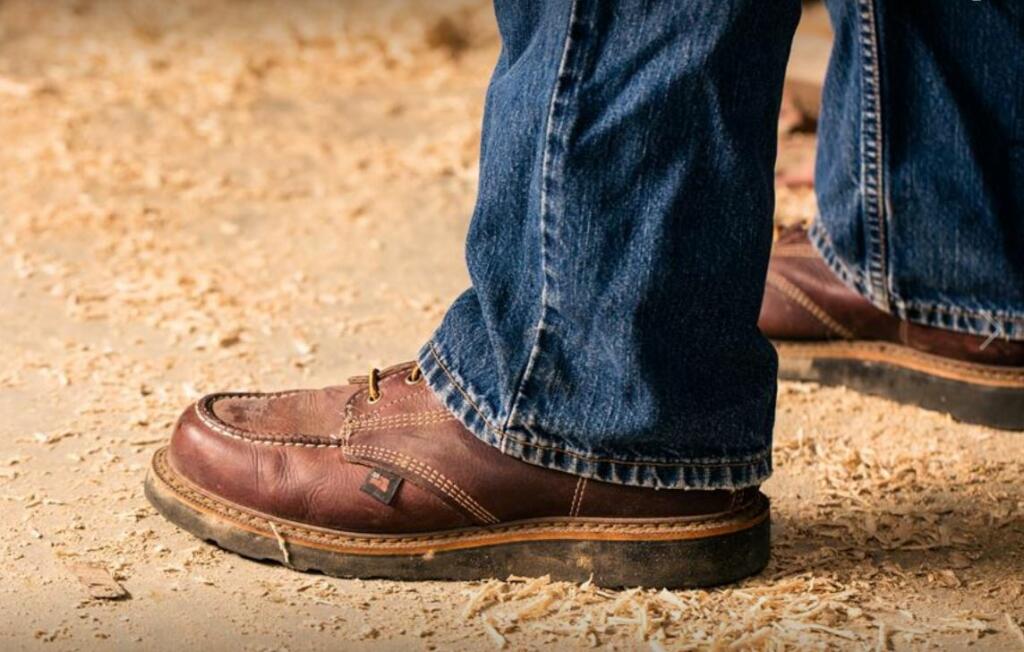 Traction
When you're walking on a roof, you need good traction to keep you from slipping, or in the worst case, from falling and injuring yourself. The outsoles of roofing shoes for shingles should feel like they are "sticking" to the roof.
Whether you need footwear for asphalt, metal, or cedar roofing, traction is the most important thing to consider in a shoe. For metal and asphalt shingle roofs you can get the best grip by wearing flat rubberized outsoles. For cedar roofs (link to our article), you need shoes with spikes. That's why it is important to learn about roof safety, before getting on one.
Comfort
Work boots should be comfortable even if you are wearing them 12 hours a day, 7 days a week. Comfort comes with high-quality materials from the outsole, midsole, and upper. Comfort also comes with good ankle support, breathability, proper fitting, and a secure lacing system.
The cushioning is very important when it comes to boots. The insoles play a huge part in the level of comfort provided. Most of the time, shoes come with average insoles that are OK at best, but not perfect.
That's why many people choose to purchase their own favorite insoles with shock absorption, extra cushion, and gel comfort technologies. Usually, they're pretty easy to replace so it's a hassle-free process that can change your whole experience and improve your overall comfort.
Durability
Durability matters when it comes to shoes you wear every day in rough work conditions. Roofing is a harsh job and it's physically demanding.
A roofer must carry heavy tools while bending, squatting, and kneeling all day long. The roof surface is rough on your shoes and if you're wearing poor-quality footwear, they can come off, break apart, or wear out very quickly.
Footwear for roofers should be well-built shoes, with extra stitching, leather uppers, and high-quality outsoles that can outlast your work environment.
Weight
A heavy pair of boots can damage the roof and nobody wants that. Plus, carrying that extra weight is extremely uncomfortable and will reduce your speed and productivity. You need roofing shoes that are lightweight. We paid close attention to this aspect and we chose only the lightest models out there.