We hope you love the products we recommend! Just so you know, when you buy through links on our site, we may earn an affiliate commission. This adds no cost to our readers, for more information read our earnings disclosure.
Last Updated on September 24, 2022 by Todd
Roofing shoes are critical to your comfort, safety, and job performance. But the process of choosing the best roofing footwear can get overwhelming. There are so many brands out there and so many important factors to consider when working on a roof.
We spent hundreds of hours researching, reviewing, and comparing shoes from all the top brands like Thorogood, Cougar Paws, Red Wing, CAT, Timberland, and Merrell, to help you choose the best pair of roofing shoes. If you have questions, feel free to contact us.
Below you'll find our 22 favorite choices of roofing shoes, each reviewed for performance. At the end of the article, we've written a thorough buying guide with all the features to consider when buying new roofing shoes or boots.
Quick Tips | What to look for in roofer boots:
Outsole: should be slip-resistant, rubberized (e.g., Vibram, MaxWear), flexible, flat (for metal and asphalt roofing), or with cleats (for wood roofs, ice conditions)
Midsole: should provide shock-absorption and add extra protection
Insoles: should provide cushioning and comfort technology
Weight: should be lightweight; a heavy pair will slow you down
Upper Material: look for soft yet durable and breathable materials (leather is a great choice)
Ankle Support: you need boots that are mid or high-cut for extra stability and good balance on steep inclines
Good Lacing System: choose a lacing system for a better and a secure snug fit
Overall Quality: for extra durability, go with a rugged, well-constructed shoe with sturdy stitching
Roofing shoes reviewed and ranked | Our Favorite Shoes and Boots
---
1. Merrell Moab 2 Ventilator
Best value for money.
The Merrell Moab 2 (Vent) shoes are very comfortable, slip-resistant, breathable, and made to last. Usually, they're used for hiking and are ideal on difficult and steep terrain, but they also make great roofing shoes.
The Vibram TC5+ outsole is superior-quality, non-slip, and extremely durable. You'll see in front of the shoe an extra protective rubber toe cap – that adds extra comfort and durability.
The "Vent" stands for "Ventilation," and it means that the shoe is made from a breathable material keeping your feet dry and fresh in hot temperatures.
Best for metal roofing and asphalt roofing.
---
2. Reebok CrossFit Nano 9.0 Shoe (NEW!)
Comfort and slip-resistance at a great price. (Better than Cougar Paws)
With a flat sole made of rubber, this shoe is lightweight, flexible, and very grippy on steep rooftops. They work well on metal and asphalt roofs.
The toe box is wide, which is a huge plus when it comes to comfort. They're also extra breathable, perfect on hot summer days. We also like the lace-up closure, ensuring a secure and snug fit.
Reebok CrossFit Nano is designed for CrossFit (as the name says), which is a sport involving lots of squatting and lifting weights and dangerous jumps. Built to provide excellent stability and balance, they are perfect shoes for roofers, estimators, home inspectors, and roof painters.
---
3. Thorogood Men's American Heritage

(our pick for roofing work)
Best professional roofing boots (suitable for asphalt and metal roofing)
The perfect roofing shoes. The uppers are made of full-grain leather, which is the highest quality leather you can buy. The full-grain is rugged, durable, and at the same time breathable.
The comfort is also superior, offering great cushioning with an ultimate shock-absorption footbed and Poron cushion insole.
The Polyurethane MaxWear Wedge gives all the traction you need on the steepest inclines. It's flexible, soft yet durable and it does not wear out easily.
The boots are extremely durable and perform really well on both asphalt and metal roofs. They also come in a Steel Toe version, plus this shoe comes in plenty of color variations. Thorogood is the top brand for roofers' work boots, and American Heritage are the best roofing boots.
---
4. Thorogood Lace To Toe Roofers Boots (Top Choice)
Best lacing system.
Their lacing system is practical and unique, giving you that tight and secure feeling from your toes up to the top of your ankles.
Besides the good lacing method, these boots come with thick genuine leather for extra comfort, and slip-resistant outsoles – all these make them one of the best work shoes for roofing.
These roofing shoes come with MaxWear Wedge Outsoles (better than Vibram): give a rugged grip, flexible, soft, and rugged.
Read the full review: Thorogood Roofer Boots Review
---
5. Red Wing Heritage Classic Shoes
Best splurge.
A great work shoe, they are not only fashionable, but practical roofing boots.
Comes with their own rubber outsole with Traction Tred technology, which gives you a sticky grip on slippery surfaces.
The uppers are 100% durable leather, water-resistant, and able to withstand abuse.
Cons: They run small, so make sure you choose the right size before purchasing them.
---
6. Xtratuf Performance Series for Men
For wet conditions | MEN
Contractors from Alaska use Xtratuf footwear on metal roofs and are extremely satisfied with their use as roofing shoes.
The shoes perform well on slippery surfaces, providing a fantastic grip even on wet surfaces.
Another great thing is that they come in a wide variety of colors, sizes, and styles (low-cut to high-cut).
---
7. Xtratuf Performance Series for Women
For wet conditions | Women
The Xtratuf Performance Series boots for Women are an ideal choice for working in wet and slippery conditions.
The full rubberized design gives excellent traction on steep metal roofs.
Easy to put on and extremely comfortable to wear all day long.
---
8. Merrell Moab 2 Hiking Boot (Top Choice)
Great ankle support
A top choice for roofing boots. This boots' design is mid-cut, providing better ankle support than the low-cut version. They are ideal roofing shoes to wear on a cold day.
The newly released lines 3 are also great boots but are a bit more expensive.
This pair is lightweight and extremely comfortable, with slip-resistant Vibram outsoles.
You will see them in many variations: waterproof (good for cold weather), vent (good for summer work, super breathable), and low-cut style boots too.
The price is reasonable, and they fit as expected. Perfect for metal roofing and asphalt roofing as well.
---
9. Timberland PRO Barstow Wedge Sole
Best for comfort
The wedged sole on these work boots will give you the traction and the friction you need even on a wet roof.
The toe room is quite wide on this shoe and raises the level of comfort.
Safe to say that they are a top pick for roofers with wide feet.
---
10. Irish Setter Red Wing Work Boot
Electrical hazard protection
They come with the following features: heat resistant, electrical hazard protection, waterproof, and safety toe boots.
The outsole is very durable, uppers are made from full-grain leather.
Irish Setter is a brand owned by Red Wing, so expect the quality to be the best in these roofing shoes.
---
11. Danner Bull Run Roofing Shoe
USA quality
The leather is hard to break in, and you'll experience some pain during the first few weeks of wearing these work boots.
But once you pass the first few weeks, they are extremely comfortable and durable roofing shoes, able to withstand the harshest roofing work conditions.
Cons: The break-in process is painful, and it takes a few weeks.
Read the full review: Danner Bull Run Review
---
12. Red Wing Heritage Round Boot
For wide feet
They're made of extremely high-quality leather, which is best if you want these work boots to last you several seasons of roofing. Red Wing is one of the most respected brands for its high-quality work footwear for roofers.
---
13. Ever Boots Ultra Dry
Best budget roofing boots
We were pleasantly surprised to find that these work boots are very practical for roofers and they are durable.
They are made of leather, fit as expected, are lightweight, and are waterproof. The outsole is made of a rubberized material (non-slip). On top of that, the best thing about this shoe is the affordable price.
---
14. Timberland PRO Soft Toe
Great ankle support
They designed this model to resist tough work conditions while keeping comfort at a maximum. They meet ANSI safety standards for roofing shoes and come with outsoles that are slip-resistant, oil-resistant, and abrasion-resistant.
The sole provides increased traction and good ankle support. The cushioning decreases foot fatigue.
---
15. Caterpillar Work Boot
Pain-free break-in process
This model is made from full-grain leather that provides durability and comfort.
These Caterpillar shoes perform well on rooftops, the outsoles are rubber slip-resistant, and people say they work well even on metal surfaces.
Also, the breaking-in process is quick and pain-free.
---
16. Cougar Paws Performer Boot (Performer Roofing Boots)
Replaceable outsole pads
The outsole pads are replaceable, meaning you don't have to buy a new pair of shoes every time the soles wear off.
This model provides comfort, durability, and a safe feeling on steep roofs. Cougar Paws are considered one of the best work boots for roofers.
---
17. Thorogood American Moc Toe
Beautiful design and superior comfort
Classy, professional, durable, and extremely comfortable work boots, they come with a fiberglass shank and MAXWear Wedge Outsole, which is also oil and slip-resistant. Thorogood is one of the best in the industry.
---
18. Keen Utility Milwaukee Work Boot (These Roofing Shoes Work)
Protective rubber toe cap
The uppers are 100% leather, the midsole features a dual-density EVA footbed which adds comfort and impact -absorption.
The outsole is slip and oil-resistant. On the plus side, these boots offer electrical hazard protection. This is helpful with electrical cords on the roof.
---
19. Wolverine Moc Toe Work Shoes
Great for seasonal use
They fit into a middle category between professional boots and regular shoes. Overall they are good-looking, comfortable, and well-constructed roofing shoes.
They don't last as long as Thorogood, but you can safely rely on them for some seasonal roofing jobs.
The upper material is full-grain leather is durable and makes these roofing boots perfect for asphalt roofing.
Cons: The size runs big.
---
20. Chippewa Plain Toe Boot
Superior design and comfort
With Vibram Christy Wedge Outsole, you'll benefit from a sticky grip on roofs.
They are made from 100% leather which is breathable and will allow air in these boots to flow in and out. This can maximize your work productivity on a hot day.
---
21. Georgia Wedge Work Boot
Great for steep roofs
The upper material is 100% SPR leather which stands for "Soft, Premium, Comfortable."
The rubber outsole is designed for slip resistance, and it is almost flat, giving good stability and extra balance on the roof.
The reviews are mostly positive, and these boots fit as expected.
---
22. Skechers USA Utility Boot
Good for asphalt roofing
They provide decent traction, and the rubber sole gives you a safe feeling on wet surfaces.
They are not recommended for metal roofing since the sole on these boots is not flat, and you could lose your footing easily.
---
BUYING GUIDE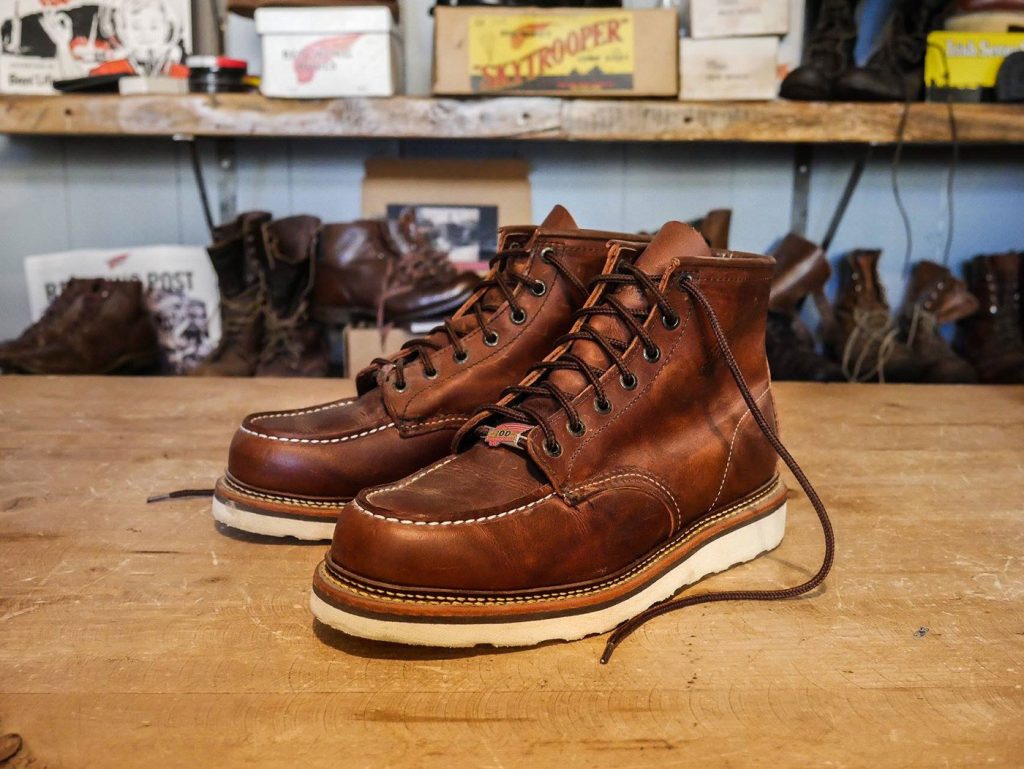 Before buying roofing shoes, you need to know what type of roof you'll be working on. Roofs can be made from all kinds of materials like metal, asphalt, clay, slate, concrete, and wood. And all these different types of roofs require different types of shoes.
---
For Metal Roof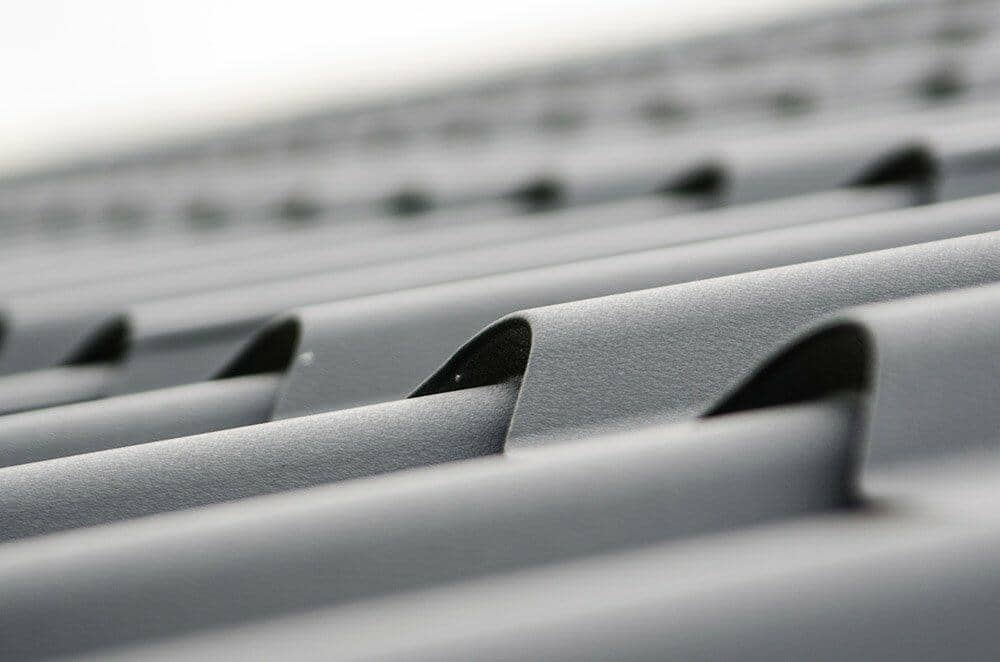 A metal roof is extremely slippery by default, especially if it's wet or covered with dust, oil residue, or pollen.
On metal surfaces, you will need boots or shoes with rubberized flat outsoles. They will give the best grip and traction even on a wet metal roof.
Also, you will need soft-soled and lightweight shoes. Heavy and rigid work boots can damage the roof surface very easily and, at the same time, can slow you down.
If you're looking for footwear to walk on metal roofs, check out our latest article on the best metal roofing shoes.
For Asphalt Roofing
For walking on asphalt shingled roofs, you need slip-resistant, comfortable, and durable shoes.
Asphalt shingles are extremely harsh on the outsoles and the uppers of the boots. If you choose a low-quality sneaker, chances are they will fall apart in days on this kind of roof.
Go with full-grain leather, one of the most resistant types of leather that are made to last you a very long time.
Check out our latest article on roofing shoes for shingles.
For Cedar Roofing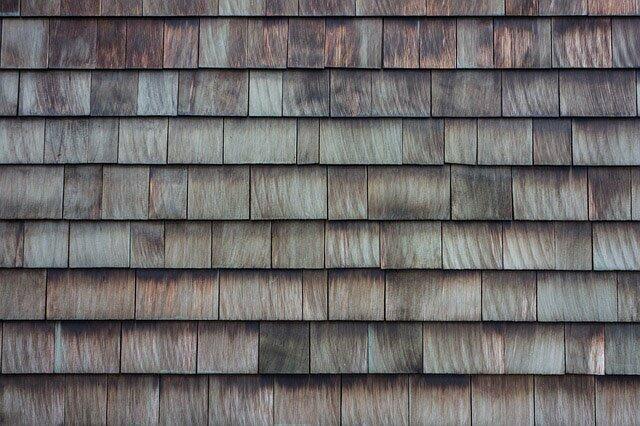 To walk on cedar roofs, you will need some shoes with spikes that will give you good traction and stability.
We recommend overshoes that strap on to your boots, equipped with cleats that are sharp enough to give a great grip but not so sharp they penetrate and damage the shakes.
In our guide on how to walk on cedar roofs, we recommend STABILicers as the best overshoes for wood roofing.
After you have identified the roof type, you need to choose a pair of shoes that will keep you comfortable and productive all day long. Professional shoes are more expensive, but they do offer superior quality and can last you years. Here are the key factors you need to look for in a roofer shoe.
Outsoles and Traction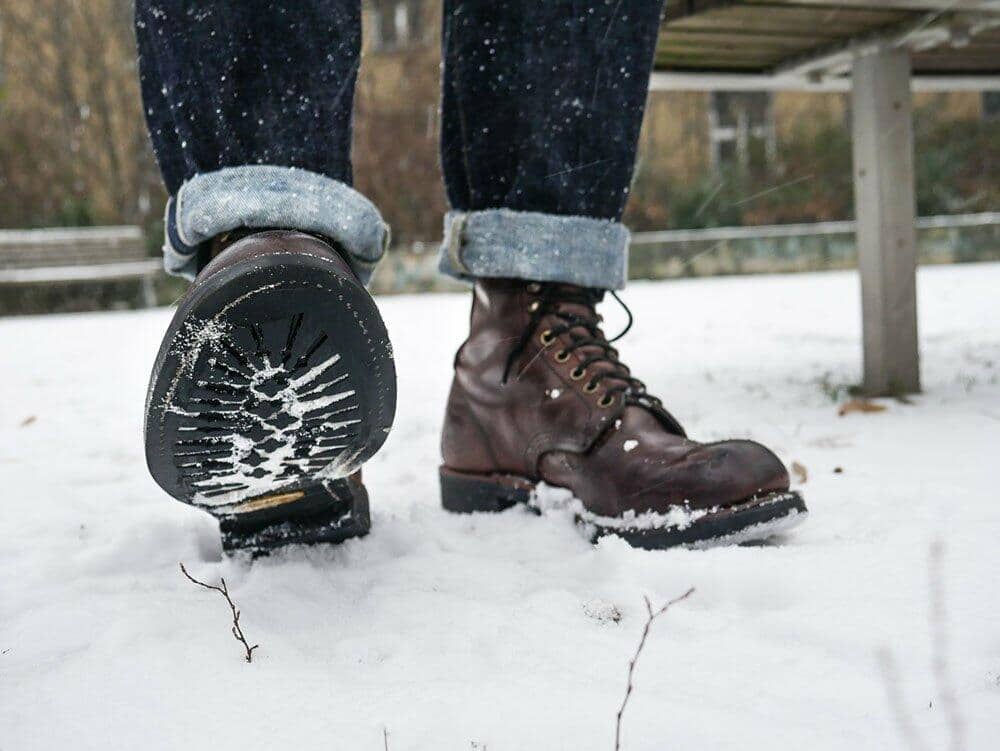 The outsole is the most important feature to consider when choosing roofing shoes. It should be slip-resistant and give enough added traction to keep you from slipping off the roof.
The best outsoles for metal and asphalt are made of rubber. There are many technologies designed to provide superior grip. Good examples are Vibram, ContaGrip, MAXwear, and Red Wing Sole.
Also, look for boots with flat soles. They will give better stability and help you keep your balance.
Roofing is physically demanding, and most work involves squatting, bending, and staying in difficult positions on a roof.
That's why you need a flexible sole that can allow your feet to flex as much as you need without breaking or compromising comfort.
Comfort
You need a pair of shoes that you can wear comfortably all day long. Some roofers work 12 hours a day and on weekends.
You need to look at the midsoles and the insoles of your roofing shoe to be designed for extra comfort with shock absorption and anti-fatigue technology.
At the same time, the upper material should feel like something is hugging your feet. Leather boots feel nice, although it might take a few days until it breaks in.
In hot temperatures, it's important to avoid swollen and sweaty feet. You need shoes made from a breathable material that allows air to flow and keeps your feet dry.
Materials
Synthetic Nylon, Mesh, and Canvas: are very breathable but are not protective or durable.
Suede Leather: a type of full-grain leather but with a softer finish, made to make it more flexible, breathable, softer, and lighter. It is durable, and it offers decent protection.
Full-Grain Leather: the toughest and most durable leather. It is not as breathable, but it is made to last and withstand harsh roof environments.
Good Lacing System
Go with boots that can lace up nicely to make the shoes fit your exact feet shape.
You need a tight, snug, and secure fit with laces that remain perfectly tied on.
The quality of the laces is important. Make a good knot to assure you're not going to trip over your shoelace and potentially fall off a roof.
Conclusion:
These were our favorite roofing shoe picks. Hope we helped you choose your next pair. If you have a bigger budget, we recommend going with a more expensive but professional pair of boots like Thorogood or Red Wings. If you have any suggestions or if you feel like we have missed something, comment below.
Happy Roofing!
F.A.Q