We hope you love the products we recommend! Just so you know, when you buy through links on our site, we may earn an affiliate commission. This adds no cost to our readers, for more information read our earnings disclosure.
Last Updated on June 15, 2022 by Andrew
There's nothing worse than showing up at work and realizing you don't have the proper roofing tools and equipment. Good tools make roofing easier, more productive and why not, more fun.
We've spent hundreds of hours researching to find out what are the best tools for roofing in 2022, and hope our final picks will help you out in your buying journey.
We selected roofers tools you can rely on to make your job easier and increase your work productivity.
Whether you're a roofer, a professional contractor, or a DIY roofing enthusiast, this article is for you.
Below you'll find our final roofing tools list with product recommendations, reviews, top features, and pros and cons. Let's get this started.
P.S: If you're specifically looking for tools to install metal roofs (cutting, bending, marking, measuring tools), check our new article on the best metal roofing tools.
Best Roofing Tools in 2022:
---
1.

Best of the best

: Metabo HPT Coil Roofing Nailer (ex Hitachi nv45AB2)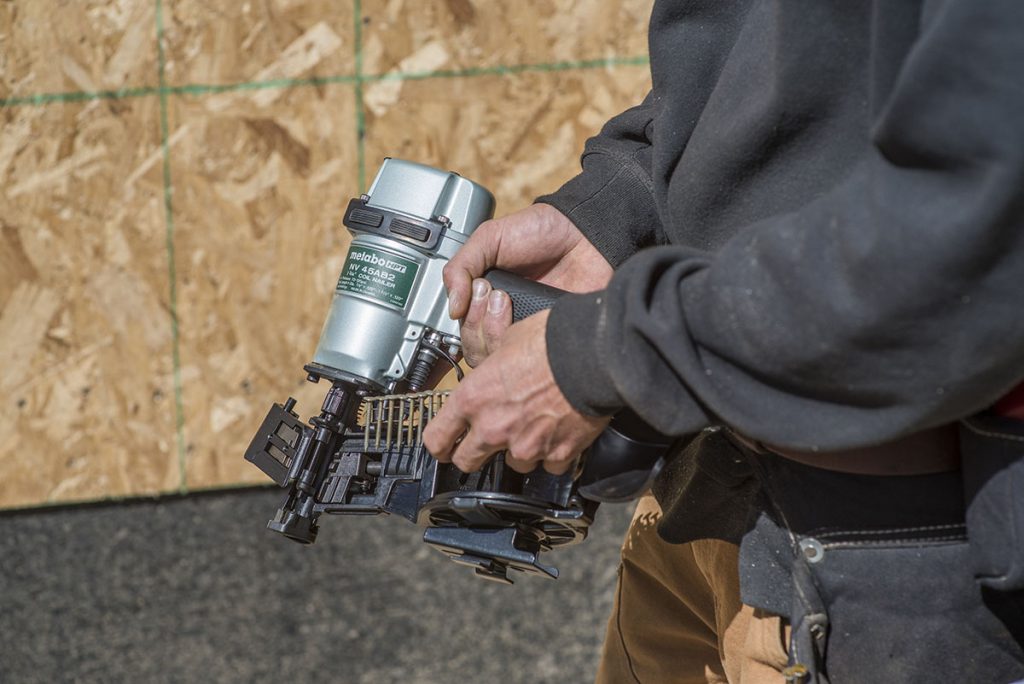 The Hitachi NV45AB2 is our number one pick and we think it is the best on the market.
It's fast, well-balanced, reliable, durable, lightweight, air-powered, and very easy to use.
Perfect for professional contractors and for DIY-ers as well
Update: Check our latest article on the best roofing nailers in 2022, where we go in-depth and review each of our favorite roofing nail guns on the market.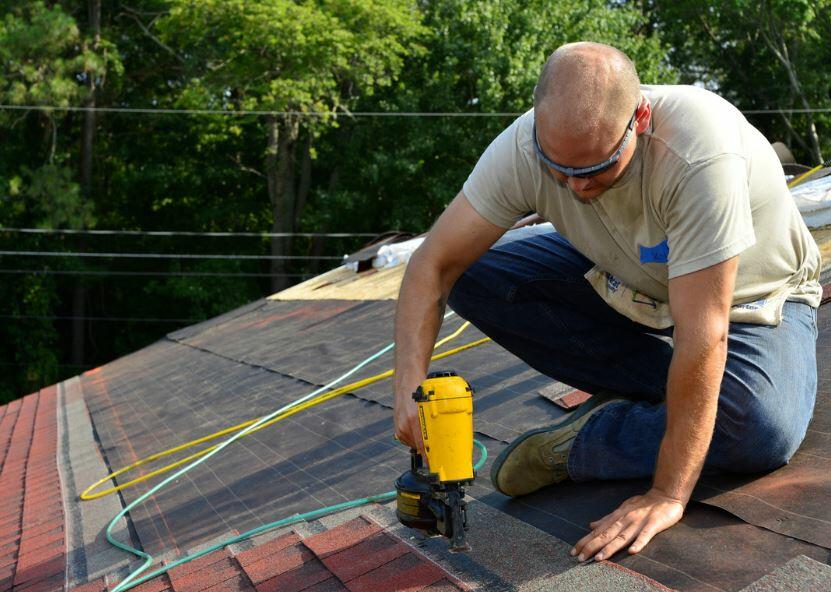 Also Great Roofing Nailers:
---
2. Best Air Compressor for Roofing Nailers
Ideal for a Large Crew: ROL-AIR 8422HK30
It comes with a reliable, powerful made to last, fuel-efficient Honda engine.
Rolair compressors are one of the most popular and trusted products in the roofing industry.
To operate your pneumatic tools, you need a reliable air compressor. You need to make sure the air volume (CFM) and air pressure (PSI) are compatible with your air tools.
Choosing the right size for your next air compressor depends on how many roofing nailers you plan to use at the same time.
If you have a large crew and you want to handle large professional roofing projects, consider investing in a wheelbarrow compressor with a high CFM, a powerful engine, and reliable PSI.
2.1. Best Air Compressor for Small Roofing Projects (Max Two Nailers): Makita MAC2400
A unit with a larger air tank will allow you to complete the job faster and more effectively – perfect for job sites.
For smaller projects, you can go with a smaller yet very effective compressor.
This Makita MAC2400 is an ideal choice for powering two nailers at the same time.
Comes with a twin-stacked tank, sustaining 130PSI, and delivering 40PSI (4.8 CFM) and 90 PSI (4.2 CFM).
It is powerful, quiet, and made to last in tough conditions.
---
3. Best Roofing Chalk Snap Line
Tajima CR301JF Chalk-Rite
One of the most popular hand tools used to snap lines while shingling, is this Tajima model.
It will last you longer than other models, designed with a rugged cast aluminum case and with a slip-resistant rubberized grip.
This Tajima chalk line comes in different variants from extremely bold, extra bold, and ultra-thin.
---
4. Best Roofing Knives and Hook Blades
#1 Utility Knife: Milwaukee Fastback 3
It's easy to use, lightweight, and smartly designed to make cutting easy and convenient.
One of the roofing hand tools you need to have in your roofer's toolbox is the utility knife.
A retractable knife will do the job just right, and since you'll be using it often it's recommended to pick one with replaceable razor blades.
This way, you'll only have to change the blades and not the knife.
Goes Well With Milwaukee Hook Blades for Cutting Shingles
Asphalt shingles are rough and hard to cut.
To cut shingles you need durable, sharp, and heavy-duty hook blades that can attach to your utility knife.
These Milwaukee blades are a great addition to your utility blade.
Remember, always be careful with these sharp knives.
---
5. Best Roofing Ladder: Louisville Ladder FE3228
Made of fiberglass, this sturdy ladder can hold up to 300 lbs, which is more than enough for a person carrying materials and tools.
Meets OSHA and ANSI standards. Ideal to keep you safe when working near electricity.
To safely access the roof, you will need a sturdy extension ladder, and for the best stability choose a heavy-duty one. The ladder you choose should also comply with OSHA standards.
Quick Tips:
Make sure to set it up correctly and extend it long enough above the gutter. You should have it tied to the roof as an extra security measure.
When picking a ladder, check for:
load capacity
extension length
what material is made of
You cannot go wrong with a ladder made of fiberglass. Fiberglass ladders are safe to use around electricity and are usually made for heavy-duty jobs providing extra stability.
It is a bit heavier to carry around, so it might be hard to move it safely by yourself. Make sure to have someone with you to help you with it.
---
6. Best Roof Ladder Hooks
Our #1 Pick: Qualcraft 2481 Ladder Hook with Wheel
It is easy to attach to the roof peak and does not damage the shingles.
Using roof ladder hooks is an ideal way to safely secure the top of your ladder to a rooftop.
The hook attaches to the peak of a roof and allows you to secure the ladder in place.
Some roof ladder hooks also have rubberized wheels allowing you to roll the ladder up to the top without damaging the shingles.
When you got it up in the desired place, you can safely use the roof ladder to help you climb the roof safely.
---
7. Best Shears Attachment for Cutting Metal
Our #1 Pick: DEWALT DWASHRIR Impact Ready
Perfect to cut corrugated metal sheets, asphalt shingles, sheet metal, vinyl sidings, and more.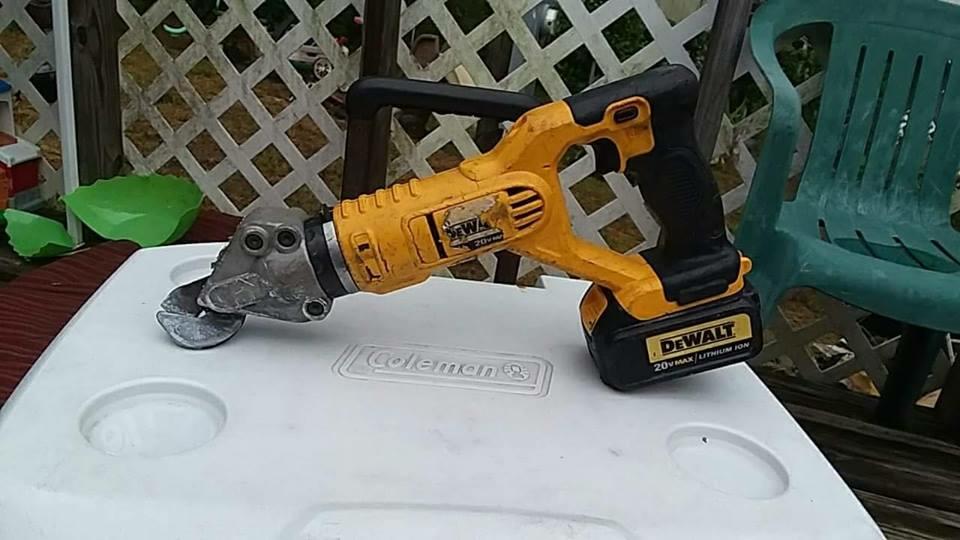 It cuts straight lines without destroying the protective coating of the material.
Shear attachments provide a practical, smart, quick, and safe way to cut metal sheets without damaging the protective coating.
Cutting with anything producing heat, like a circular saw or a grinder, voids the warranty by manufacturers.
These shears are ideal for cutting corrugated roofing in a straight line.
---
8. Best
Roofing Shovel

: Bully Tools Fiberglass
Our Favorite: Bully Tools 91110 with Fiberglass Handle
The handle is rugged, made of triple wall fiberglass, and easy to maneuver. Made in the USA and the brand offers a limited lifetime warranty.
When installing a roof, you need a clean surface to work with, a surface without any old shingles, nails, or other old materials.
A roofing shovel will help you tear off the existing shingles and to push them out of your way. A roofing shovel is a proper tool to remove the old shingles in order to make room for the new ones.
Roofing shovels help you to easily remove nails and to pull and rip the shingles off the roof. Since this is a hand tool, it should be lightweight, easy to use, and have a grippy, sturdy and comfortable handle.
You might like: Best Shingle Removal Tool in 2022
---
9. Best Roofers Hammer / Hatchet
AJC Magnet Roofing Hatchet
It comes with built-in utility blades, a sliding gauge, and a nail claw. The hatchet is rugged and made to last.
A hammer is something every roofer should have in their toolbox. Even if you use a nail gun, there will still be times when you'll be needing a hammer.
A roofing hatchet is a basic yet very useful tool to set or remove nails and tear shingles with ease. Some come with utility blades included.
Also Great Roofers Hammers:
Stanley FatMax Xtreme – fork design and anti-vibe feature, limited lifetime guarantee
Estwing Hammer – durable, comes with gauge and retractable blade
---
10. Best Roofing Ripper
Our Recommendation: Dasco Pro 640 Ripper Pry Bar
Made in the United States from high carbon steel, is durable and made to withstand some harsh abuse.
Overall a practical and very useful hand tool to remove a wide variety of shingles: asphalt, cedar, tile, and wood.
Rippers are versatile roofing tools that help you remove shingles, cedar, and nails without making any damage to the roof structure.
---
11. Best Safety Hard Hats for Roofers
OSHA Approved: Safety Hard Hat by AMSTON
It's breathable and comfortable to wear in a hot summer.
Most importantly, it protects your head from injuries, meeting ANSI and OSHA standards.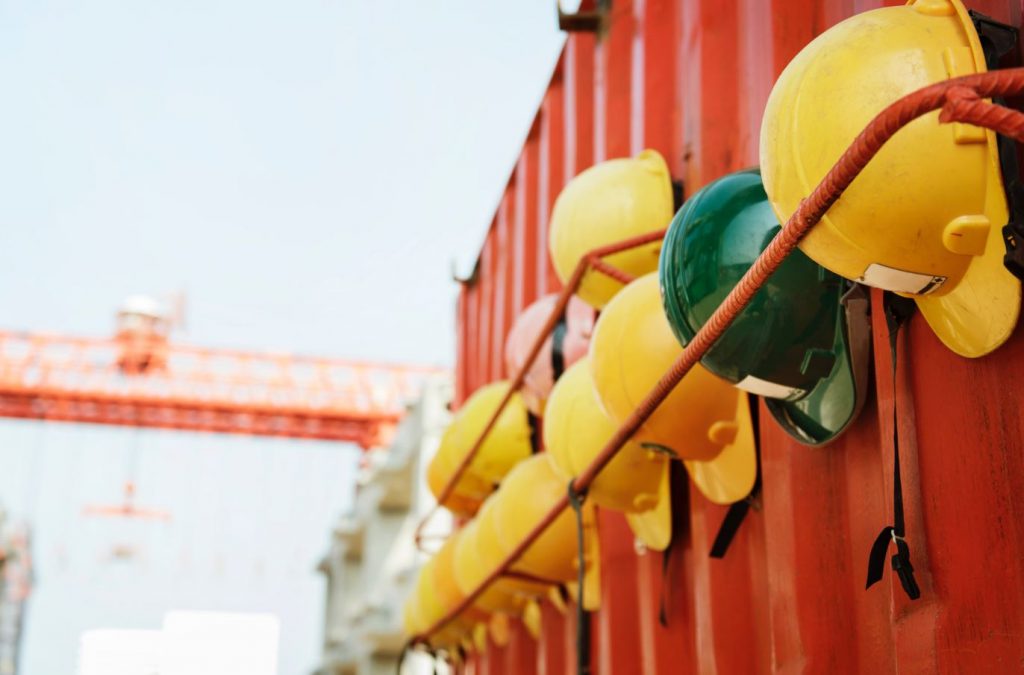 Safety comes first and head protection is one of the most important things to consider before climbing a roof.
OSHA regulations specifically say that you must wear safety hard hats if you work in an area where there's a risk of being injured in the head by falling objects.
Many roofers consider that they should not wear safety hats because they think there is no risk of getting injured in the head while on the roof. That's wrong.
You can trip and fall, and you can bump your head into something, so there is a risk of head injury, meaning that you should definitely wear a hard hat.
---
12. Best Slip-Resistant Shoes
#1 Pick for Roofing Shoes: Thorogood American Heritage
The upper material is full-grain leather, the most durable material out there.
The outsole (MAX Wear Wedge) is flexible, non-slip, and gives sticky good traction on steep roofs.
A critical piece of equipment is the roofing shoes. Wearing appropriate footwear on the roofs could save your life.
You need slip-resistant shoes that will keep you from slipping and falling off the roof.
The soles of the shoes must be grippy and give good traction. Whether you install a metal roof or an asphalt roof, you need shoes with rubber outsoles.
Preferably the soles should have behind a smart traction technology like Vibram or MaxWear Wedge.
A steel toe option will keep your toes safe, but they will be heavier to carry around. It depends on you if you want your shoes to feel lighter and have more flexibility, or if you don't mind carrying that extra weight that comes with the steel toe.
---
13. Best Safety Kit with Harness, Ropes, Anchors
Best of The Best: Guardian Fall Protection Bucket of Safe-Tie
It comes with a universal harness, lanyard, rope, clamps, and roof anchor. The most important thing is that it meets and even exceeds OSHA regulations.
The safety harness is an important piece of the safety equipment you are required by law to wear. Even if the wheater conditions are great, and even if the roof is not too steep, you always need to wear your harness.
A safety system should be a top priority for everyone getting up on the roof. Just strap on the harness and tighten the straps well for a secure and snug fit.
You will need to fasten a roof anchor to the peak of the roof, and then clip the rope to the ring of the anchor and back to your harness.
If you want to protect your knees from pain, inflammation, and severe motion loss, it's a smart idea to wear knee pads for roofers.
Read here our guide on how to secure yourself on a roof, where we share the very best safety equipment for roofers: harnesses, anchor points, fall protection systems, lanyards, safety glasses, and more.
---
14. Best Seam Rollers for EPDM Roofing
Our Favorite: Nighthawk Professional Silicone Roller
The Seam Roller is also heat resistant and can be used for a wide variety of other purposes: wall vinyl, automotive work, PVC, etc.
A seam roller comes in handy, especially for rubberized roofs. Perfect for compressing roofing membranes. Look for heat-resistant rollers that roll smoothly while doing an effective job.
---
15. Best Moisture Detection Tool
Best Overall: General Tools MMD4E Digital Moisture Meter,
It offers a perfect way to detect leaks, mold, or any water damage. The device is easy to use and provides accurate data.
Moisture detection tools for roofing are extremely helpful. To find out the dryness or moisture content of a roof surface, insulation, or roofing materials, you need a moisture meter.
Moisture inside any roof, or in materials is a danger because it can cause a lot of damage, and mold.
---
16. Best Roof Bracket
#1 Roofing Bracket: Qualcraft Adjustable Bracket
It offers a larger step area to walk on, increasing your work efficiency and speed.
If you need a more comfortable and safer position while roofing, then you need roof brackets.
They are often used when the roofs are steep and are made to give you a stable, larger, and safer work area.
Roof brackets are very easy to install and remove without making any damage to the roof surface. They are designed to offer flat support for your feet while working on the roof.
---
17. Best Magnetic Sweeper for Cleaning
Best Magnetic Sweeper: Master Magnetics with Wheels
This rolling tool can collect up to 1.6 lbs of metal at a time, which makes it very practical to do a full cleaning around the house. It rolls over grass, dirt, driveways, and other difficult terrains.
Every professional roofing contractor should leave behind a clean lawn and a clean roof. After any roofing job, it is normal to have a lot of nails and staples around the house.
A great roofing tool that will help you clean up all the metal debris is the magnetic sweeper. A rolling magnetic sweeper tool does its magic by picking up nails, screws, staples, and any other metal debris.
---
18. Best Retractable Steel Tape: Stanley Powerlock
The end hook is Tru-Zero, making the measurements always accurate.
Excellent for roofing and for framing jobs.
If you're a roofer a retractable measure tape is a must-have tool in your toolbox.
Everyone should own a measuring tape, from professional construction workers to DIY-ers.
You will use it more than you think to measure everything you need fast and easily.
---
19. Best Multi-Purpose Cutters
Our Favorite: Wiss MPX5 MaxCut
It is multi-functional, including a wire cutter, bottle opener, and wire bending feature.
Ideal for any type of roofing.
If you don't like utility knives, you can choose a more comfortable option like a cutter with rubber handles.
A good cutter speeds up your roofing projects and can cut through composite shingles and even metal sheets.
---
20. Best Caulking Gun
Best Pick: Newborn 930-GTD Drip Free
You won't experience any dripping, because it stops as soon as you let go of the trigger.
The handle is ergonomic and comfortable.
A caulking gun tool is mostly used for roofing repairs. You will need it to distribute caulk from tubes.
It should be lightweight and designed to prevent any dripping. A good caulking gun should also be comfortable to use.
---
21. Best Ladder Hoist | Shingle Lift
Best Ladder Hoist : TranzSporter TP4000 Honda Motor
With this model, you can safely and easily lift materials of up to 400lb.
The Honda engine is proven to be reliable and long-lasting. We highly recommend this product to every roofing contractor.
This is a large tool, that in our opinion, every professional roofing company should own.
One of the most dangerous operations is getting materials (like shingles) on the roof.
Often workers are manually carrying the products while climbing a ladder. This process is against OSHA regulations and not to even mention, it is very dangerous.
A safety ladder hoist automates the process and lifts your materials safely from the ground up to the roof.
These lifters are perfect for moving shingles, metal materials, insulation materials, solar panels, etc.
Ladder hoists are not necessary if you already have all the materials placed up on the roof before starting the job.
---
22. Best Electric drill
#1 Top Pick: Dewalt DCD771C2 20V MAX Cordless 
The drill is lightweight, and comfortable to operate with one hand.
Plus it has a powerful 300-watt motor.
You will need an electric drill, especially if you do commercial and metal roofing.
It's the obvious tool to drill holes in metal or concrete, and of course to install screws.
For the safest and the fastest installation, go with a battery-powered, cordless lightweight drill.
---
23. Best Metal Snips
Most Popular: Midwest Aviation Snip Set
We like that the blades were crafted to provide maximum durability.
The ergonomic handles are comfortable and protect your fingers from slippage.
Excellent choice for sheet metal work.
When working on metal roofing, you will be needing good metal snips to safely cut materials. They are hand tools used for cutting and manipulating metal sheets.
The snips are made from a light yet durable material and can cut through aluminum, flashings, and many other metal materials. Usually, they are available for both left and right cuts.
---
24. Best Tile Nibblers
Best Overall: M-D Building Products Tile Nippers PRO
It can cut really well and also reach difficult places to remove nails or debris.
This hand tool can be also used to bend the metal sheets.
A useful and versatile tool is the tile nibbler. It is designed to grip, pinch, cut, or pull materials like nails, sheet metal, screws, and more.
It is very convenient when you need to pull something from tiny, awkward spaces.
---
25. Best Roofer Tool Belt
#1 Top Quality: Occidental Leather Seven Bag Framer
The belt is made in the USA, and it's the most comfortable, practical, and durable model on the market.
One of the most practical pieces of roofing equipment is the tool belt.
In order to be practical and to increase your work speed, you need to hold your tools safely using a comfortable tool belt with bags and pouches.
If you're interested in purchasing a new belt, read here our article on the best roofing tool belts in 2022.
---
Conclusion: We hope our roofing tools list helped you choose the right items. Remember, put your safety first and leave us a comment below and let us know what you think.