Wearing the right roofing work clothes increase your productivity, and keeps you comfortable all day long. The clothes you wear should be functional, durable, extremely comfortable, and made from high-quality, breathable and sturdy materials.
We will teach you how to choose the best clothes for the job and we'll recommend a few products that we love: roofing pants, shirts, shoes, gloves, knee pads and more.
In the end, we share some clothing tips like how to stay cool while roofing in summer, what materials are the best for roofing in winter and more.
Quick Safety Tip: Stay away from frayed and tattered clothing to avoid getting your clothes caught on ladders, materials, tools or equipment. This will reduce the risk of injuries or accidents.
ROOFING PANTS
Our guide for roofing work clothes starts with pants. Roofing is a harsh job and requires the toughest work pants you can find. A proper pair of pants should be sturdy, made to last, and at the same time, they should also be comfortable, flexible and breathable.
Roofing work is physically tough. It involves kneeling on rough surfaces, lifting heavy materials, climbing and bending. Roofers are always in direct contact with the roof. So they need to wear pants that won't tear off easily, and that can protect the knees.
When you are wearing work pants all day long, sometimes over 10 hours a day, often in hot weather, you need comfortable clothing.
A comfy pair of pants is made from cotton, and maybe from a cotton mixed with a blend of spandex for extra flexibility. Cotton is the best material you can choose for your work pants. It allows the air to flow in and out, and keeps sweat and hot away.
Padded roofing pants are something roofers always look for, this is why many pants have double knee features to add additional protection and comfort so you won't hurt your knees when in contact with the roof.
In this article, we also talk about knee pads, an alternative to double-kneed pants.
The best roofing pants are functional and will have extra tool pockets, hammer loops, reinforced knees. After we made some good research, we found some fantastic work pants models that we recommend:
› Carhartt Men's Cotton Ripstop (link to Amazon)
Made of 100% cotton, comes with great breathability and comfort. Carhartt is a favorite brand in the work clothing industry, well-known for its durable and high-quality products.
These pants are made to last due to a tough cotton ripstop fabric, made to outlast rough conditions and prevent rips or tears.
This model is a relaxed-fit version, meaning that will allow you to be as flexible as you need without any problems. They come with double-front construction to increase the durability, they don't shrink after being washed, and come with plenty of handy pockets, straps, and loops for your tools.
They are available in multiple colors: brown, green, black and more.
› Wrangler RIGGS Men's Ranger Pants (link to Amazon)
These pants are one of the most popular work-pants out there, they seem to have it all. Made of 100% Cotton Ripstop (same fabric as the Carhartt pants), have 7 different pockets, reinforced knees, loops, and are built to resist abuse and give the ultimate comfort.
These pants are perfect for roofing since they're extremely durable and seem like nothing will tear or rip them apart. The smart way the pockets are placed makes them very practical. People say the pants are good for anything from climbing towers, roofing, hiking, hunting, outdoor heavy duty work, gardening, plumbing and hundreds of more.
They won't shrink and because their relaxed fit they provide enough room to move around, bend, squat comfortably.
› Red Kap Mimix Work Pants (link to Amazon)
Red Kap is another excellent brand for construction apparel. That's why we recommend these pants for anyone working in rough conditions and want a comfortable, long-lasting and practical pair of pants.
The pants are made from 100% cotton, with Ripstop reinforcement fabric for extra durability against tears. Are very comfortable to wear 10 hours a day, coming with MIMIX flex panels that increase mobility, to allow you to easily knee, bend without any discomfort.
They also come with practical pockets, and loops to keep your tools safely. The only con thing is the price that is higher than the models above.
Related: Top 20 Essential Roofer Tools You Need
ROOFING SHIRTS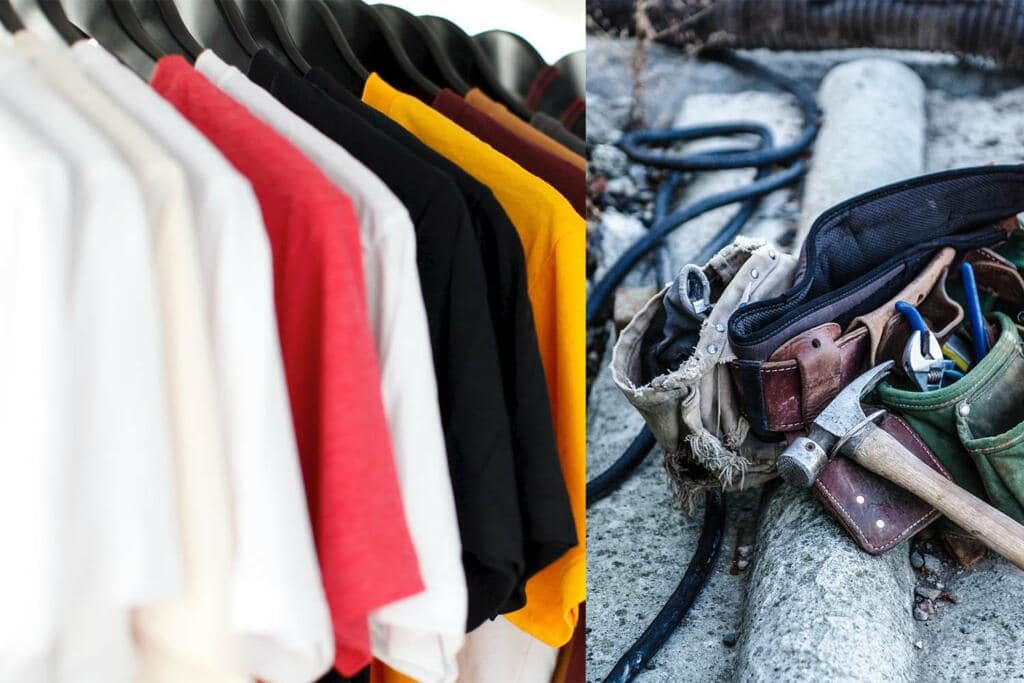 A workwear shirt must be comfortable, and keep you cool and dry. Nowadays, many brands have their own recipe for success, blending the fabrics and build moisture-wicking, stain-resistant, durable and comfortable T-Shirts.
The shirts you wear while roofing in summer should be made from cotton and sometimes it is ok to have a blend of cotton/spandex/polyester, as long as cotton is primary. Even when it is hot outside, it is recommended to wear long sleeved shirts for extra protection. However, not many roofers are loving this idea and many of them choose short-sleeved shirts.
During winter you should definitely go for long-sleeved shirts, made from a high amount of wool content (we recommend Merino Wool). Wool is the best material to wear during cold temperatures because it keeps you warm and at the same time it doesn't make you sweat.
Carhartt Men's Short Sleeve 100% Cotton (link to Amazon)
Carhartt is one of the most respected brands out there for workwear products. This T-Shirt is really comfortable, made entirely from cotton, doesn't shrink after washing and the most important thing: wicks the moisture away.
Sizes run a little large, so if you get your normal size, the shirt will fit you a bit loose. The shirt is made to last and the color won't fade away.
Carhartt Men's Long Sleeve (link to Amazon)
This is a long-sleeved model for Carhartt shirts. The material is soft and due to the cotton fabric feels smooth on the skin. The shirt is longer to get your back covered while you're bending or squatting on the roof.
It features a generous left pocket. If you wear this in summer, the material will keep you cool and dry because of its breathability feature.
Wrangler RIGGS Long Sleeved Shirt (link to Amazon)
This shirt is made from 100% cotton and it is very durable, made to withstand harsh conditions you find on the roof. RIGGS means durability and comfort.
The shirt looks sturdy and stiff, but it also gives the comfort and breathability you need during summer. It doesn't shrink noticeable and should last you a long time.
ROOFING SHOES
Picking the right pair of roofing shoes can be tricky and time-consuming. It is very important to wear shoes that will keep you safe and prevent you from slipping or falling.
You need to pay attention to the following:
The outsole should be made from rubber, for extra traction & grip, Vibram is our favorite.
The uppers should be made from durable materials, like leather.
They should be comfortable.
They should provide good ankle support to maximize the flexibility.
They should have a good lacing system.
Lightweight is a must.
On our blog, we always write about shoes and recommend only the best models that perform excellently on roofs. Because not all of us afford to buy professional roofing boots, we also share affordable and cheap models that are great for roofing like skate shoes, hiking and trail shoes. We divided our picks into 3 categories: cheap, affordable, and professional.
Thorogood Men's American Heritage (link to Amazon)
These beautiful Thorogood boots are perfect for roofing, they're comfortable, durable and non-slip. They come with slip-resistant MAXwear Wedge outsole, that gives traction and grip on the high-pitched roofs.
The boots are made from a high-quality leather that is built to withstand the rough roofing conditions. Thorogood is one of the most respected brands in the work footwear industry, and they handcraft their products in the United States.
Merrel Moab Vent Hiking Boot (link to Amazon)
Hiking boots are a popular footwear choice for roofers and sometimes are more affordable and professional leather work boots. Hiking shoes are built for harsh terrains, wet and rocky surfaces, steep surfaces.
This is why it is safe to say they are great for climbing roofs as well. The outsole of these Merrells is Vibram, which is one of the best for traction and grip on slippery surfaces. Are made to last and are available in low-cut and waterproof versions.
Converse Chuck Taylor High-Top Sneakers (link to Amazon)
Many roofers wear Chuck Taylors because they are cheap, provide a decent ankle support and the outsole is made of a rubber that provides decent traction.
These sneakers won't last you long, they wear out pretty fast, especially if you're doing asphalt roofing. We were surprised to see that these are pretty popular among roofers, contractors, and home inspectors.
BEST ROOFING GLOVES (updated )
You need a good pair of gloves to protect your hands from injuries, high heat or cuts. Some prefer bare hands, some prefer gloves. You need a comfortable pair of gloves that won't wear out easily and that can withstand roofing.
At the same time, you need high-dexterity gloves that won't stay in your way or decrease your productivity. Atlas, MaxiFlex, NoCry brands manufacture some of the best gloves out there great for roofers.
We recommend MaxiFlex (link to Amazon) gloves for asphalt roofing and NoCry gloves for metal roofing. Check our latest article about gloves to see the full reviews and our favorite picks.
Recommended Article:
Other brands like Mechanix or Ironclad manufacture gloves built to last and are suitable for any type of rough work. The dexterity is not so great, though. They're primary made to provide protection.
Ironclad makes gloves for heavy-duty, general utility and provides a useful online sizing chart to help you order the right size. They come with leather reinforcements, knuckle protection and can be easily washed by machine.
BEST ROOFING TOOL BELT: OCCIDENTAL LEATHER
Another important part of roofing clothing is the tool belt. Even though many pants come with handy pockets, straps, and loops, if you are a professional you know a tool belt is irreplaceable.
And if you want the best of the best, we recommend Occidental Leather Tool Belts. Everyone who's been in the construction industry should know about Occidental Leather. It is a respected brand known for its extremely high-quality leather products.
Occidental Leather bags and tool belts are all made from premium full-grain cow leather, treated carefully with blends of special oils and waxes. And their products are built in the United States of America. It is extremely comfortable and practical.
It is designed with a smart hand-specific system, the tool bag holds the tools you access with the right hand (hammer, knives, pencils etc.) and the fastener bags hold the tools you access with the left hand such as nails and others. It features 23 pockets and tool holders and it comes in various sizes and models.
If you want to check out our latest article about the best tool belts for roofing, click here.
KNEE PADS FOR ROOFING
We mentioned above, when talking about roofing pants, that your knees need extra protection that is given by double knee pants or knee pads.
A roofer always does kneeling, bending, squatting on harsh roof surfaces and that can be pretty rough for your knees.
If your pants don't provide enough cushioning and protection for your knees, then it is recommended to wear knee pads that are placed around your knee.
Choose ones for heavy duty work, that are comfortable to wear and have gel cushioning. Preferably you should stay away from knee pads with a plastic face because the plastic doesn't grip on roofs.
Essential Tips
---
How To Stay Cool While Roofing in Summer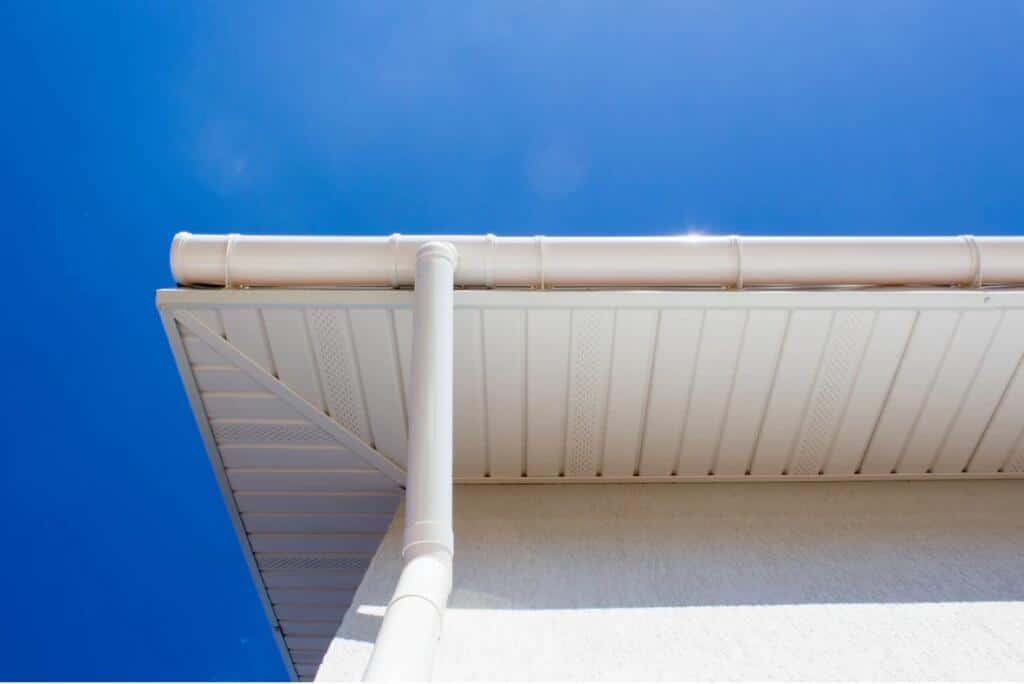 Stay away from 100% Polyester
The first rule when buying clothes to wear in summer is to stay away from 100% Polyester. It is not breathable at all and it doesn't allow sweat to evaporate.
Therefore, it is highly uncomfortable to wear 100% polyester clothes when you're roofing in hot temperatures. Polyester t-shirts will stick to your body and will hold all the perspiration.
The best fabric to wear in summer is 100% cotton, which is breathable, allows air to flow and will keep you cool and dry.
Drink plenty of WATER, not sodas
When it's summer and you're roofing it can get unbearably hot. Hot temperatures and long-term exposure to the sun can be dangerous for your health if you don't take care of yourself by wearing appropriate clothing, hats and drink plenty of water.
You're losing a lot of water when exposed to heat. So you need to stay hydrated by drinking plenty of water.
Stay away from sugary sodas. They make things worse, they're not healthy, they're full of sugar and they don't stop your thirst.
Go for Light Colored Clothes
The reason why you should wear light-colored clothes during extreme heat is that light clothes reflect light, and don't absorb it as dark clothes do.
Always choose light-colored shirts and pants when roofing in summer.
Sunscreen with SPF 50
Wearing sunscreen protection is a must for anyone. Especially for roofers who are always exposed to the sun. Staying in the sun increase the risks of cancer, wrinkles, and premature aging.
Protect yourself by applying sunscreen every single day, choose a cream with SPF (sun protection factor) of 50, so you could make sure you're being protected from all the bad rays.
---
How To Stay Warm While Roofing in Winter
Choose Wool for Winter times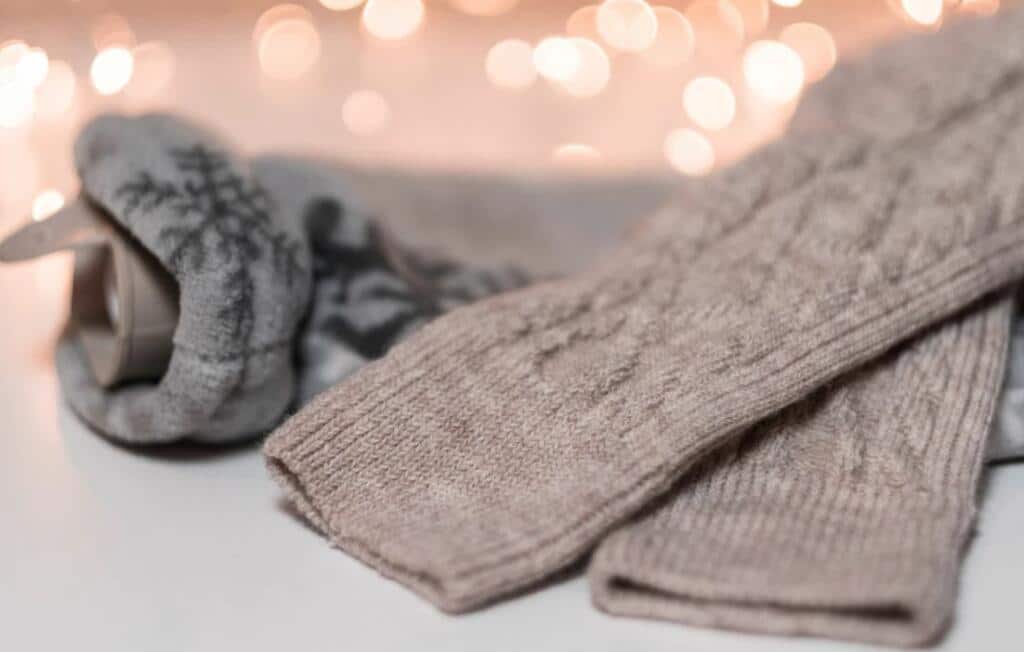 Roofing in winter requires special equipment and clothing. You need to keep yourself warm by wearing insulated boots, jackets, pants, gloves, and shirts that can keep you warm and cozy.
When you're buying roofing clothes for winter, make sure to choose ones made from high-quality Wool fabrics.
Wool is a great fabric for winter because it keeps you very warm and at the same time because of its breathability doesn't make you sweat.
Thank you for reading our Ultimate Guide To Roofing Work Clothes, we hope we helped you choose the best clothes that will keep you cozy, productive and comfortable.